Beethoven
Symphony no.9 in D minor Op 125 "Choral" (1824)
IV Finale: Presto – Allegro assai
Smetana
String Quartet no. 1 "From my live" (1876)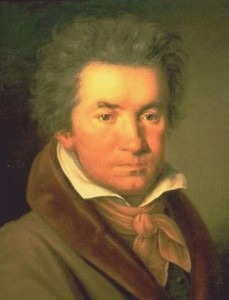 "… For two years I have avoided almost all social gatherings because it is impossible for me to say to people "I am deaf". If I belonged to any other profession it would be easier, but in my profession it is a frightful state…" ~ Ludwig van Beethoven

Ludwig van Beethoven (1770-1827) is known as one of the most pivotal classical composers of the 18th century, and is still considered today one of the greatest composers of all time. Für Elise, Moonlight Sonata, and the rich and penetrating Fifth Symphony are amongst some of his famous works.

Yet, amidst the genius demonstrated throughout his life, an outstanding fact about Beethoven was that he was deaf. His hearing began deteriorating at the age of 27, a condition that first manifested itself in his left ear. It is mentioned through his letters that buzzing noises (a severe form of tinnitus) began bothering him from around 1796, and by 1798 his hearing began to decline.

By 1801, 60% of his hearing was lost. Beethoven mentioned in the letter to his doctor, that because of his pain, he refused to see people for lengthy periods of time, for he was unable to reveal to others that he, a musician, could not hear. However, above all, deafness made it very difficult for him to perceive, appreciate and perform music. Such psychological torture was so much for the artist that he even once contemplated suicide (as recorded in a letter to his brother). Beethoven was also known to be an abusive drinker of alcohol, a trait that contributed greatly to his eventual demise.

The true cause of Beethoven's deafness is still unknown. Various debates have attributed his deafness to syphilis, typhus, lead poisoning, or even to his habit of submerging his head in cold water to stay awake. Other stories have even gone on to blame his alcoholic father, who was said to administer severe beatings during music lessons when Beethoven was younger.

As a result of his deafness, a great deal of Beethoven's life and struggles were recorded through some 400 of his conversation books, which were used so that he and his friends could communicate through writing. These unique records included discussions about music, and gave insights into his thinking and other aspects of the composer's life. Unfortunately, many of the books were destroyed after Beethoven's death by Anton Schindler, a biographer who wanted to maintain an idealistic portrayal of the composer's life.

In 1801 Beethoven moved to Heiligenstadt on the advice of his doctor, a small Austrian town outside Vienna. It was then that the deaf composer resolved to overcome his physical condition and continue living for and through his music, as recorded in his Heiligenstadt Testament. As a result, he rose above the depression to complete one of his most famous works, the Ninth Symphony, which was written in complete deafness. Through this work, Beethoven also became the first to break the rules of composition by adding singers to a symphony.

It is said that at the end of his Ninth Symphony premiere, Beethoven had to be turned around to see the audience applause. Hearing nothing, the musician wept. The audience, in turn, expressed their appreciation to the composer by waving their handkerchiefs in the air.

Besides Beethoven, Czech composer Bedřich Smetana (1824-1884) was another talent who composed masterpieces despite deafness. Widely recognized as the father of Czech Music, he is best known for his opera The Bartered Bride.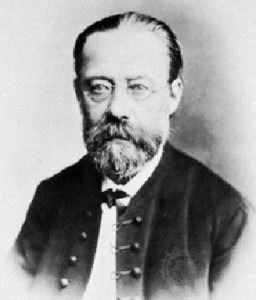 Smetana began displaying hypersensitivity to sound in 1872. Listening to the music played outside his home would irritate him so much, that he could not do anything unless he shut the windows. Two years later, he began to hear a ringing sensation in his ears, and his right ear gave up on him shortly after. On an October evening that year, he woke up to find himself completely deaf after attending an opera the day before. During this period his health also continued to worsen. From 1882-83 the Czech composer is said to have suffered from depression, insomnia, hallucinations and a brief loss of speech. Sometimes he would even fail to recognize his own family, and was often unable to walk properly.

Yet ten years later, Bedřich Smetana finished quite a few works, including three operas, Má vlast (translated as "My Country") and the autobiographic String Quartet No.1 in E minor. One of the most notable features of the piece includes a high, sustained E in the first movement which represents the ringing sensation he endured prior to deafness.

It is quite difficult to imagine how Beethoven and Smetena managed to compose with such sophistication despite never having heard their notes harmonize. It's perhaps even harder to imagine how they got the inspiration and willpower to complete such masterpieces, knowing they would never live to hear their own work. That's virtually like a blind artist trying to paint, or a dancer who's lost a limb.

Furthermore, what would have happened if they had not become deaf? Would their works have turned out differently? Would Beethoven have made a career as a successful virtuoso pianist instead of a composer? He was after all, also recognized for his superior technique in piano playing. No one would ever know. Perhaps deafness even contributed to the originality of their works, given that it would have been very difficult for a deaf person to make musical references to works popular at that time. But whatever it may be, no one can deny that while it took talent and hard work for them to become musicians, it required an undying passion and a determination to rise above all obstacles to be recognized as the true musical geniuses are today.


References:

http://www.lvbeethoven.com/Bio/BiographyDeafness.html
http://molinterv.aspetjournals.org/content/1/1/8.full
http://www.associatedcontent.com/article/154419/overcoming_adversity_the_source_of_pg2.html?cat=33
http://discoveringalcoholic.com/famous-alcoholics/famous-alcoholics-beethoven
http://en.wikipedia.org/wiki/Bed%C5%99ich_Smetana