It's the bane of every beginning pianist – it's too easy to make it banal and not musical – and it's probable that the work itself is misunderstood by 99% of the amateurs who attempt it. 'It' is Beethoven's Bagatelle in A minor better known as Für Elise (For Elise).
Beethoven composed the work around 1810 and then redid it in 1820 for a possible publication. It was either going to be a stand-alone miniature or part of a collection of short pieces. It was lost for some time and then published in 1867 as part of a letter collection: Ludwig Nohl: Neue Briefe Beethovens (New Beethoven Letters) (Stuttgart, 1867), p. 28-33.
In his presentation of the piece, Nohl calls it '…unbekannte, zwar nicht eben bedeutende aber recht anmuthige' (…unknown, but not very important, but very graceful…). He found the manuscript in Munich in the possession of Miss Babeth Bredl, who had been given it by Therese Malfatti, who had been a close friend of Beethoven's.
Beethoven was Therese Malfatti's piano teacher in Vienna and he became infatuated with her, but as Beethoven was 40 and Therese was 19, it is thought she turned down his marriage proposal. Some time after Nohl saw and transcribed the manuscript in 1864, it was lost. Now, speculation is whether Nohl mis-read "Elise" and the work really should be "Für Therese."
It opens with the simple half-step movement in the right hand and arpeggios in the left hand. Since the manuscript is lost, we cannot really determine what Beethoven might have intended. Later sketches of the work show changes to the arpeggios into a more sophisticated version, but those have not made their way into the most familiar version of the work.
Ludwig van Beethoven: Bagatelle in A minor, WoO 59 "Für Elise"
In the hands of Hungarian / New Zealand pianist Lili Kraus (1903-1986), the simple graceful piece becomes a model for pianists of all kinds.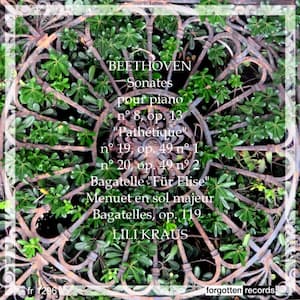 Performed by

Lili Kraus

Recorded in 1953

Official Website
For more of the best in classical music, sign up to our E-Newsletter