An exhibition just opened in Muscat, Sultanate of Oman, on the artistic legacy of Franco Zeffirelli (1923-2019). In talking to people at the opening, so many remember so many different aspects of his art: one remembers his film of Romeo and Juliet from 1968. Casting actors who were the right age for the timeless love story was part of the excitement of the film. Others remembered the lavish designs for his operas, from his very Chinese Turandot and the on-stage pyramid for Aida, to his high-style Don Giovanni in a most beautiful silver suit (with matching silver thigh-high boots).
Nino Rota: Romeo and Juliet: Romeo and Juliet (Archi di Santa Cecilia; Luigi Piovano, cond.)
So much of Zeffirelli's art was about detail and getting that detail just right. Being able to see his costumes, his set models, and his drawings up close gives the viewer a finer appreciation for the level of detail at which he worked. The Chinese Opera–style costumes for Turandot use Chinese brocades; elaborate embroidery is on both Don Giovanni's outfits and those of the peasant girls for Cavalleria Rusticana. The designs for Aida are wonderful fantasies on what might have been worn at the Egyptian court.
The variety of media that he created in is also amazing: watercolours, pastels, pencil sketches, oil paintings are all part of his repertoire for expressing his art.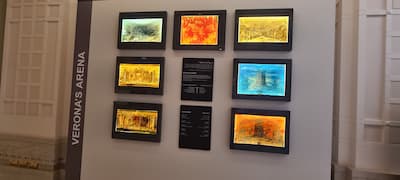 The show is divided into sections by place: Zeffirelli at the Arena di Verona, at the Met, in England at Glyndebourne and the Royal Opera, at La Scala, and at the Royal Opera House Muscat. If the last is a surprise, it shouldn't be. The former Sultan of Oman, Sultan Qaboos, was a firm support of Zeffirelli's work and put on his productions of Pagliacci, Turandot, La fille de regiment, and opening in late January 2022, is staging the 'posthumous premiere' of Rigoletto, overseen by the Zeffirelli Foundation. Rigoletto was supposed to have its premiere at Arena di Verona, but COVID closings have brought the premiere to Muscat.
Giuseppe Verdi: Rigoletto – Act III: La donna e mobile (Plácido Domingo, Duke; Vienna Philharmonic Orchestra; Carlo Maria Giulini, cond.)

Because Zeffirelli was a film-maker, the normally stiff viewing of gowns and designs is augmented by three films of his productions: the 1964 Tosca with Maria Callas and Tito Gobbi, filmed in black and white, in the climactic scene where she faces down and kills Scarpia and sings 'Vissi d'arte,' and selections from his 1982 La Traviata, with Teresa Stratas and Plácido Domingo, and from his 1986 Otello, with Plácido Domingo and Katia Ricciarelli. You can see the gowns in motion, the stage settings in use, and get a feel for how it would have looked at the opera house.
Giacomo Puccini: Tosca, Act II: Vissi d'arte (Maria Callas, Tosca; Royal Opera House Orchestra, Covent Garden; Carlo Felice Cillario, cond.)
It's a remarkable exhibit that shows the breadth and depth of work from an exceptional artist. In Muscat, Oman, at the Royal Opera House – House of Musical Arts until 20 March.
For more of the best in classical music, sign up to our E-Newsletter