As happened with many composers in the 19th century, just as they set off to be composers, their fathers intercede and off they went to commercial college, or law school, or medical school. Such was the case of Emmanuel Chabrier (1841-1894) – although his father recognized his musical facility, he wanted him to have a real career and so he took a job with the civil service in the Ministry of the Interior that lasted until he was nearly 40.
However, his spare time was spent in musical circles, with poets and with painters. His own collection included 7 Manets, 6 Monets, 3 Renoirs and a work each by Sisley and Cezanne.
In June 1887, the Revue Illustrée featured on its front cover a sketch by Edouard Detaille of the composer Chabrier seated at the piano with his back to the artist, top hat askew, swathed in a greatcoat, wine bottles at his feet and musical notes cascading from the open piano lid.
He tried several times to put an opera on the stage and, although they were good, the works failed to enter the repertoire. His first stage work was the operetta L'étoile (1877), which was successful, but greedy management took the work off before its 50th performance so that they wouldn't have to pay the composer part of the profits. His opera Gwendoline (1886) was put on in Brussels, but for days after opening, the management went bankrupt and the theatre was closed. Le roi malgré lui (1887) was three days into its run at the Opéra Comique when the building (and all the sets) burned down. His final opera, Briséïs, which is the culmination of his musical writing, was left incomplete at his death in 1894.
Gwendoline has come in for criticism because of Chabrier's Wagnerian connection. He was a follower of Wagner, which was rare for a French composer, and the debate about the combination of 'Wagnerian ethos and French sensibilities' brought the work much criticism. More modern critics see Chabrier as successfully combining Wagnerian and French styles and regret that the debate kept some of Chabrier's work off the stage for so many years.
Gwendoline was written to a poor libretto by Catulle Mendès. His texts were set by composers such as Fauré, Massenet, and Debussy, however none of his opera librettos were successful and his libretto for Gwendoline has been called 'catastrophic.'
The story set during the 9th century when the Danes invaded Britain. Saxon maiden Gwendoline tames the Danish leader Harald, culminating in a wedding feast where all the Danes are slaughtered and the two lovers die while behind them, Harald's ship goes up in flames. The overture picks up themes from the opera, including the themes of the invading Danes and a sweeping melody that depicts Harald's dream of entering Valhalla with Gwendoline at his side. Following its short-lived three-day premiere in Brussels in 1886, it was put on in Paris in 1893 after some productions in Germany. Its American and British premieres didn't take place for another century, in 1982 and 1983 respectively.
Chabrier: Gwendoline – Overture
This 1952 performance by the Orchestre de l'Association des Concerts Colonne is conducted by Louis Fourestier. (1892-1976). Fourestier entered the Paris Conservatoire in 1909 and won prizes in harmony and counterpoint. He studied conducting with Vincent d'Indy. He was awarded the Prix de Rome for his cantata La morte d'Adonis in 1925. His first conducting position was at the Opéra Comique, where he had begun as a cellist. He conducted a performance of Cavalleria Rusticana in 1927 and was appointed principal conductor later that year. In addition to an international career as an opera conductor, Fourestier served as professor of conducting at the Paris Conservatoire from 1945 to 1963.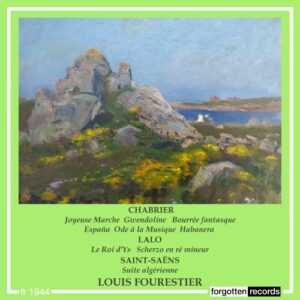 Performed by

Louis Fourestier
Orchestre de l'Association des Concerts Colonne

Recorded in 1952

Official Website
For more of the best in classical music, sign up to our E-Newsletter