Schubert's final symphony, his ninth, was called the Great C major to distinguish it from his earlier Symphony No. 6 in C major (called the Little C major). Now, the word Great refers to the work's majesty. It is the longest of Schubert's symphonies, the work was not professional performed until 10 years after Schubert's death in 1828.
Before his death, Schubert had begun work on a 10th symphony in D major, which was left uncompleted at his death. When he had finished his 9th symphony, he couldn't afford to pay for a performance, so he dedicated it and sent it to the Gesellschaft der Musikfreunden. They, in turn, paid him a fee of 100 florins, had the orchestral parts copies and, sometime in 1827, did a playthrough. They thought the work was too long and beyond the powers of the Gesellschaft's amateur orchestra. It wasn't until Robert Schumann was shown the symphony on a visit to Vienna in 1838 that the work came to light again. He took a copy of the score to Leipzig, and it was performed at the Leipzig Gewandhaus, conducted by Felix Mendelssohn.
Despite the support of Schumann and Mendelssohn, the orchestras of the day didn't want to play the work due to the length of the woodwind and string parts. Orchestras in both Paris (1842) and London (1844) refused the work entirely. At nearly an hour, the work is one of the longest of the Romantic symphonies.
The number of the symphony differs between countries. Some scholars know this as Symphony No. 7. The Deutsch catalogue of Schubert's works calls it Symphony No. 8, while the English-speaking world refers to it as Symphony No. 9.
The work is considered Schubert's finest orchestral work. He shows evidence of coming out of the influence of Beethoven and developing his own symphonic language, primarily through his use of melody. If Beethoven was a composer of rhythm (think of his Symphony No. 5), then Schubert was on the side of Mozart as a melodist.
The first movement begins with a slow introduction that in itself is a miniature of sonata form, with its own exposition, development, and recapitulation. The work proper, at the time change, is another sonata form.
Franz Schubert: Symphony No. 9 in C Major, D. 944, "Great" – I. Andante – Allegro ma non troppo
This concert by the Detroit Symphony Orchestra under conductor Paul Paray (1886-1979) was recorded at Henry Ford Hall Auditorium in Detroit in December 1962. The French conductor was resident conductor of the Detroit Symphony Orchestra from 1952 to 1963 until he returned to France and took up an international conducting career. His last appearance in the US was when he was 92 and conducting the Orchestra of the Curtis Institute of Music.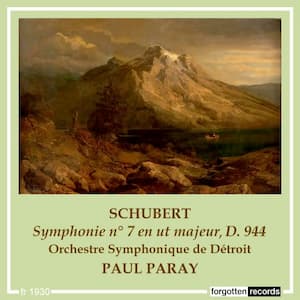 Performed by

Paul Paray
Detroit Symphony Orchestra

Recorded in 1962

Official Website
For more of the best in classical music, sign up to our E-Newsletter