We caught up with Georgian pianist Catherine Gordeladze to talk about her new album 'La Ricordanza', a selection of piano works inspired by or reminiscent of the human voice.
Can you tell us a little more about the inspiration for this album?
The theme of this CD is ricordanza ("reminiscence"). This is established right at the beginning by "La Ricordanza", a very thoughtful, rarely-played piece by Franz Liszt's teacher, the important educator and composer Carl Czerny.
I hold Carl Czerny in very high esteem as a composer. It is easy to forget that Franz Liszt was a 'grandson' of Beethoven and Czerny was, so to speak, a dwarf between two giants – Liszt's teacher and Beethoven's pupil – making him a part of a very great tradition.
Today, Carl Czerny is unfortunately only known as a composer of etudes, although he wrote over 1000 compositions: symphonies, piano concertos, operas, and songs. He also arranged works by other composers for the piano, such as the "La Ricordanza" presented here, which is based on an aria by the French composer Pierre Rode, who is even more forgotten today.
Rode's "Aria with Variations in Vocal Form" (originally written for violin) was a showpiece in the repertoire of the famous Italian soprano Angelica Catalani, a prima donna who made a great impression on Czerny in a concert in Vienna around 1820 and inspired him to compose these variations. The title "La Ricordanza" was Czerny's reminiscence of that concert experience.
For me, Czerny's "La Ricordanza" was an inspiration and a starting point for compiling repertoire for this CD. Since memory (La Ricordanza) is an important aspect of the music and, regardless of whether one knows the piece or not, evokes a certain reminiscence in the listener, this is the leitmotif and title for the new CD recording.
Catherine Gordeladze – La Ricordanza (Trailer)
What prompted you to select and record these pieces in particular?
A starting point for a new CD project in general was a forced break from performing because of the Corona virus crisis. However, I wanted to continue working and use the time I had to learn and record new repertoire.
The title of my inspiration piece "La Ricordanza" was a cue for me to put together the programme for this CD with rarities and popular works from three centuries. The disc features music by composers who were all also great pianists: Carl Czerny, Franz Liszt, Carl Tausig, Alexis Weissenberg, and Earl Wild.
What, for you, are the pleasures and challenges of this repertoire?
At the beginning of my recording process, I was more focused on certain composers: Joseph Haydn for my first album, and Nikolai Kapustin for my second. My other recordings are concept albums. "La Ricordanza" is my fourth concept album, and I find it exciting to choose a repertoire according to my own taste, fitting into the overall concept. So, it is a very personal selection according to a certain motto. I am also fascinated by the virtuoso aspect of these works. It is not only the technical side that appeals to me, but also the brilliance that these composers realised as pianists with these transcriptions. That is a challenge for me.
How were you able to create transcriptions for piano that were inspired by the singing of human voices?
Because my inspirational work is based on an aria, I had the idea to select several piano transcriptions inspired by the song of the human voice – bel canto on the piano, a feature of Romantic works, has always fascinated me. Franz Liszt is regarded as one of the greatest piano virtuosos of all time and as one of the founders of modern piano technique.
I chose three very different Liszt transcriptions inspired by song: his arrangements of Chopin songs, the lilting Faust waltz from Gounod's Margarete, and finally his congenial transcription of Wagner's Tristan und Isolde finale, to which we owe the now familiar title "Isoldens Liebestod". The song arrangements "Six Songs by Charles Trenet" by my teacher, one of the most important pianists of the 20th century – Alexis Weissenberg – are playful, entertaining pieces with elements of foxtrot, gentle sexy swing, waltz, and Charleston.
Franz Liszt: Sechs polnische Lieder von Frederic Chopin (Bearbeitet für Klavier), Op. 74: No. 2, Frühling (Wiosna)

Moreover, I'm equally delighted to perform an "encore "by the great American pianist Earl Wild, which is based on a Gershwin song. The theme of "Someone to Watch Over Me "is introduced and followed by some brilliant variations. This piece contains an astonishing improvisation on Bach's Partita in C minor and the C minor Fugue from "The Well-Tempered Clavier".
Earl Wild: "Thema und Variationen für Klavier (Zu Gershwin's "Someone to Watch Over Me"): No. 2, Barcarole"
You say that the album is intended to present "the genealogy of the pianistic tradition". Can you explain what you mean by this?
Another idea was to include the genealogy of the pianistic tradition around Franz Liszt on my CD. Besides "La Ricordanza" by Liszt's teacher Carl Czerny, to whom Liszt dedicated his "Etudes d'execution transcendante", you will hear a piece by Liszt's pupil Carl Tausig, another of the truly great piano virtuosos: his "Nachtfalter" (Moths) after Johann Strauss II is a real showstopper!
Part of the programme are my personal reminiscences of inspiring experiences. Among these I include my lessons with my teacher Alexis Weissenberg and the many conversations we had at Engelberg in Switzerland. Indirectly through him, I learned a great deal about his teachers Artur Schnabel and Wanda Landowska. Weissenberg was a fine human being, a warm personality, a consummate cosmopolitan of classical music, and he allowed me to sense his love of jazz.
What do you hope listeners will take from this album?
Playing these pieces is a real joy for me time after time. I feel passionately about this album with a rare repertoire of great composer pianists, and this strong sense of emotion is something I would like to share with listeners through this recording.
As a performer, what do you do offstage that provides inspiration for you on stage?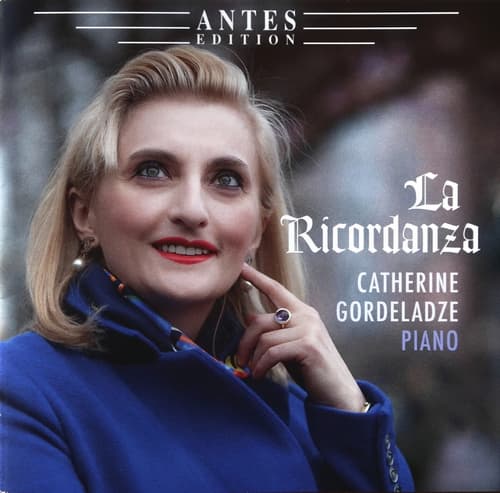 First and foremost: singing. That is a starting point for my interpretations. I love opera and song very much. That inspires me to "sing" on the piano. Furthermore, life itself is a source of inspiration. All emotions are reflected in music: whether that is joy, sadness, pathos, madness, love, longing, joking, restraint, or enthusiasm. It is important for me to balance these emotions and put them in the right place in the musical work.
For me, interpretation is something very creative – a good synthesis of thorough knowledge of the work, intensity of expression and spontaneity. I deem it very important that an interpretation has a personal note where a continuous search and new reflections repeat themselves. Celibidache once said how many times the word "no" and "not" appeared at rehearsals. A million times. Whereas only one "yes" exists.
Live performance involves much more in terms of concentration, and 'in the moment' inspiration and creativity. I also enjoy interacting with a live audience and drawing upon their positive energy.
La Ricordanza is available now on the Antes Edition label.
For more of the best in classical music, sign up to our E-Newsletter