On 8 January 2012, the legendary pianist Alexis Weissenberg died in Lugano, Switzerland. Weissenberg possessed otherworldly technical prowess, but was taken to task for his unsentimental and cold performances. Sitting stoically at the keyboard, he barely raised an eyebrow, cracked a smile, or swayed in the wind, and he never engaged with emotive or exaggerated hand motions; he simply got down to business. In some cases his performances were called "chillingly scientific," and one reviewer wrote, "Weissenberg's Bach was an anatomy instruction conducted by a master — a brilliant dissection of cold, gray, gleaming flesh, from which every trace of living blood had been conscientiously squeezed away." Weissenberg would have none of this and explained in an interview, "You cannot lose your control physically and be precise as to what your hands do. Can you imagine a surgeon operating on somebody, and swooning and looking up at the ceiling and being very excited about it? The patient would die. That is what happens in music too. The patient dies, because there's too much going on besides the actual performance."
Alexis Weissenberg plays Bach Chromatic Fantasy and Fugue, BWV 903
Icy stage demeanor and supposed lack of sensitivity aside, Weissenberg's electrifying and breathtaking performances disclosed an acute musical intelligence applied over an impressive range of repertoire. The late Herbert von Karajan suggested that Weissenberg, "with his personality and remarkable insight, is one of the key performers of the twentieth century." Born in Sofia, Bulgaria, on July 26, 1929, Weissenberg received his first lessons from his mother before starting piano and compositions lessons at the age of five with Pancho Vladigerov. In his memoirs Weissenberg wrote, "He was an intuitive, flexible teacher, rather than a square pedagogue, and gave us, his pupils, an early awareness of temperament as a tool rather than a spice." Weissenberg played his first recital at the age of ten, which included works by Bach, Schumann, Beethoven and Vladigerov. As an encore he played "an Etude of my own in G major, which I transcribed, at the last minute, in E-flat major because it sounded better." Throughout his career, Weissenberg continued to show great interest in composition, and starting in the mid-forties, jazz became a fundamental element in his own works.
Alexis Weissenberg: Sonate en etat de jazz (Simon Mulligan, piano)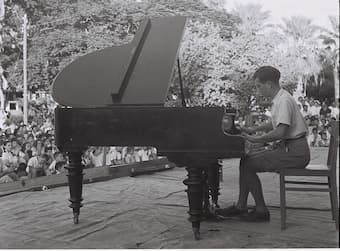 As a child, Weissenberg was greatly affected by the traumatic events of World War II. Born into a Jewish family, and aware of the dangers faced by Jews in Eastern Europe, he and his mother attempted to escape from German-occupied Bulgaria for Turkey. However, they were captured and imprisoned in a detention camp at the border with Turkey. Weissenberg later relayed that an accordion given to him by an aunt saved his life. "A music-loving German guard allowed him to play Schubert each afternoon and eventually put the Weissenbergs on a train bound for Istanbul, tossing the accordion through an open window into their compartment as the train pulled out." They finally reached Palestine, and Weissenberg continued his studies at the Jerusalem Academy of Music. He quickly appeared in his first concert with orchestra, and following the end of the war, embarked on a major tour in South Africa.
Johannes Brahms: Violin Sonata No. 3 in D minor, Op. 108 (Anne-Sophie Mutter, violin; Alexis Weissenberg, piano)


With two letters of recommendation in his pocket—one for Artur Schnabel and the other for Vladimir Horowitz—Weissenberg moved to the United States in 1946. According to Weissenberg, the recommendation letters "gave me the same advice. The inspiring teaching and influential musicianship and enthusiasm of Vladigerov, during the years in Sofia, had prepared me pianistically in the best pedagogical tradition. What I needed urgently was broader knowledge, much more cultural information, also maybe the experience of a school as opposed to private lessons, one or two competitions (why not?) in addition to patience and listening to as much music as possible." He took lessons from Schnabel and Landowska, and enrolled in the piano studio of Olga Samaroff and Rosina Lhévinne, and with composer Vincent Persichetti at The Juilliard School of Music. In 1947 he won the Leventritt Competition and the Philadelphia Youth Competition, and his career flourished.
Alexis Weissenberg plays Rachmaninov Piano Concerto No. 3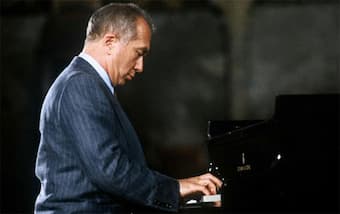 For over a decade, Weissenberg became part of the virtuoso circuit playing in major cities with renowned orchestras under exceptional conductors. With his move to Paris in 1956, however, he took a long sabbatical from public performances. Weissenberg explains, "As a young artist I learned new works very fast and played them much too soon. In 10 years I would have reached a point where my whole repertory would have been overplayed and understudied. I did not want to end up at the age of 50 still a promising pianist." Weissenberg re-emerged triumphantly in the 1960s and subsequently reflected on the "many anxieties and rewards of learning the profession; doubts and joys due to the inevitable tension between the instinctive impulse and the technique of the performance; the enormous individual responsibility resulting from technical skill and creative expression… and above all, moments of sheer delight when the communication, that magic interaction between audience and artist, between musical director and soloist, between two sensitive souls, takes place." His playing was at time thunderous, aggressive and athletic, but it could also be poetic, tender and passionate. Love him or hate him, Weissenberg was a pianistic force to be reckoned with.
For more of the best in classical music, sign up to our E-Newsletter
Alexis Weissenberg plays Stravinsky Petrushka