In the eyes of many critics, the career of Romanian conductor, composer and music theorist Sergiu Celibidache was deeply controversial and beset by contradictions. "While advocating the gentle themes of Zen, he could treat individuals with brutal contempt." In fact, Celibidache was involved in a 12-year legal battle during his tenure at the Munich Philharmonic with trombonist Abbie Conant. She was one of 32 trombonists, auditioning blind behind a screen. She won the blind audition, but the selection committee was shocked to discover that their winner was a woman. Celibidache could never come to terms with her appointment, claiming that she lacked the "necessary strength and emotional empathy" to lead the trombone section. He demoted her to second trombone, deducted her pay and refused to give her solos. Publically he explained, "We need a man for solo trombone." These sexist attitudes were not allowed to stand, and the courts found in favor of Conant as "Celibidache could not justify his complaint with facts."
Celibidache Conducts Ravel's Ma Mere L'oye
Celibidache was born on 28 June 1912 in the small city of Roman in the Moldavia region of Romania. His father Demostene Celebidachi was a cavalry officer of the Romanian army and subsequently became a government official. He was married to Maria Celebidachi née Brăteanu and the family moved to Iaşi, the second biggest city in Romania. Sergiu started improvising at the piano at the age of four, but his father expected him to pursue a political career in Romania. He took traditional schooling in mathematics, philosophy and music, and his father sent him to Bucharest and then Paris for further studies.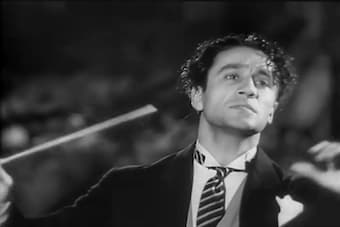 However, going against his father's wishes he enrolled at the Hochschule für Musik in Berlin in 1936. The German authorities erroneously changed his surname from Celebidachi to Celibidache, the form he would retain. His teachers included Fritz Stein, Heinz Thiessen (composition), Kurt Thomas, and Walter Gmeindl (conducting). He also pursued doctoral studies at Berlin's Friedrich-Wilhelm University, studying philosophy with Nicolai Hartmann and Eduard Spranger and musicology with Arnold Schering and Georg Schünemann. He submitted a dissertation on Josquin des Prez and received his degree in 1944.
Celebidache Conducts Strauss' Till Eulenspiegel's Merry Pranks
During his time in Berlin his teacher Martin Steinke introduced him to the principles of Zen Buddhism, an outlook that was to influence the rest of his life. As he wrote in 1986 "I was born a Christian Orthodox, and studied philosophy, but I still couldn't find solutions to my problems. It was through Steinke that I found the way of Zen. All I can say is that without Zen I couldn't have known this strange principle that the beginning is the end. Music is nothing but the materialization of this principle." During his student days Celibidache had conducted numerous student ensembles and won first prize in a conduction competition. By a stroke of fortune, he got his big break shortly after the end of World War II. Leo Borchardt was due to become music director of the Berlin PO. Tragically, he was shot during a nocturnal car ride at Checkpoint Charlie, and by February 1946 Celibidache was named principal conductor, sharing his duties with Furtwängler from 1947 to 1952. Subsequently, he worked with a number of orchestra as music director, including the Swedish RSO (1962–71), the Stuttgart RSO (1971–7), and the Orchestre National de France (1973–5). Additionally he appeared with the LSO, La Scala, La Fenice, and RAI, and in 1979 he was appointed music director at the Munich Philharmonic, a position he held for the rest of his life.
Celibidache Conducts Prokofiev's Classical Symphony
For most of his career, Celibidache refused to make recordings, comparing them to "going to bed with a picture of Brigitte Bardot." Instead, Celibidache focused on creating, during each concert, the optimal conditions for what he called "a transcendent experience." That particular transcendent experience, according to Celibidache could not be achieved by listening to recorded music. As he explained, "the acoustic space in which one hears a concert directly affects the likelihood of the emergence of his sought-after transcendent experience. The acoustic space within which one hears a recording of one of his performances, on the other hand, has no impact on the performance, as it is impossible for the acoustic features of that space to stimulate musicians to play slower or faster." Many colleagues and critics viewed his philosophical and aesthetic assertions and his periods of contemplation as laughable self-promotion. For others, however, his insights were rare and profound, and his rehearsal and concert procedures original and inspiring. For pianist Eileen Joyce, Celibidache was the greatest conductor she had ever worked with: "he was the only one who got inside my soul." Celibidache always conducted without a score, and his beat was expressive and supple. As a scholar writes, "he could bring a lofty spiritual grandeur to the symphonies of Bruckner and a brilliant intensity and precision of detail to music by composers such as Ravel, Stravinsky, Prokofiev, and Shostakovich."
For more of the best in classical music, sign up to our E-Newsletter
Sergiu Celibidache Conducts Bruckner's Symphony No. 7