Verdi's Rigoletto, with its story of seduction and deception at the court of the Duke of Mantua, culminating in a murder attempt that goes horribly wrong, was most famous for the Duke's philandering song, La donna è mobile. In his 'souvenir' of Rigoletto, piano virtuoso Sigismund Thalberg uses the other wonderful songs in the opera to bring forth more than the memory of the salacious Duke.
The Souvenir opens with Gilda's song Caro nome, her meditation on the name of her beloved, Gualtier Maldè, who is none other than the Duke of Mantua under a false name. Thalberg embellishes it to give the depth of Gilda's thoughts for her perfidious lover. The love duet, which actually precedes Caro nome, in the opera, È il sol dell'anima (Love is the sunshine of the soul), is next up for decoration.
The courtiers, gathering outside Gilda's house, are under the impression that Gilda is Rigoletto's lover and so want to kidnap her. Their song, Zitti, zitti (Softly, softly), comes next and then the Duke's song for the assassin's sister, Bella figlia dell'amore (Beautiful daughter of love).
In these four songs, we have an interesting melange of emotion: the wooing in È il sol, the thought planted in Caro nome, and the careless compliment in Bella figlia. The only energy comes in the setting of Zitti, zitti. Thalberg's setting is dark from the very beginning, reflecting the ever-widening pool of deception and lies. Thalberg's virtuosic writing results in soft and sweet runs up the piano, exquisite turns of phrase, and developments of Verdi's already musical lines into something more pianistic.
This work is very different from the typical fantasias on a theme from an opera, where the principal aria is taken as the basis for the writing. Here, Thalberg takes multiple themes and uses them almost like a sonata in one movement, each of the four themes contrasting with the others.
Sigismund Thalberg: Souvenir de Rigoletto de Verdi, Op. 82 (Francesco Nicolosi, piano)
Italian pianist Francesco Nicolosi has a dual role as president of the Sigismund Thalberg International Study Centre and is considered the foremost interpreter of Thalberg's works. He is also artistic director of the Sigismund Thalberg International Piano Competition.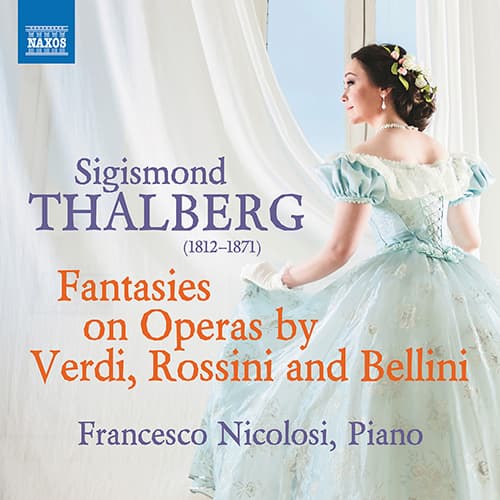 Sigismund Thalberg: Souvenir de Rigoletto de Verdi, Op. 82

Performed by
Francesco Nicolosi

Official Website
For more of the best in classical music, sign up to our E-Newsletter