We do know that Giuseppe Verdi was born in the small village of Roncole, near Busseto in the Duchy of Parma. What is not clear, however, is the exact date of his birth. The baptismal register of 11 October records him as 'born yesterday,' but as days were sometimes counted as beginning at sunset, that could mean either 9 or 10 October. His parents belonged to families of small landowners and traders, and his father Carlo was described as an innkeeper and his mother Luigia Uttini as a spinner. The family always celebrated the boy's birthday on 9 October, and Verdi strongly believed that he was actually born on that day.
We are not going to argue with Verdi about his birthday, but instead recognize him as one of the most precocious musical talents of all time. He started keyboard lessons at the age of three, and when his teacher passed away, the nine-year old Giuseppe took over his teacher's job and duties. He was rejected in his application to the Milan Conservatory, citing "faulty piano technique; a promising composer with genuine imagination but in need of contrapuntal discipline." This rejection, although painful, did not prevent Verdi to arguably become the greatest Italian musical dramatist.
Giuseppe Verdi: 4 Pezzi sacri: No. 1. Ave Maria (Elena Filipova, soprano; Gloria Scalchi, mezzo-soprano; César Hernández, tenor; Carlo Colombara, bass)


Verdi composed 27 operas, beginning with Oberto in 1839 and ending with Falstaff in 1893. After Verdi had completed Aida in 1870/71, he decided that he would write no more music for the stage. Instead he turned to a religious work in the Messa da Requiem and to instrumental music in his Quartet for Strings. In the event, his operatic collaborations with Boito resumed, but around the time of Falstaff, he again composed a number of religious choral works. Collected under the title Quattro pezzi sacri, Verdi paid respects to two figures from the Italian past that he considered central to the cultural unity of the country.
He uses texts by Dante, and relies for his musical setting on the contrapuntal treatment and word painting of Palestrina. Scholars have suggested, "Verdi's last antique style might well suggest an old man's retreat from the world; but on another level it speaks yet again of Verdi's passionate concern for the national traditions into which he had been born, and with which he had so constantly engaged.
Giuseppe Verdi: Quatro pezzi sacri, No. 2 "Stabat mater" (Cheryl Studer, soprano; Vienna State Opera Chorus; Vienna Philharmonic Orchestra; Claudio Abbado, cond.)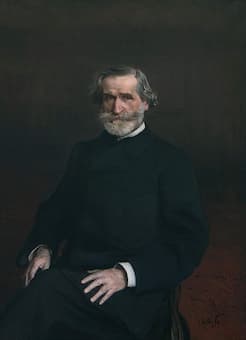 Verdi described the setting of the "Ave Maria" as Scala enigmatica armonizzata a Quattro voci miste (Enigmatic scale, harmonized for four mixed voices). This enigmatic scale spans an octave and rises by a semitone and by an augmented second. It is followed by three whole tone and two semitones. It descends with two semitones followed by one whole tone and an augmented second. From there a semitone, the original augmented second, and finally a semitone concludes the descending version of Verdi's enigmatic scale. The scale is first heard in the bass, both ascending and descending, and then in the alto, tenor and the soprano. It sounds like a harmonic and contrapuntal exercise, and originally it was not part of the Quattro pezzi sacri, but eventually the publisher Ricordi included it in the set.
Giuseppe Verdi: Quatro pezzi sacri, No. 3 "Laudi alle Vergine Maria" (VoiceMix; Steffen Schreyer, cond.)


Verdi's setting of the "Stabat mater" calls for four-voice choir, and large orchestra with harp. Composed in 1896 and 1897 it uses the text of the famous Roman Catholic hymn "The grieving Mother stood." Variously attributed to Pope Innocent III, St. Bonaventure, and the Franciscan monk Jacopone da Todi, it offers a unique female perspective on the crucifixion of Jesus. In twelve couplets, the poetry expresses compassion for Mary, mother of Christ, as she watches her son suffering on the cross. Verdi's setting refrains from text repetitions, and he unifies the work with internal melodic references. Taking the poetry from the last canto of Dante's Paradiso, "Laudi alla Vergine Maria" is a largely homophonic and delicate setting for two sopranos and two contraltos. His setting of the "Te Deum" is scored for double choir and orchestra, and it is a work of considerable originality and power. It is widely regarded as "the proper conclusion to any performance of this group of settings." Although the text is frequently used to celebrate military victories and coronations, Verdi wrote to his friend Giovanni Tebadini "the text has nothing to do with victories and coronations." Instead, Verdi presents an intimate and moving prayer that constantly changes in tone and expression.
For more of the best in classical music, sign up to our E-Newsletter
Giuseppe Verdi: Quatro pezzi sacri, No. 4 "Te Deum" (Janet Baker, mezzo-soprano; Philharmonia Chorus; Philharmonia Orchestra; Carlo Maria Giulini, cond.)