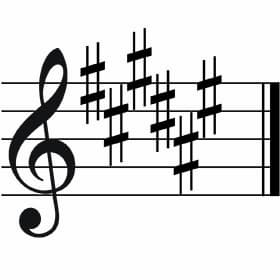 F-sharp major: "Triumph over difficulty, free sigh of relief uttered when hurdles are surmounted; echo of a soul which has fiercely struggled and finally conquered lies in all uses of this key". – Christian Shubart Ideen zu einer Aesthetik der Tonkunst (1806)
"Brilliant and exceedingly clear" – Ernst Pauer The Elements of the Beautiful in Music (1876)
One of the "black note" keys for the pianist, the key signature of F-sharp Major has a daunting six sharps and its scale includes only two white notes (B and E-sharp – or F natural).
The 'enharmonic' key of F-sharp major is G-flat major (exactly the same notes in the scale, but a different key signature comprising six flats) – the key of Schubert's Impromptu D 899/3 and Chopin's Impromptu Op 51 No. 3. Curiously, although the pitches are identical, G-flat Major has a different character to F-sharp Major – it's somehow softer and richer.
From a technical point of view, F-sharp major can be challenging for the pianist, yet piano music in this key is luminous, colourful, and fun to navigate (the opening movement of Ravel's Sonatine, for example, or Debussy's Poissons d'or). It's also warm, affectionate and nostalgic (Beethoven's Sonata Op. 78 or Schumann's Romance Op. 28, No. 2). And in Messiaen's hands, it is a key of both meditation and ecstasy.
The following piano music in the key of F-sharp Major demonstrates the range of possibilities – sonic, coloristic and expressive – that this key offers: this is some of the most beautiful and arresting music in the pianist's repertoire:
Schumann: Romance Op. 28, No. 2
This is the middle of the triptych of Romances, composed as a Christmas gift to his beloved Clara, who described it as "the most beautiful love duet". Scored in ternary form, it is written on three staves (for ease of reading, nothing more scary!), the thumbs playing a serene inner duet in the tenor register, surrounded by a gently undulating accompaniment. It's deeply romantic, radiant and infused with affection.
Robert Schumann: 3 Romanzen, Op. 28: No. 2 in F-Sharp Major (Imogen Cooper, piano)

Liszt: Benediction de Dieu dans la solitude from Harmonies poétiques et religieuses
As in Schumann's Romance, a lyrical melody is heard in the mid-register of the piano, enveloped by a rippling accompaniment in the treble and warm bass line. Luscious harmonies abound in this work of deep expression.
Franz Liszt: Harmonies poetiques et religieuses, S173/R14: III. Benediction de Dieu dans la solitude (Llŷr Williams, piano)

Ibert: Le Petit âne blanc (The Little White Donkey)
The second piece from Ibert's Histoires suite (1922), this charmingly characterful miniature depicts a donkey, complete with clopping hooves, braying and even a few noisy "hee haws"!
Jacques Ibert: Histoires – II. Le petit ane blanc (Hae Won Chang, piano)


Beethoven: Piano Sonata No. 24, Op. 78
Nicknamed "à Thérèse", because it was written for Countess Thérèse von Brunswick, this two-movement sonata was composed in 1809 and is one of Beethoven's most good-natured and sunny works. A cantabile introduction is followed by a long, undulating theme in a first movement which looks forward to Beethoven's late style, while the second movement is a scampering rondo which capitalises on sudden contrasts in dynamics, major and minor, and textures, and even contains a quote from Arne's 'Rule Britannia!'
Ludwig van Beethoven: Piano Sonata No. 24 in F-Sharp Major, Op. 78 (Jonathan Biss, piano)

Messiaen: Regard du Père and Le baiser de l'Enfant Jésus from Vingt Regards sur l'enfant Jésus
F-sharp major was Olivier Messiaen's favourite key and he used it repeatedly to express his most transcendent moods. Here, he uses it to create a movement of transcendent meditation, the first of his Vingt Regards sur l'enfant Jésus. Regard XV, Le baiser de l'Enfant Jésus, is also scored in F-sharp. Like the first movement, it opens in an atmosphere of quiet contemplation but grows increasingly ecstatic, with flourishes and filigree passagework reminiscent of both Liszt and Liberace.
Olivier Messiaen: Vingt regards sur l'enfant-Jésus – I. Regard du Père (Martin Helmchen, piano)

Olivier Messiaen: Vingt regards sur l'enfant-Jésus – XV. Le baiser de l'Enfant-Jésus (Martin Helmchen, piano)

Debussy: Poissons d'Or (Goldfish)
Inspired by a Japanese lacquer panel illustrating a goldfish and its reflection in the water, this piece is rich in visual imagery as the darting, gilded fish is brought to life in a glittering tour de force of virtuosity and harmonic and melodic inventiveness.
For more of the best in classical music, sign up to our E-Newsletter
Claude Debussy: Images, Book 2: No. 3. Poissons d'or (Goldfish) (François-Joël Thiollier, piano)