Shortly after Tchaikovsky joined the staff of the Moscow Conservatoire in September 1866, a young boy was admitted to study piano. He was only 9-years old, and after a brief interruption, he resumed his studies in composition with Tchaikovsky. That new composition student was Sergei Taneyev, "and between master and student there quickly developed a friendship and romantic relationship that was to endure until Tchaikovsky's death."
Taneyev the pianist was central to performances of Tchaikovsky's music, as he gave the earliest performances of the Piano Concerto No. 1, Op. 23. Taneyev also played the first Russian performance of Tchaikovsky's Piano Concerto No. 2, Op. 44, alongside the solo parts of the Concert Fantasia Op. 56, the Piano Concerto No. 3, Op. and the Andante and Finale. In addition, Taneyev fashioned transcriptions of a number of Tchaikovsky's works, including piano duet versions of the Symphony No. 4, Op. 36 (1877), the Symphony No. 5, Op. 64 (1888), the opera Iolanta, Op. 68 (1891), and the ballet The Nutcracker, Op. 71 (1891–92), as well as orchestral arrangements of some of Tchaikovsky's songs.
Sergei Taneyev: 4 Songs, Op. 32 (Janet Hopkins, mezzo-soprano; Christian Elser, baritone; Jacob Will, bass-britone; Lynn Kompass, piano)

Taneyev's importance as a pianist none withstanding, his real significance surely lay in his absolutely frank opinions as a critic. Tchaikovsky valued and welcomed Taneyev's views, however, he did not always like them. As he wrote to Taneyev when submitting Eugene Onegin and the Fourth Symphony for inspection, "I know you are absolutely sincere and I think a great deal of your judgment. But I also fear it." When Tchaikovsky visited Taneyev with his Fifth Symphony, Taneyev started playing through part of the manuscript at the piano. As an eyewitness reported, "With characteristic pedantry Taneyev began showing Tchaikovsky what he considered to be faults, thereby sending Tchaikovsky into even greater despair. Tchaikovsky grabbed the music and wrote across the page with a red pencil: Awful muck. Still not satisfied with this punishment, he tore the sheet of music in half and threw it on the floor. Then he ran out of the room. Despondently Taneyev picked up the music and told me: Pyotr Ilyich takes everything to heart. After all, he himself asked me to give my opinion…"
Sergei Taneyev: Prelude and Fugue in G-sharp minor, Op. 29 (version for 2 pianos) (Shalamov Piano Duo)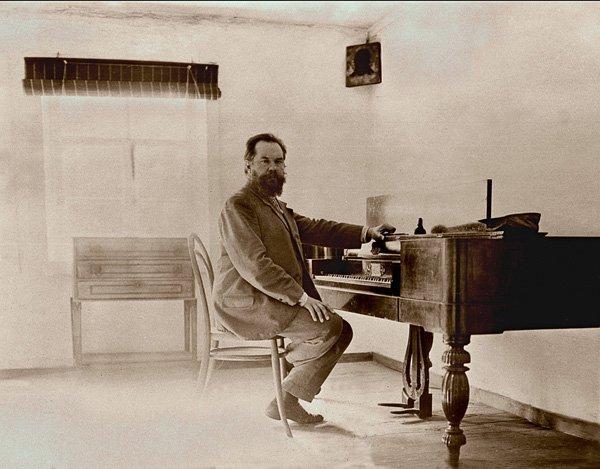 Tchaikovsky would dedicate his orchestral fantasia Francesca da Rimini, Op. 32 (1876) to Taneyev, and the latter returned the compliment with the dedication of his own String Quartet in B-flat minor. At the time of the first performance, Tchaikovsky was in Western Europe, and Taneyev conveyed opinions on the work. "Cui likes the introduction most of all. The beginning of the narrative pleases him little, he thinks it's like a Russian folksong, which is out of place. All the following music of the narrative he finds superb, especially where the syncopations begin… Rimsky-Korsakov doesn't like the theme, but everything taken as a whole pleases him very much." Taneyev's thoughts on Tchaikovsky's 4th Symphony, however, were not entirely charitable. As he writes, "One of this symphony's failing with which I shall never be able to reconcile myself is that in each movement there is something that recalls ballet music; the middle of the Andante, the trio of the scherzo, the march-like bit in the finale. That's my honest opinion of this symphony. Perhaps I've expressed myself too bluntly, but you won't be angry with me for this.
Sergei Taneyev: String Quartet No. 1 in B-flat minor, Op. 4 (Taneyev Quartet)

Tchaikovsky was seriously stung by Taneyev's criticism, and responded, "I simply do not understand what it is that you call ballet music, and why you cannot reconcile yourself to it. Do you understand as ballet music very cheerful tunes that have a dance rhythm? If that's the case, you must also be unable to reconcile yourself to the majority of Beethoven's symphonies in which you encounter such things at every step… I don't understand why you consider this a defect. I fear I should not wish symphonic works to come from my pen which expresses nothing, and which consists of empty playing with chords, rhythms, and modulations. Of course, my symphony is programmatic, but this programme is such that it cannot be formulated in words." After Tchaikovsky's death in 1893, Modest Tchaikovsky entrusted Taneyev to complete a number of works left unfinished, including the duet scena from Romeo and Juliet, the Andante and Finale for piano and orchestra, Op. 79, and the piano piece "Momento lirico." In addition, Taneyev was an active member in the founding of the Tchaikovsky House-Museum at Klin in 1895. Taneyev died on 19 June 1915, having caught a severe flu at the funeral of his student Alexander Scriabin. His personal musical manuscripts were bequeathed to the Klin archive.
For more of the best in classical music, sign up for our E-Newsletter
Sergei Taneyev: Piano Quintet in G minor, Op. 30