I really don't know how to talk about one without the other, as many consider Katia and Marielle Labèque, "the best and closest piano duo in front of an audience today." The Labèque sisters are tremendous, exclaims American composer Philip Glass. "They are great performers, and great interpreters. And they are wonderful supporters of music, not only modern music, but just music." Katia was born on 11 March and her sister Marielle on 6 March, so it is fitting that we provide them both with birthday greetings this month. They were born in Bayonne on the southwest coast of France near the Spanish border. Their father was a doctor, rugby football player and music lover. He sang in the Bordeaux Opera choir. Their childhood was filled with music, as they commenced formal training at the ages of three and five, respectively. Lessons with their mother Ada Cecchi, a former student of Marguerite Long supplemented their formal training. In 1968, the Labèque sisters graduated from the Conservatoire in Paris, and began to work on four hands and two pianos repertoire.
Philip Glass: Concerto for two pianos (Excerpts)
Their first album recorded music of Olivier Messiaen, and that effort was quickly followed by performances of contemporary music, including works by Lucian Berio, Pierre Boulez, Philippe Boesmans, and György Ligeti. True international recognition came with the 1980 two-piano recording of Gershwin's Rhapsody in Blue, which sold over a half million copies, garnering one of the first gold records in classical music. A critic wrote, "Whether Mozart or Stravinsky, their musical line always sounds as if it's being woven for the very first time… But the illusion of improvisation is the genius of their performances. In all their recordings there is a deceptive sprezzatura that is born of throwing the preparation to the winds and hanging onto each others ears." Renowned for their ensemble of synchronicity and energy, they have reached far beyond the traditional classical repertoire to include contemporary classical music, jazz, ragtime, flamenco, minimal music, baroque music on period instruments, and even pop music and experimental rock. Considered one of the most acclaimed piano duos of our time, the Labèque sisters have developed a stunning career with performances worldwide.
Poulenc: Concerto for Two Pianos (excerpts)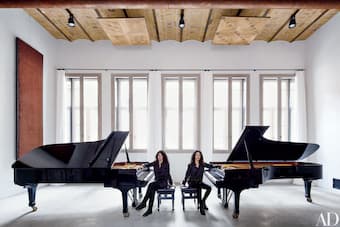 The Labèque sisters play with perfect precision, sparkling humor and vigor, not to mention great virtuosity. They are a double act on stage, but they also live together in private life. They moved to London in 1987, and then to a place in Florence in 1993, and since 2005 they have lived in a palace that belonged to the Borgia family of Rome. They are always open to new kinds of music and new projects "that reinforces our connection." However, the sisters are not jointed at the hips, as Katia has reached out to form new exciting collaborations. That included a 2001 pairing with violinist Viktoria Mullova, a duo that "enjoyed international acclaim since its inception, appearing regularly throughout Europe and the US. They released an album "Recital," featuring works by Schubert, Ravel, Clara Schumann, and Stravinsky in 2006 to great acclaim. Katia has always shown boundless enthusiasm for new music, and for a time, she was a member of John Mc Laughlin's group touring worldwide. Miles Davis even dedicated two songs to her on his 1985 album You're Under Arrest, "Katia Prelude" and "Katia."
Miles Davis: You're Under Arrest, "Katia"
Katia subsequently collaborated with Dave Maric and Marque Gilmore creating "the Katia Labèque Band." They toured in Europe and their tour in UK ended up at Festival Hall in London for the London Jazz Festival. Their album "Unspoken" was released on KML recordings, a label created by Katia and Marielle "to reflect their aspiration to build a bridge crossing all aspects of contemporary creation." Amongst a host of artistic projects we also find "B for Bang," featuring the music of the Beatles, and Katia's solo albums "Shape of my Heart" brings together collaborations with Sting, Herbie Hancock, Chick Corea, Gonzalo Rubalcaba and David Chalmin alongside brand new recordings of the music of Satie, Chopin, Beatles and Radiohead. One of her newest projects is called "The minimalist Dream House," inspired by the early 1961 concerts curated by La Monte Young at Yoko Ono's downtown New York loft. It is hardly surprising that countless composers have written dedicated works for them. This includes "Linea" for two pianos and percussion by Luciano Berio, "Water Dances" for two pianos by Michael Nyman, "Battlefield" for two pianos and orchestra by Richard Dubugnon, "Nazareno" for two pianos, percussion and orchestra by Osvaldo Golijov and Gonzalo Grau, "The Hague Hacking" for two pianos and orchestra by Louis Andriessen, "Capriccio" by Philippe Boesmans, and the "Concerto for two pianos and orchestra" by Philip Glass. And not to be outdone, they created their own foundation "Fondazione Katia e Marielle Labèque" in Rome, Italy, with the goals of promoting the relationship between music and image.
For more of the best in classical music, sign up to our E-Newsletter
Sting & Katia Labèque: "Shape of my heart"