Conductor David Wordsworth has taken advantage of his connections within the choral world and the fact that everyone's been home for quite a few months to speak with 24 of the world's leading choral composers. He started with a list of basic questions (what were your first musical memories, was there music in your home as you grew up?), leads each composer through their biography, and then discusses with each how they became a composer, discussing who they studied with, examining individual pieces, and, finally asking them to choose a favourite (not all do) and list their five favourite pieces.
Their stories are extraordinarily varied but each comes back to the fact that music composition was what they had to do, specifically choral composition. They may write in other genres, but vocal writing gives them something different. They also all emphasized that the best way to become a choral composer is to sing in a choir and see the music from the inside out.
Morten Lauridsen: O magnum mysterium (Chamber Choir of Europe; Nicole Matt, cond.)

The composers range in age from the 80-year-old American composer Adolphus Hailstork to the 41-year-old Cheryl Frances-Hoad, so we can read of composers who have their daily appointment with pen and paper and those who have a date with their computer. Most composers came to music through a church-singing background, others through a family in music, and still others because their first degree or career didn't conquer their love of music. In choosing his interviewees, a few he would have liked to speak with got away, but Wordsworth has captured a range of not only British but also American, Polish, Finnish and Latvia composers.
James MacMillan: The Strathclyde Motets: O Radiant Dawn (Netherlands Radio Choir; Netherlands Radio Chamber Philharmonic; James MacMillan, cond.)

John Rutter, for example, talks about what went into his Gloria. Specific instructions from a choir director describing the choir, the sound in the auditorium, the fact they had an organ but no orchestra, etc. led to a work that has become one of the staples of his catalogue.
John Rutter: Gloria – I. Allegro vivace (King's College Choir, Cambridge; Gonville and Caius College Choir, Cambridge; City of Birmingham Symphony Orchestra; Stephen Cleobury, cond.)


Each composer speaks of how they got into choral music. For composers writing in the 1960s, 1970s and even the 1980s, choral music was a backwater. Experimental music was everywhere and it rarely included voices. It wasn't until the 1990s with the rise of composers such as Gorecki that the genres were freed again. One piece that Sir Karl Jenkins discusses is his choral work Adiemus (1995). He said that 'There was always a huge problem in the UK as to what Adiemus was or is – is it an oratorio, a cantata, some kind of tone-poem?….' Since it was written not in any known language but was really a series of phonetic sounds, that eventually became 'the band, the singer, a series of pieces, a brand name….'
Karl Jenkins: Adiemus (Mary Carewe, siorabi; Miriam Stockley, vocals; Pamela Thorby, recorder; Adiemus; Jody Jenkins, percussion; Frank Ricotti, percussion; London Philharmonic Orchestra; Jenkins, Karl cond.)

In reading through each interview, you are taken by Wordsworth through each composer's biography, discovering along the way how each composer found a way into music and into choral music. He starts with finding out what composers consider to be their opus I, i.e., the work that they were willing to release to the public as their own. Wordsworth's knowledge of each composer's works also leads you through their development as a composer from their opus I to their opus of today.
Some composers speak of the difficulty in making their way as a woman composer (Judith Bingham), as a black composer (Adolphus Hailstork), as a composer of works that the teachers didn't respect (Eric Whitacre), as a composer of the slight genres of film and choral music (Morten Lauridsen), and so on. We respect their works now, but most of these composers had to carve their own paths to success.
Eric Whitacre: Cloudburst (Concordia Choir; Rene Clausen, cond.)

Interview books can be difficult – as a reader, you must step into a space already occupied by the interview and the subject and find an empathy that you can relate to. This book is one of the most successful interview books I've ever read. You learn more, and in a more personal manner, than if you'd read straightforward biographies of each of these 24 composers. You read about the music that influenced them, the composers who taught them, and the music that they list as their favourites (actually, the music that is their favourite now – later may be something else again). And this section was one place that Wordsworth said he was often surprised. He expected the composers to choose their favourites from works by Bach, Mozart, Britten, and Stravinsky, and they are duly there, but he also has listings of music by John Adams, Alban Berg, György Ligeti, Billy Joel, Richard Strauss, and William Walton. He also had many references to music written by the other interviewees: Jonathan Dove, Ēriks Ešenvalds, Morten Lauridsen, James MacMillan, John Rutter, Judith Weir, and Eric Whitacre. There's a nice cross-referenced list at the back of the book of these favourites and who chose them.
Tarik O'Regan: Locus iste (Clare College Choir, Cambridge; Timothy Brown, cond.)

Each interview closes with the same question: 'We are recording this interview at a very difficult and worrying time. How have you been dealing with lockdown?' Composers talk of the time they finally have to sit down and write, others mourn the loss of performances and the loss of money for performers, revel in the time they've gained by not having to travel, and, at the same time, await a future that they can't yet imagine.
Judith Weir: Illuminare, Jerusalem (Gonville and Caius College Choir, Cambridge; Annie Lydford, organ; Geoffrey Webber, cond.)

Read this book if you like choral music, read this book if you like these composers, or read this book if you like music at all. It's a wonderful view into a small corner of the classical music world and even in that restricted image, all of music is reflected.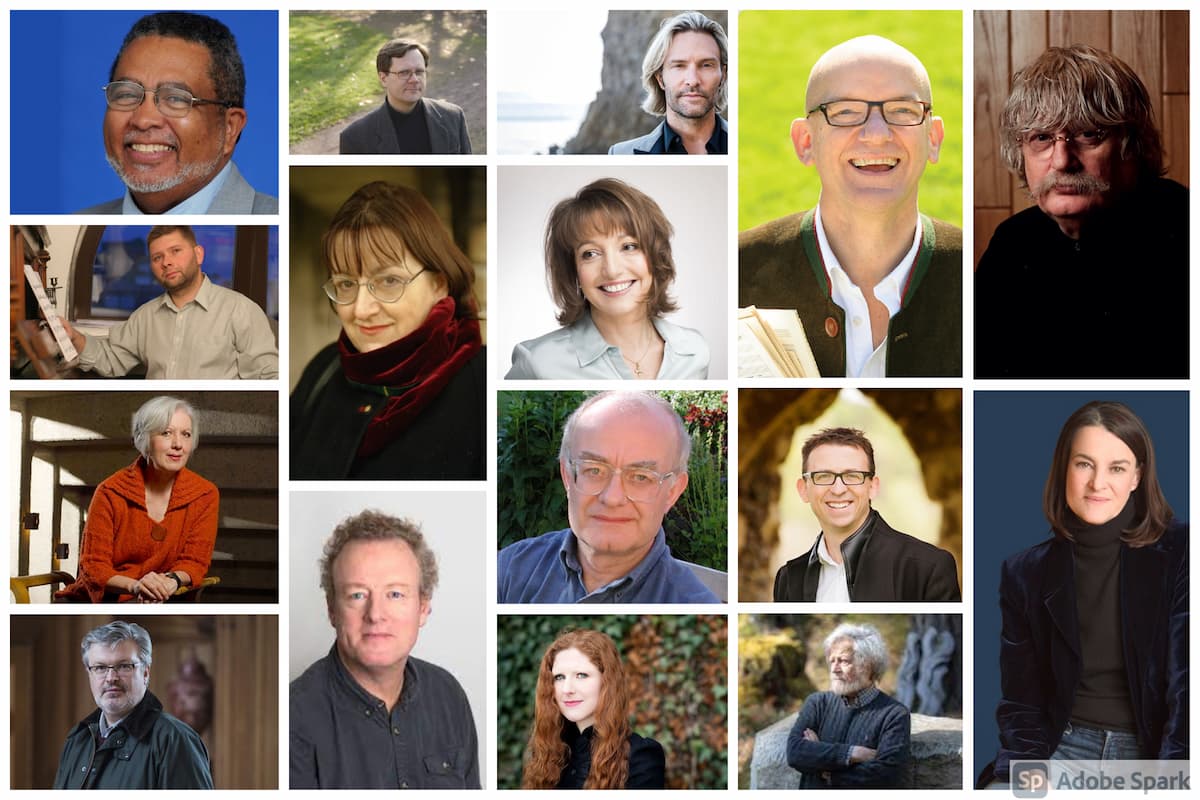 Composers interviewed:
Judith Bingham, Bob Chilcott, Jonathan Dove, Ēriks Ešenvalds, Cheryl Frances-Hoad, Howard Goodall, Adolphus Hailstork, Gabriel Jackson, Sir Karl Jenkins, Libby Larsen, Morten Lauridsen, Paweł Łukaszewski, Cecilia McDowall, Sir James MacMillan, Jaakko Mäntyjärvi, Paul Mealor, Tarik O'Regan, Roxanna Panufnik, John Rutter, Howard Skempton, Will Todd, Errollyn Wallen, Judith Weir, and Eric Whitacre.
For more of the best in classical music, sign up to our E-Newsletter