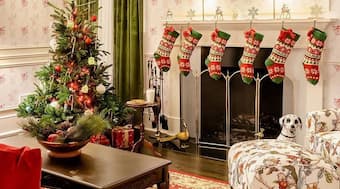 In the Lieder oeuvre of Haydn, Mozart, Beethoven, and Franz Schubert, we find a substantial variety of folksongs and folksy carols, but none of them are directly related to Christmas. For these famous composers, Christmas was squarely located in the sacred context of masses and ecclesiastical feasts. It was only with the emergence of a bourgeois Christmas culture that the feast became common property in rural and urban households.
As the 19th century progressed, poets and composers engaged with Christmas as a topic, and Richard Strauss (1864-1949) composed a number of Lieder directly related to Christmas. Setting a text by Heinrich Heine, Strauss imbues the lied of "The three holy kings" with a delightful Christmas atmosphere. The composer subsequently produced a shimmering orchestral arrangement reminiscent of his best tone poems.
The three holy kings from Eastern lands,
They asked in every town:
'Where is the way to Bethlehem,
Dear boys and girls?'

Young and old, they did not know,
The three kings journeyed on;
They followed a star of golden light
That shone down bright and cheerily.

The star stood still over Joseph's house,
And there they went inside;
The little ox bellowed, the baby cried,
The three holy kings, they sang.
Richard Strauss: Six Lieder, Op. 56, No. 6 "The three holy kings"
Gabriel Fauré (1845–1924) was "generally more concerned with earthly love than with religious matters." Composed in 1886, his "Noël" setting is based on a text by Victor Hugo and conveys an atmosphere of reconciliation. And while the piano opening sounds almost like an arrangement of an orchestral setting, the melody becomes a cheerful song to the baby Jesus. The savior opens his eyes and smiles at the pilgrims paying homage to him.
The night descends from the height of the skies,
The frost on the roof suspends its fringes.
And, in the air, the flight of the angels
Awakes a mysterious noise.

The star which guided the magi
Halts at last in the clouds
And shines a golden nimbus
On the cottage where Jesus sleeps.

Then, opening his divine eyes,
The child lying in the humble crib,
A cradle of fresh straw,
Smiles to the noble pilgrims.

Bowing, they say to him: Lord,
Receive this incense, gold, and myrrh,
And let us, oh gentle Jesus,
Kiss the bottom of your feet.

Like them, oh people, bow yourselves,
Follow their pious example,
Because this stable is a temple,
And this child will be your king!
Gabriel Fauré: "Noël," Op. 43, No. 1 (Eileen Farrell, soprano; George Trovillo, piano)

Peter Cornelius (1824-1874) was a brilliant actor, composer and writer. In fact, in his song cycle of six Lieder Op. 8 "Christmas Songs," he sets his own poems for voice and piano. Composed between 1856 and 1870, the lieder are dedicated to his sister, and the opening "Christmas Tree" pays homage to an endearing symbol that acquired huge popularity during the second half of the 19th century.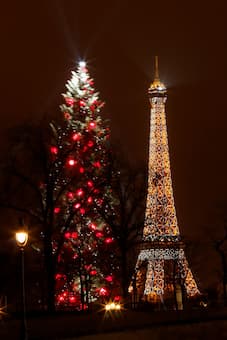 How beautifully adorned is the festive room!
The candlelight sparkles on the Christmas tree!
O merry time! O blissful dream!
Mother is sitting in the children's circle;
Now everyone is silent at her behest:
She sings in praise and glory of the Christ-child.
And all around, illuminated by the Christmas tree
And depicted in beautiful pictures,
Is the Holy Book's palmy world.
The children marvel at the images' splendor
And are attentive to the singing
That sounds so sweet on this Christmas Eve!
O happy circle in a festive room!
O golden candlelight on the Christmas tree!
O merry time! O blissful dream!
Peter Cornelius: Weihnachtslieder, Op. 8, No. 1 "The Christmas Tree" (Christiane Karg, soprano; Gerold Huber, piano)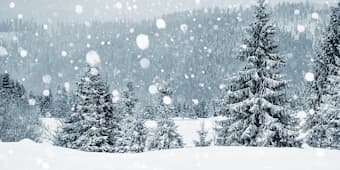 The "Christmas Tree" also stands at the core of a lied setting by the Austrian composer Joseph Marx (1882–1964). Marx was essentially self-taught as his parents strictly objected to his interest in music. Undeterred, Marx earned a doctorate in philosophy and published a number of highly important treatises on the fundamentals of tonality. Between 1945 and 1964, Marx enjoyed great popularity as a composer of tonal serious music, but following his death, his name fell into oblivion and only his songs were remembered. Composed in 1908, "Christmas Tree" is based on a text by Christiane von Breden, who published under the pseudonym Ada Christen. Following in the footstep of Wolf, Strauss, and Pfitzner, Marx presents Christmas "in the mirror of childhood memories."
Do you too hear the quiet voices
Emanate from the colorful candles?
The forgotten prayers
Echo from the fir branches?
Do you too hear the timidly happy,
Bright children's laughter all around?
Do you too see the silent angel
With its spotless white wings?…
Do you see yourself again,
Distant and strange as though in a dream?
Do you too greet your childhood,
As you behold the tree with dreamy eyes?…
Joseph Marx: "Christmas Tree" (Christiane Karg, soprano; Gerold Huber, piano)


Edvard Grieg (1843–1907) based many of his vocal works on German and Danish texts. And that includes the Danish poet, dramatist and painter Holger Drachmann. One of the most popular Danish poets of modern time, "he unites modern rebellionist attitudes and a really romantic view of women and history." Grieg's setting of "Christmas Snow" is published in a collection entitled Six Poems, Op. 49. The composer draws connections with the falling flakes of the winter snow in "accentuated contrasts between lyrical and dramatic passages: tears of remembrance, but also rebellion against the adversity in the world."
O'er wooded hills I wander, 'tis Christmastide;
Disturbing thoughts I ponder as snowflakes glide.
The hoarfrost gleams in winter sun;
Soft snowflakes falling one by one
Soon melt upon the hand I hold outspreading;
On straw and wither'd leaves my feet are treading.
The melting snowflakes are winter's tears,
The wind is the sound of her sighing;

They echo our spirits' innermost fears:
That the end of all life is dying!
Must all surrender to winter's wind?
Bides aught but affliction and sorrow?

No, winter's snow to our souls is akin,
Concealing the hope of the morrow.
A flake on the hand, a droplet so warm,
Ephemeral visions of sadness,
Have burden'd our spirit with such alarm;
Ah! Let us leave this dark madness!
If pity and care for the human plight cause
Gloom and despair to come thronging,
Recall the snowflakes so fluffy and white
That cover all sadness and longing.

O'er wooded hills I wander, 't'is Christmastide;
Disturbing thoughts I ponder as snowflakes glide.
The hope of spring is in the air,
Soft snow is melting ev'rywhere.
The hidden seeds of life soon end their sleeping,
As souls immers'd in gloom are softly weeping.
Edvard Grieg: Six Poems, Op. 49, No. 5 "Julesne" (Monica Groop, mezzo-soprano; Roger Vignoles, piano)


Engelbert Humperdinck (1854–1921) is best known for his fairytale opera Hansel and Gretel of 1893, a work that somehow established its own Christmas tradition. His stage music for a number of Shakespeare dramas was also in great demand by publishers, but his favorite genre was the Lied. And judging from the number of settings, Christmas was his favorite time of year. He composed a cycle of nine Christmas Songs in 1900, and "The Star of Bethlehem" is based on a text by his wife Hedwig. Reveling in the bourgeois spirit, Humperdinck fuses religious symbolism with family celebrations. "Once a year, the star shines radiantly with which the Christ child kindles the lights that Santa Claus puts on the Christmas tree in the form of candles."
A star shines brightly in the heavens
Three Magi they followed that Star's bright light.
It rose o'er a manger and there it shone;
Jesus was found there – the star was gone.

"And where did the Star go? Mother dear, tell me!"
Listen, baby-boy, and mother will tell thee:
In realms of bright splendor, in regions far
O'er God's High Throne gleams that golden Star.

But once every year from yon deep azure height
Its light guides the Angels to earth thro' the night.
By that Star Infant Jesus lights those candles you see,
Which Old Father Christmas then puts on the Tree.

And that's why they glow as with Heavenly light,
And make all hearts to rejoice with delight.
Where they shed their brightness no grief can abide.
O joy-bringing, bliss-bringing Christmastide!

O merry Christmastide!
Engelbert Humperdinck: "The Star of Bethlehem" (Ute Ziemer, soprano; Julian Riem, piano)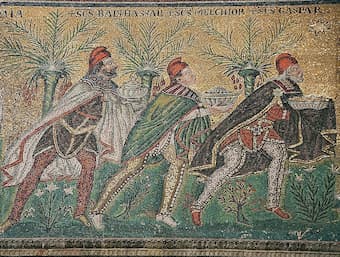 In all, Claude Debussy (1862–1918) composed some eighty mélodies. His first mélodie originated during his early teenage years, and his final settings dates from 1915, three years before his death. In 1915, Debussy lived through the second year of World War I, just as we are now living through our second Christmas during the Covid-19 pandemic. In his own words, the composer raised his voice against the atrocities of the war, adopting the breathless, pleading voice of a child. It is a bitter indictment of war and distress.
We've no houses any more!
The enemy have taken everything,
everything, everything,
even our little beds!
They've burned the school and our teacher too.
They've burned the church and Mister Jesus
and the poor old man who couldn't escape!

We've no houses any more!
The enemy have taken everything,
everything, everything,
even our little beds!
Of course! Daddy's at the war,
poor mother died!

Before seeing all this.
What are we to do?
Noël, little Noël, don't visit them,
don't visit them ever again,
punish them!

Avenge the children of France!
The little Belgians, the little Serbs,
and also the little Poles!
If we've forgotten any, forgive us.
Noël! Noël! And above all, no toys,
try to give us back our daily bread.

——

Noël! Hear us, we no longer have our little clogs:
but give victory to the children of France!
Claude Debussy: "Noël des enfants qui n'ont plus de maison"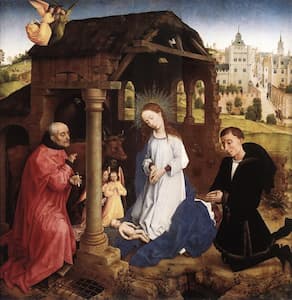 The "Spanish Songbook" by Hugo Wolf is a collection of 44 Lieder composed between October 1889 and April 1890. Published in 1891, the texts are German translations by Emanuel Geibel and Paul Heyse of Spanish and Portuguese poems and folk songs, originally published in a collection in 1852. The collection is divided into two parts and features ten spiritual and thirty-four secular songs. Three of the sacred songs are related to Christmas or Advent. In his setting of "Lead me, child, to Bethlehem!" Wolf focuses on the Christ child sleeping peacefully in his cradle, untouched by the storm and the cold.
Lead me, child, to Bethlehem!
Thee, my God, Thee will I see.
Whoever managed to come to Thee,
Without Thy help!

Shake me awake,
Call me, and I shall come;
Stretch forth Thy hand to guide me,
That I might set out.
That I might gaze on Bethlehem,
There to see my God.
Whoever managed to come to Thee,
Without Thy help!

I am sorely oppressed and weighed down
With the grievous sickness of sin.
If Thou wilt not come to my aid,
I must stumble and falter.
Lead me to Bethlehem,
Thee, my God, Thee will I see.
Whoever managed to come to Thee,
Without Thy help!
Hugo Wolf: Spanish Songbook, "Lead me, child, to Bethlehem!"
Eduard Toldrà (1895-1962) was a Spanish Catalan composer and conductor, who played a significant role in the musical culture of Barcelona. In fact, he founded the Barcelona Symphony Orchestra in 1944, and gained international recognition for two operas, symphonic and concert music. In addition, he is considered "the most important twentieth century composer in the song field of Spain." Employing Catalan as a musical language, Toldrà established "a movement of nationalism that brought out the valued of Catalan culture as one of the most creative and original in twentieth-century Europe." In his beautiful and calm "The Canticle of the Virgin," the music and poetry come together in a deeply felt synthesis of poetic rhythm and musical expression.
As you walk through the palms,
Holy angels,
To let my child sleep,
Let the branches be still.

Palms of Bethlehem,
As you move angrily,
Swayed by the raging winds
That blow so loudly:
Do not make noise around him,
Slow down your haste;
That my child may sleep,
Let the branches be still.

The divine child,
Who is weary
Of being sorrowful on earth,
To get his rest,
He needs a little respite
From his tender weeping.
That my child may sleep,
Let the branches be still.

Harsh weather
Is all around him,
And you see I have nothing
To shield him.
Angels from heaven,
As you go on flying,
That my child may sleep,
Let the branches be still.
For more of the best in classical music, sign up to our E-Newsletter
Eduardo Toldrà: "The Canticle of the Virgin" (Christiane Karg, soprano; Gerold Huber, piano)