The Austrian composer Hugo Wolf (1860-1903) was a superb song composer, bringing the late Romantic lied into the modern age and, with it, imbuing the lied with a new conciseness that was more a hallmark of Schoenberg's Second Viennese School.
The new German lieder style that Wolf worked in was much influenced by Wagner. Songs were now expressive and dramatic, with an often-surprising chromatic sound. Wolf started his life as a child prodigy on the piano and the violin but had an angry character that was at odds with the rigors of high school. He attended the Vienna Conservatory but had to leave due to a "breach of discipline."
Out of conservatory, he taught music, but it was his musical brilliance and charm that brought him support. He succeeded, he failed, he returned home, he failed as Kapellmeister in Salzburg, he returned to Vienna – his depressions and mood swings kept him from the success he should have had.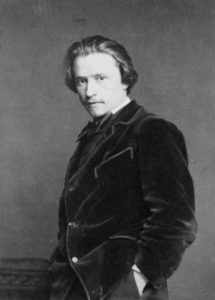 In 1883, at Wagner's death, Wolf felt that his idol had departed, and his depression and anger alienated as many patrons and friends as his charm attracted. He came to the attention of Franz Liszt, who urged him to start working on larger symphonic forms, and he started to work as a critic. In May 1887, he wrote his elegant Italian Serenade. A week after he completed it, his father died, and he sank into a year of lethargy.
The Italian Serenade began life as a simple Serenade in G major, but by April 1890, Wolf had changed its name. Written for string quartet, it was originally intended to be a standard 4-movement work, but because of the death of his father so shortly after completing this, it was left as a one-movement work.
A couple of literary works by Joseph Eichendorff may have influenced his ideas for this quartet piece, the first being poems that he had recently set and the second a novella about a travelling violinist who seeks his fortune abroad and at one point, hears an Italian serenade played by a small orchestra.
The work is not the Italian style of the time we might think of by composers such as Mendelssohn, The lightness is there, but, at the same time, there's a more serious background. The main theme is supposed to have come from an old Italian melody, but really hasn't been traced to a source.
The work was never performed in Wolf's lifetime as he concentrated more on lieder. The work remains one of his few non-song pieces. In early 1897, Wolf's mental state declined due to a syphilitic infection that drew him down into insanity. In his last years in the insane asylum, he tried to return to the Serenade to write other movements, but nothing resulted. The string quartet, arranged in 1892 for string orchestra, remains a lovely example of what talents Wolf had, but which were lost to his mental condition.
Wolf: Sérénade italienne in G major for String Quartet
This recording of the serenade was made by The New Music Quartet in 1953. The quartet, with Broadus Erle and Matthew Raimondi on violin, Walter Trampler on viola, and Claus Adam on cello, was an American string quartet formed in 1948. They were known for their performances of modern music.
Erle was concertmaster of the MGM Symphony Orchestra and the Columbia Symphony Orchestra in the 1940s and was concertmaster of the new Japan Philharmonic Orchestra from 1956-1960. At the Yale Unversity school of music from 1960, he had a number of famous students including conductor Marin Alsop and violinist Takako Nishizaki. Second violinist Matthew Raimondi followed his work with The New Music Quartet with leading The Composers Quartet, another group known for its performances of contemporary music by composers such as Elliott Carter and Ruth Crawford Seeger. German violist Walter Trampler was a founding member of The Chamber Music Society of Lincoln Center and worked with Erle both in The New Music Quartet and as part of the Yale Quartet. Cellist Claud Adam was, most famously, the second cellist of the Juilliard String Quartet from 1955-1974.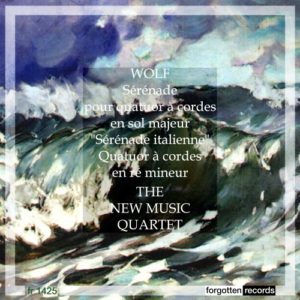 Performed by
The New Music Quartet

Recorded in 1953

Official Website