Gina Ismene Chitty is an Australian composer, pianist, and painter who draws inspiration from diverse cultures, which is reflected in her compositions. In this interview, Chitty discusses her background and how it has shaped her unique creative style.
As an Australian of Sri Lankan descent, are the different cultures and backgrounds influential to you as a musician?
One of the great joys of living in Australia is its multicultural tapestry. I have a multicultural genetic make-up in me, part Eurasian Goan and part Sri Lankan.
However, I grew up in an Anglophile social setting, in Colombo Sri Lanka, surrounded by intellectuals, chamber music aficionados, brilliant concert pianists, somewhat eccentric professorial academics from various fields, and artists who busied themselves arranging weekly musical evenings and playing chamber music, with most of them also playing in the local Symphony Orchestra.
Conversations over breakfast were always a lively affair, there were countless numbers of arguments over why opus numbers were inconsistent in "real" terms and not in chronological order, reflections on "randomly" specific microscopic textures and harmonies in the works of great composers, and a deep fascination with what I perceived as a child, as bordering on the ridiculous.
One instance was my father's unwavering fascination with a specific theme in the final movement of Beethoven's Opus 111 sonata, a puzzle to my six-year-old self.
In my child's eye, that particular theme appeared as a simple and unremarkable melody, adorned with introspective compositional motifs and ideas.
Ironically, whilst my musical foundation was firmly rooted in the classical tradition, life in Sri Lanka offered a unique twist to my musical journey.
I was exposed to the vibrant strains of Baila, a popular Portuguese folk music genre with connections to Mauritian Sega and the Brazilian Tango.
This infectious music was a part of the cultural tapestry embraced by most strata of society, some, more than others.
In my case, I would often encounter its rhythms during junior and high school excursions.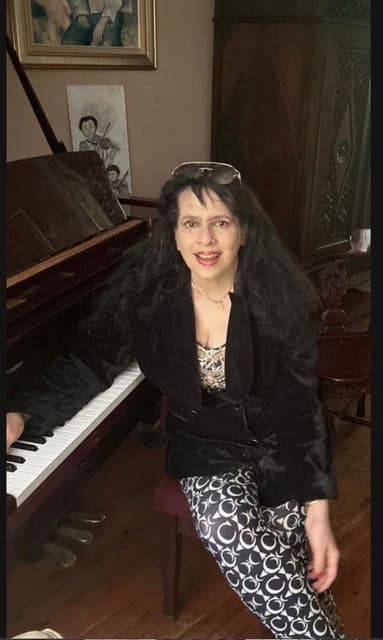 This inspired me to write a book titled "Public Postures, Private Positions" based on my Ph.D. thesis at Macquarie University, highlighting the Sri Lankan diasporic usage and intricate relationship with this particular strand of Afro Lusitanian music, the "Sri Lankan baila " which is a hybrid cultural form, a multi-cultural fusion of melodic, lyrical and dance elements.
Your biography mentions your interest in merging Baroque music with Asian and Arabian music. And you also like jazz and Spanish folk music! Are these styles and characteristics found in your works? Can you introduce us to some?
One example of the merging of baroque with Arabian music would be The Baroque Bear at the Arabian Wedding Party, composing for marimba, classical guitar, sleigh bells, and cowbells. The "Baroque bear" communicates using brief interjections and "queries" in relatively angular contrapuntal integrations of melody lines.
The BaroQ Bear at the Arabian Wedding Party – Composed by Gina Ismene Chitty (c) 2020
These are then pitted against more flamboyant and decorative textures and rhythmic meters, nuanced and embedded in more percussive instrumentation such as cowbells, thus bringing together and merging baroque and Arabian music.
My publisher, knowing that I was an artist, asked me to provide an illustration that could be used on the cover – so I quickly sketched a bear in a wig dressed in an outfit like Bach's and an Arabian dancer, dressed in skimpy attire.
Examples of a merger with jazz music are found in virtually most of my compositions in some form, even if I set about writing an etude for piano such as Hexagonal Etude Augmentations which incorporates some syncopated motivic ideas:
YASUKO FURUMI – HEXAGONAL ETUDE – GINA ISMENE CHITTY- SYDNEY INTERNATIONAL PIANO COMPETITION 2023
The Dance of the Robotic Cyborg is also a merger of the rhythmic and structural inflections of jazz with elements of a baroque contrapuntal style.
Both Hexagonal Etude Augmentations and The Dance of the Robotic Cyborg received Australian premieres at the recent Sydney International piano competition as parts of the "Composing the Future" initiative.
JINHONG LI- DANCE OF THE ROBOTIC CYBORG- GINA ISMENE CHITTY SYDNEY INTERNATIONAL PIANO COMPETITION
The recent Furious Toccata for piano contains clashing dissonances, rhythms of an Indian tabla, hints of a scale intonation of a sitar, a touch of Impressionism, and a splash of subdued jazz.
THE FURIOUS TOCCATA – COMPOSED BY GINA ISMENE CHITTY
The cover illustration of the publication was my little sketch of a man with a somewhat lofty attitude seated at the piano by an open window.
Panther's Promenade and The Ingratiatingly Friendly Ghost both contain a more humorous integration of the elements of jazz with the classical. The smirk on the Panther's face in my drawing as used on the cover of the publication relates to the essence of the intrinsic nature and indispensable quality of 'panther-like 'arrogance 'captured in the airy drumming out of the repetitive signature melody.
THE PANTHER'S PROMENADE- COMPOSED BY GINA ISMENE CHITTY
"The Ingratiatingly Friendly Ghost" – composed by Gina Ismene Chitty
Is there a particular genre you would like to compose for but have yet to?
I would like to compose more pieces for voice and piano and more chamber music. The vocal music and chamber music I had composed previously have been performed, but not yet published. When I do have the time, I will set about having these published and composing a few more sets of these.
Do you compose regularly? If so, how do you always stay inspired or creative?
I'm inspired by a wide range of natural sources and phenomena, but I am influenced mainly by the works of great composers brought to life and performed by the brilliantly talented artists of our time.
Amongst my favorite composers are Bach, Scarlatti, Dvořák, Prokofiev, Rachmaninoff, Beethoven, Chopin, Ravel, Liszt, Kapustin, and Tchaikovsky. Their works energize me and inspire me to compose.
What are you currently working on?
I am currently working on a piano toccata – The Toccata in Limbo which aims to utilize "deceptive "cadences or cadences which are left "hanging "in mid-air.
I am also working on an orchestral suite The Visit of Queen Victoria's Munshi.
The latter will be a merger of many different styles of music, driving percussive rhythms and exotic instrumentations.
For more of the best in classical music, sign up for our E-Newsletter