Who or what inspired you to pursue a career in music?

My parents inspired and encouraged me. They are not musicians, but they love romantic piano music. I grew up listening to Chopin and Liszt on the radio at home. My parents used to say that music is something very beautiful and lovable through which people escape from the mundane daily life, and they would like to hear some music (played by me!) when they get home after work. My younger sister and brother also became classical musicians.

Who or what have been the most important influences on your musical life and career?

Most important have been the experiences of studying in different continents, performing all over the world, and working with diverse cultures. I have studied and worked in five different countries. I was born in South Korea and educated there until I was 15 years old, then I left for New York to study at the Juilliard School's Pre-college. I studied with the greatest professors at the Curtis Institute of Music, and the Juilliard School. I also lived in Montreal, Canada, and worked in Turkey as a piano professor for three years. Currently, I work in Hong Kong.

What have been the greatest challenges of your career so far?

Every day I strive to be slightly better than yesterday as a pianist, teacher, and human being.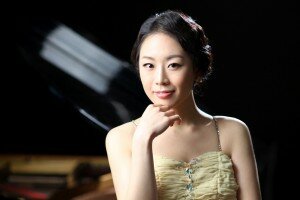 Which recordings are you most proud of?

I love all of my four albums! I've recorded three albums with Steinway Records, and one album with Concert Artists Guild.

I am excited about my upcoming album, where I perform Venezuelan-born, French composer Reynaldo Hahn's Le Rossignol Éperdu (The Bewildered Nightingale) – 53 poèmes pour piano. I've always loved his songs, always thought his music is very special. I was happy to be exposed to his exquisite piano repertoire. The piece is 2 hours long, has 53 movements, and each movement is inspired by a French poet and poem, and includes his travel diary in Europe.

My previous album Goyescas by Granados was inspired by Francisco Goya's paintings in Madrid, and it is Enrique Granados' masterpiece. I have fallen in love with Goyescas' distinct Spanish culture, color, and rhythm, and in preparing these pieces I immersed myself not just in Spanish music but also in Spanish art, literature, and film.

My debut album Love and Longing is all about love fairy tales including Romeo & Juliet, Tristan & Isolde, Orpheus & Eurydice, and heartfelt Schubert songs. We all experience love in our lives; it's a universal theme, and the most beautiful feeling. But love sometimes isn't there when you wish it to be, and that's when we feel longing. Some of the selections on my CD celebrate love; some convey the absence of love, expectations of love that has not arrived, and memories of love that has been lost. It's amazing how much these pieces convey about love, and that's what I wanted to share with this album.

Previously I recorded Bach-Busoni's Chaconne, Haydn's Sonata, and Liszt's virtuosic works.

Hahn: Le rossignol eperdu – I. Premiere Suite: No. 10. La Fause Indifference
Liszt: Wagner – Isoldes Liebestod from Tristan und Isolde, S447/R280
Which particular works do you think you perform best?

I adore French music. I admire the qualities of sensuousness, arching phrases, subtle harmonic palette, effortless melodic fluidity, delicacy, and elegance in French music.

How do you make your repertoire choices from season to season?

The repertoire for solo piano is enormous. Sometimes it is demands of presenters, but if I have a choice, I like to have a thematic program.

Do you have a favorite concert venue to perform in and why?

The world-famous halls such as Alice Tully Hall at Lincoln Center, Carnegie Hall, Concertgebouw, Berlin Philharmonie, Kennedy Center… I also like playing at smaller venues as home or salon concerts where I feel that I am most connected with the audience: that is my favorite venue.

Who are your favorite musicians?

My favorites are my piano trio and Gloriosa's musicians. Our cellist is the acting principal at Nashville Symphony Orchestra, a proud father of two little girls. Our violinist is a Tchaikovsky Competition prize winner, and a music entrepreneur. I love traveling and making music with my trio mates, and treasure the time being with these two genuine musicians, and two wonderful people.

What is your most memorable concert experience?

My concert at the Berlin Philharmonie with the Berliner Symphoniker. It was my European debut playing in front of 2,500 people. The audience was so very attentive that I could have heard a pin drop.

As a musician, what is your definition of success?

Being able to inspire and share.

As a performer, I hope to inspire my audience with my contagious enthusiasm and passion for music. And as a teacher, I hope to share with my students the experiences I have had, and the education I have received.

What do you consider to be the most important ideas and concepts to impart to aspiring musicians?

Everyone's potentials, skills, and dreams in music are different, but we are all musicians. We need to find our unique identity through experiences and inspiration. To have an international profile as a performer, it is no longer enough to take advantage of traditional opportunities. It is equally important for us to look beyond the traditional opportunities and create our own opportunities.

The current world expects a musician to be an activist, booking agent, communicator, publicist, social media wizard… The musicians need to perform speaking, social, and business skills that were not required 10 years ago. We must prepare ourselves to think of strategies for advancing our career. As a performer and teacher, I realize that the world of music is constantly evolving, and tomorrow's musicians must keep abreast of innovations and develop individualized strategies to guide their careers.

Another part would be chamber music that encourages interactive collaboration. Chamber Music broadens the way of expressing oneself as a musician. Especially for us pianists, who spend most of time by ourselves making music.

Where would you like to be in ten years' time?

I always wanted to be a performer. I enjoy performing in front of people, and I love sharing my music with people. In 10 years' time, I see myself playing much as now, and for wider audience.

As a teacher, I take my teaching job as a part of my life style, because I love interacting with students; and seeing their improvement makes me happy. I also find great joy in organizing artistic events. I would like to continue teaching and organizing events for the next generation.

What is your idea of perfect happiness?

My greatest happiness comes from being able to appreciate things at the end of day.

What is your most treasured possession?

My genuine passion for music and my experiences traveling, playing, and meeting wonderful people in the world.

What is your present state of mind?

Patient and thankful.

Official website