We know the French composer Saint-Saëns for just a few works today, primarily The Carnival of the Animals. The Trio Zadig, however, wants us to know more about the man that critic Harold Schonberg considered "…the most remarkable child prodigy in history, and that includes Mozart.'
We spoke to pianist Ian Barber of the Trio Zadig about their new Saint-Saëns recording. To commemorate the century since Saint-Saëns' death, the Trio looked at Saint-Saëns as composer (Piano Trio No. 2), Saint-Saëns as a transcriber (Rameau: Pieces de Clavecin en Concerts) and as an arranger (Lizst: Orpheus, S98/R415).
Saint-Saëns' Piano Trio No. 2 received its premiere in 1892 and reveals Saint-Saëns' mastery of the piano trio genre. Each instrument is given a place to shine, and, at the same time, the ensemble work raises this far above his first attempt at the piano trio thirty years earlier.
Camille Saint-Saëns: Piano Trio No. 2 in E Minor, Op. 92 – II. Allegretto (Trio Zadig)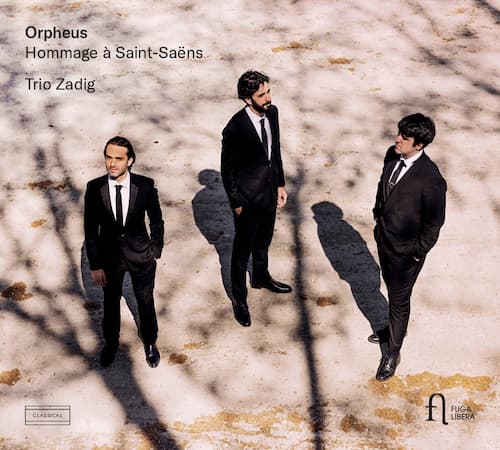 That's Saint-Saëns as composer. When he approaches Rameau, who he liked most of the French Baroque composer, he transformed the harpsichord part into something far more modern. The harpsichord, with its lack of sustain and rather dry tone, when changed into a piano, brings so much more to this music. Originally written for harpsichord, violin or flute and 'basse de viole' or a second violin, when performed on piano, violin, and cello, there's a wonderful clarity to the performance. Saint-Saëns' transcription makes you wonder what Rameau would have done if he'd had a piano rather than a harpsichord on which to compose!
Jean-Philippe Rameau: Pieces de clavecin en concerts: Concert No. 1 in C Minor (arr. C. Saint-Saëns for piano trio) – III. Le Vézinet (Trio Zadig)

The real art, however, comes in Saint-Saëns' arrangement of Liszt's symphonic poem Orpheus, which had its source in an introduction Liszt wrote to a performance of Gluck's opera Orfeo ed Euridice, which he performed in Weimar in 1854. Liszt took as his inspiration an Etruscan vase in the Louvre that showed Orpheus taming wild animals with his lyre. Reducing the orchestral version to a version for piano trio forced Saint-Saëns to focus on the inner details of the work, often hidden within the orchestral setting. There's a clarity in the transcription that one doesn't often hear in Liszt and it has the effect of stripping the Romantic overlay from his writing.
Franz Liszt: Orpheus, S98/R415 (arr. C. Saint-Saens for piano trio) (Trio Zadig)

Earlier recordings by the Trio include their first recording in 2019 of music that recognized the Trio's dual American / French background. The recording includes The Overture to Candide by Leonard Bernstein, a fantasy on Bernstein's West Side Story created for the Trio by French pianist Bruno Fontaine, a new work by French composer Benjamin Attahir, and the Piano Trio in A minor by Maurice Ravel.
Bruno Fontaine: A West Side Story Fantasy (after L. Bernstein) – XI. America (Trio Zadig)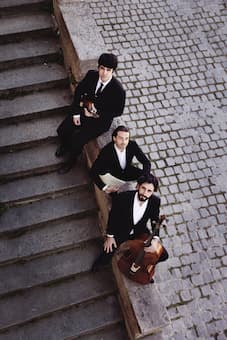 Between times, while we were all home with the COVID lockdown, the trio recorded did a digital release of The Seasons by Tchaikovsky. But, as with all the Trio's projects, it's not what you expect. The Seasons were originally written as a set of 12 short character pieces for solo piano, and over time, has been made into any number of orchestral and ensemble arrangements. The Trio play an arrangement made by Alexander Goedicke (1877-1957).
With Tchaikovsky's original Russian edition was a set of poetic epigraphs by a wide range of Russian poets (including Pushkin, Maykov, A.K. Tolstoy and others). In this recording, they are read in French by the actor Stéphane Varupenne of the Comédie-Française and add just the perfect seasonal touch.
Alleksey Pleshcheyev: Juin: Barcarolle (Stéphane Varupenne)

Alleksey Pleshcheyev: Juin: Barcarolle (Trio Zadig)

The piano trio had its start in the 40-some piano trios written by Haydn between 1766 and the 1790s. It saw its greatest flowering in the Romantic period but still continues today as a vehicle for music and arrangement that can cover the range of chamber to orchestral works.
The Trio Zadig see the trio as offering the same kind of unity as a string quartet offers, but with greater opportunities for being soloists. They accompany each other, they enhance each other's lines, and permit an intimate musical connection between the performers. Pianist Ian admitted that, although their recordings are rewarding, playing live is best.
Upcoming projects include a trip to Cuba to record a live performance of their Saint-Saëns album for the French classical channel Mezzo. After that, perhaps some Russian music is due for exploration. Keep your eye on the Trio Zadig. Their projects follow their personal interests and we, as the audience, benefit from their curiosity.
For more of the best in classical music, sign up to our E-Newsletter