This new book from musician and educator Dr Erman Turkili uses an intuitive approach that enables very young beginners of piano and children with special educational needs to start playing the piano right away. Using colours, shapes, stickers and symbols, minimal text and appealing, entertaining illustrations, First Steps of A Little Artist gives children the confidence and motivation to take their musical learning to the next level.
We talked to the creator of this book about his own musical experiences and influences and how he came to develop this particular teaching method which he believes can really support young learners.
Tell us something about yourself. Who or what inspired you to pursue a career in music?
Music has been my first love since childhood. For as long as I can remember, I've always been interested in sounds: flying bugs, musical instruments, airplanes passing by, and cars honking. When I was young, my family had a small garden in front of our house, and I could hear the cicadas sing. In the summer I would always carry a jar, follow their sounds, and put the cicadas in my jar to study and listen to them. I still love the sound of cicadas to this day.
When I was about 4 years old, I begged my parents to buy me a digital keyboard. It's not that I necessarily wanted to play the piano or become a pianist. I just wanted to hear the different sounds of each key and experiment with the different sounds. That would keep me entertained for hours.
What motivated you to take up teaching?
I love everything about music: playing, listening, talking about and analyzing music… I decided to pursue a career in teaching because to me, teaching encapsulates all of those elements in one setting.
What led you to develop First Steps of A Little Artist?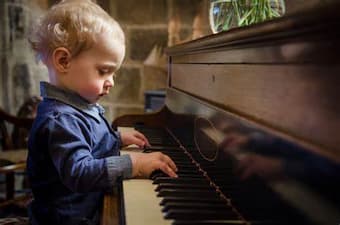 My experience teaching one of my previous students inspired me to write First Steps of a Little Artist. When I was a doctoral student at Florida State University, I rented a small music studio where I taught children from various age groups. One day, a students' younger sister, Addison, approached me and told me that she also wanted to play the violin. I replied, "You can certainly learn to play, but I don't know how to teach you."
Nevertheless, I talked to her mother and we ultimately decided that I would give Addison some lessons and see what happened. At the time, Addison was only three years old, but she was so excited to start. I started with teaching her the strings on the violin, and we quickly reached a point where we needed to talk about musical notes. That was a very challenging concept for her to grasp; it was too abstract for her to really understand. I thought relating notes to concepts she already understood would help, so I decided to label the strings with shapes and the various finger positions with colors. That approach worked really well, and Addison started learning much more easily.
I subsequently tested this method on countless other students and spent years perfecting it. This first book is for the piano, but there will be other books for different instruments.
First Steps of a Little Artist – Instructions
How do you feel young children and those with special educational needs can benefit from your book/method?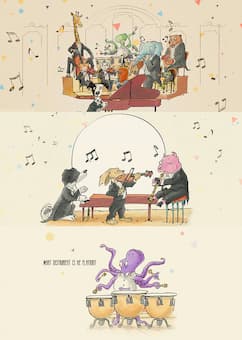 Initially, I was unsure of how this book would work with children in special education. But in our pilot studies, we applied this teaching method to many kids in special education and with almost all of them, it was very easy for them to follow the colors and symbols. I believe that this book will help make learning an instrument much more accessible and feasible for anyone who wants to.
How can teachers benefit from your book/method?
For students, learning an instrument is always difficult the first few weeks. Young children (ages 3+) who go to a music lesson, such as the ones I offer, go to learn an instrument—not to participate in a music and movement program like Orff, Music Together, or Kindermusik. For children so young, it is initially very fun to hold an instrument or to pluck the strings. However, after a couple of lessons, a student needs to learn how to sit correctly, follow instructions, identify the notes on a sheet of music, and find the notes with a specific finger. All of this requires a lot of concentration and tests the attention span of young children. Oftentimes, learning these first steps can become arduous and students wind up giving up and quitting.
If teachers use my book as an introductory approach to learning an instrument, they will find that their students who are just beginning to play an instrument learn the fundamentals much more easily and with less frustration. Shapes and colors are concepts all young children are familiar with.
What would you say is your book's 'USP' (unique selling point)? What makes it distinctive?
My book's main appeal is that it is one of the only books that enables anyone—regardless of age or developmental stage—to learn how to play the piano with no musical background or knowledge.
What is the best advice you would give to the parents of children who are just starting out on their musical journey? How do you feel parents can best support their children's learning?
I strongly urge parents to teach or find the opportunity for their children to learn at least one instrument starting at three or four years of age. Learning an instrument is very helpful in developing children's social, cognitive, and fine motor skills. Musical education truly is a journey and the sooner a child's journey starts, the further they can go. Parents and their children can start their musical journey with this book and teach their child how to play the piano. After completing this book, they can continue learning with a professional instructor.
For more of the best in classical music, sign up to our E-Newsletter