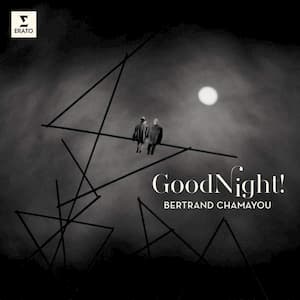 This captivating, engrossing album of lullabies, or berceuses, will make you want to ease back in your chair, or retreat to somewhere more comfortable – perhaps a chaise longue, or even your bed. Turn the lights low and allow French pianist Bertrand Chamayou's exquisitely expressive sound world to envelope you (the album is recorded in Dolby Atmos immersive sound which is at once intimate and vivid).
For Chamayou, a self-confessed night owl who relishes the tension between the awake and almost-but-not-quite asleep states, the lullaby "is halfway between dream and reality", a curious borderland of the most varied emotions, from tenderness to fear (fear of the dark, fear of nightmares), delight to anguish when night thoughts can overwhelm and give little chance of rest. The lullaby is also representative of the special bond between babies and children and their parents and carers, who provide comfort and reassurance.
Heitor Villa-Lobos: Prole do bebê No. 1: No. 6. A pobrezinha (A boneca de trapo) (Bertrand Chamayou, piano)


The inspiration behind this album was in part due to Chamayou recently becoming a father himself, taking on the roles of "tucker-up and comforter". The piano repertoire contains some of the most beautiful examples in the genre, from the rocking bass line and delicate filigree figurations of Chopin's Berceuse to Brahms's famous Wiegenlied (Cradle Song). But Chamayou also reveals some lesser-known lullabies by Lyapunov, Mel Bonis and Martinů. Nor is the night-time landscape always calm and restful: A probezinha ('poor little waif') from Villa-Lobos' 'Prole de bebê' is tinged with melancholy; Busoni's Berceuse is dark and hallucinatory, for which Chamayou creates an almost impressionistic wash of sound and colour; Balakirev's lullaby has a nightmarish funeral march at its centre; even Grieg's Berceuse from Lyric Pieces Book 2, has an unsettling middle section; meanwhile, the spiky, tinkling notes of Lachenmann's Wiegenmusik hint at the night-time fears provoked by shadows dancing on the bedroom wall. But serenity is restored by Brahms's famous lullaby which follows it. In Chamayou's hands it is as warm and comforting as a mother's embrace, enhanced by the Dolby Atmos sound which creates an enveloping resonance.
Ferruccio Busoni: Élégien: No. 7. Berceuse (Bertrand Chamayou, piano)

The album title comes from the first track Good Night! from Janáček's 'On An Overgrown Path', a piano miniature in which the briefest of ideas is obsessed over to produce music freighted with a poignant tenderness. Meanwhile, Bryce Dessner's Song For Octave, written for his own son, has a hypnotic ostinato redolent of Pärt's Spiegel im Spiegel and a haunting minimalist melody. Chamayou's transparent sound here is spellbinding. The album closes with the thirteenth Prelude from Alkan's Op. 31 set, whose title translates as 'I slept, but my heart is awake', a miniature of disarmingly understated beauty, sensitively judged by Chamayou who allows its melody to fade almost to nothing.
Each work on this bewitching disc is lovingly played, Chamayou finding much elegance in simple lyrical melodies and gossamer figurations. His tempos are sensitive and supple, with an insouciant rubato which never feels contrived, and he convincingly portrays the individual character of each piece with clarity, wit and imagination.
We live in noisy, anxious times and this charming album offers much-needed respite and a balm to the soul.
For more of the best in classical music, sign up to our E-Newsletter