Polish identity and dance have had a strong effect internationally. We may no longer dance the Polska or the Mazurka, but the Waltz and the Polka still have their day. From Poland in the 16th century to America in the 19th century, the Polish dances made their place.
The mazurka dance came in three versions: quick, lively mazurek, with inconsistent accenting; the fast oberek; and a slower, melancholy kujawiak. They were differentiated by the placement of strong accents, either on the second or third beat and all were in triple meter.
When Chopin left Poland for Paris, the first works he published upon his arrival in 1833 were two books of mazurkas, his opp. 6 and 7. With this brilliant stroke, Chopin immediately differentiated himself from the many other virtuosos in that city of virtuosos. Another way in which Chopin showed his skill was in his playing. He had an ad libitum style of playing that, in other hands, could seem to be a problem with time and rhythm, but that in Chopin's hand gave him a freedom of expression that few could emulate.
Chopin had started writing mazurkas as early as 1824, but it wasn't until 1830, the year of the November uprising when Poland rebelled against rule by Russia, that Chopin became serious about the form. He took them from their peasant dance background and filled them with classical techniques, including counterpoint and fugue. The mazurka in Chopin's hands was a completely different genre separate from its rustic antecedents. And, above all, Chopin's mazurkas were not for dancing– they were for piano virtuosos.
The first mazurka in the Opus 6 collection immediately establishes a new sound, a kind of 'Polish-ness' that Chopin used to show his style and skill. As one writer put it: 'while the opening sequence (a melodic phrase the repetitions of which progressively rise or fall in pitch) climbs unexceptionally, the ensuing sequence slithers downward in a series of progressions that threaten to unmoor the harmony'. It was that separation from the expected that brought Chopin to Paris' attention.
Frédéric Chopin: Mazurka No. 1 in F-Sharp Minor, Op. 6, No. 1 (Peter Jablonski, piano)


This 2022 recording is by Swedish pianist Peter Jablonski, who was discovered and signed to Decca at age 17. He's working with the world's leading orchestras and conductors and has an extensive recording list, including the complete piano concertos by Beethoven, Tchaikovsky, Rachmaninoff, and Bartók, and all piano sonatas by Prokofiev.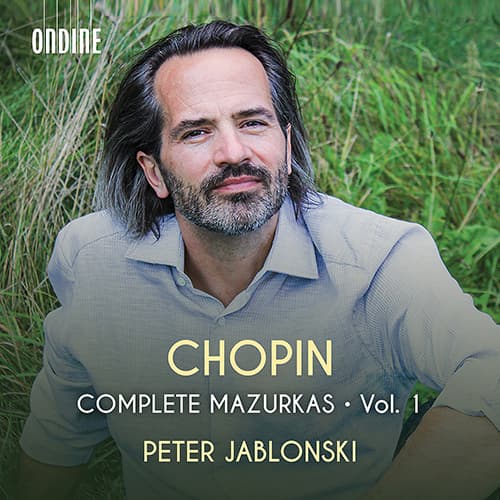 Frédéric Chopin: Mazurka No. 1 in F-Sharp Minor, Op. 6, No. 1

Performed by

Peter Jablonski

Official Website
For more of the best in classical music, sign up for our E-Newsletter