A caprice is something that takes you on a whim, an impulsive action, an unpredictable change, and a perfect inspiration for a Romantic piano piece. In Mendelssohn's Capriccio brilliant, written in May of 1832 and performed in London that same year, the idea of caprice, an unexpected change, comes to life.
Mendelssohn had been coming to London since 1829 and found inspiration not only in the people he met and places he went but also in the repertoire he was playing as a concert pianist. One of the works in his repertoire was Weber's Concert-Stück, a single-movement work created around a lady in her tower, thinking of her knight away on the battlefields of the Crusades, with varying emotions played out through the music in a single movement. This clearly was one of the inspirations for his Capriccio brilliant, a single-movement work that uses the changing tempos within the piece to create its own internal worlds. There's no pre-established program, as with Weber's, but the idea of one work with changing tempos and moods was clearly already in the piece Mendelssohn played.
The Capriccio brilliant starts with a slow introduction of arpeggiated chords before the woodwinds of the orchestra join the pianist with an equally slow countermelody. At 02:30, things speed up – the piano slowly moves from the bass to higher pitches, the trumpets come in and we're off on the true brilliant and capricious start to the work. The curious section comes at 04:20 when we have a march-like section. March-like because, in this performance, the pianist chose to make it almost a parody of a military march – as though children, impossibly solemn, were marching around pretending to be a military troupe. It's all bombast over an empty front and, as a contrast with the earlier virtuoso fast section, can function almost as a humorous comment on other orchestral marches, such as in Weber's work.
The work, given its premiere by Mendelssohn, is unusual as a single-movement concerto. By collapsing all the movements into one, he's able to create a condensed work that touches on all the aspects of a concerto, but in a mere 10 minutes.
Felix Mendelssohn: Capriccio brillant, Op. 22, MWV O8 (Lars Vogt, piano; Orchestre de Chambre de Paris; Lars Vogt, cond.)
The pianist on this recording is Lars Vogt, performing with the Orchestre de Chambre de Paris. The orchestra is the resident ensemble of the Philharmonie and Vogt was appointed as their conductor, piano soloist, and music director starting in 2020. Vogt came to public attention after his second place at the Leeds International Piano Competition in 1990. His repertoire ranged from the core classical works through the modern era. He died of oesophageal cancer in September 2022, age 51.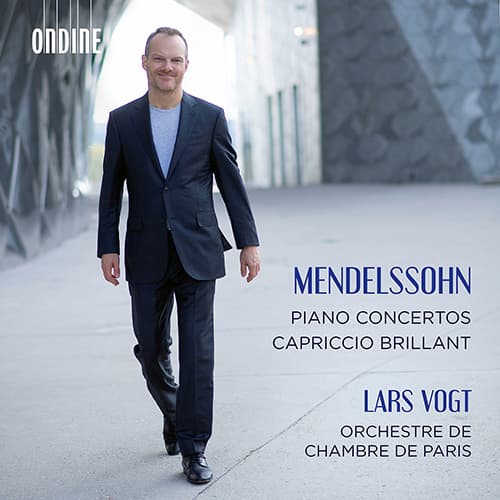 Felix Mendelssohn: Capriccio brillant, Op. 22, MWV O8

Performed by

Lars Vogt
Orchestre de Chambre de Paris

Official Website
For more of the best in classical music, sign up for our E-Newsletter