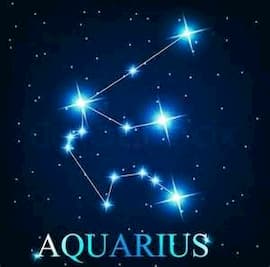 Aquarius is a highly prominent winter constellation in the northern hemisphere, and the sun transits this zodiac between January 20 and February 19. Aquarius is represented by the water bearer, the mystical and beautiful healer who bestows water and life upon the land. His name was Ganymede, the son of the king of Troy. While he was tending his father's flock of sheep, Zeus—the king of gods—spotted him and promptly fell deeply in love. And since Zeus normally got what he wanted, he flew down in the shape of a large bird and whisked Ganymede away into the heavens. Ever since, Ganymede has served as the cupbearer to the gods. As such, Aquarius is the most humanitarian astrological sign, and Margaret Brandman, herself a composer, medium and cosmic energy channel, has musically encoded that sense of universal humanity.
Margaret Brandman: Cosmic Wheel of the Zodiac – No. 10 Universal Truth Remains: Aquarius (Prague Mixed Choir; Petr Ožana, piano; Jiří Petrdlík, cond.)


Astrologers have suggested that people born under the sign of Aquarius are "revolutionary thinkers in support of the power of the people," and that they are free-spirited and eccentric. Apparently, it is rather easy to spot an Aquarius by their offbeat fashion sensibilities, unusual hobbies, and nonconformist attitude. Although the Aquarius can be shy and quiet, they can also be eccentric and highly energetic. They love being around good friends and like to help others, but can be highly temperamental and uncompromising. People born under the sign of Aquarius, it seems, have a very complex and nuanced personalities.
Wolfgang Amadeus Mozart
And that is certainly true of the most famous Aquarius composer, Wolfgang Amadeus Mozart, born on 27 January 1756. Much has been written according to our contemporary definitions about the possibility of a personality disorder in the sense that he always needed to be nurtured and supported by others, and that Mozart found it very difficult to be alone. We do know that he had violent temper outbursts, and recently it has been suggested that Mozart might have suffered from Tourette's syndrome. Whatever the case may be, Mozart's music is just as nuanced and complex as his personality.
Muzio Clementi
Born on 24 January 1752, Muzio Clementi was a true Aquarius visionary. His work and success as a promoter of the piano—as a performer, composer, publisher, teacher, arranger, and instrument maker—has rightfully earned him the honorable title "father of the pianoforte." His imagination, just as we would expect from a person born under the sign of Aquarius, was paired with a remarkable ability to turn his ideas into a profitable business. Always able to maintain a balance between spending and saving money, Clementi was a wealthy man. Clementi was described as having a simple yet complicated personality, and an "elusive, calculating, tireless and restless character." Apparently, he was simultaneously steeped in tradition and forward-looking, both sensitive and business-like. He devoted a substantial part of his musical career to various pedagogical activities, and he played at musical duel against Wolfgang Amadeus Mozart. Although that encounter was officially called a draw, Mozart was surprised by Clementi's technical facility. He wrote to his father, "Clementi plays well, as far as execution with the right hand goes. His greatest strength lies in his passages in thirds… he is a mere robot and a charlatan, like all Italians." Anybody who has ever seriously studied the music of Clementi would almost certainly disagree with Mozart's assessment.
Muzio Clementi: Keyboard Sonata in G minor, Op. 34, No. 2 (Maria Clementi, piano)

Felix Mendelssohn
By far the greatest aphrodisiac for people born under the sign of Aquarius is intellectual stimulation. Felix Mendelssohn, born on 3 February 1809, grew up in a highly prosperous and intellectual environment. Visitors to the Mendelssohn salon organized by his parents included the poets Heinrich Heine and Karl von Holtei, and Ludwig Börne, the philosopher Hegel, the classicist August Böckh, and the scientist Alexander von Humboldt. In addition, he received the best musical education money could buy from Carl Friedrich Zelter, and it was said, "Europe came to his living room." At the age of 13, Mendelssohn visited Johann Wolfgang von Goethe, and during his two-week stay, he enjoyed daily conversations with Germany's greatest living poet. How is that for intellectual stimulation! In line with some characteristics ascribed to the tropic of Aquarius, Mendelssohn exhibited distinct behavior towards friends, and "he could be uninhibited, cheerful, and even extraordinarily merry." While he would easily praise or criticize young and striving artists, his character was "a combination of affection and admiration." He could be reserved towards composers whose music he did not admire, but he nevertheless remained cordial throughout.
Felix Mendelssohn: Symphony No. 4, Op. 90 "Italian" (Rochester Philharmonic Orchestra; David Zinman, cond.)

Franz Schubert
Franz Peter Schubert, born on 31 January 1797 was a quiet, shy, and gentle individual. He was casual and easy-going, and his friends affectionately called him "Schwammerl," a Viennese dialect word meaning tiny mushroom. Schubert was never worried about becoming famous or making lots of money. The majority of his friends, among them musicians, artists, writers and teachers were simple and ordinary people. Like a true Aquarius, he loved to be around his friends but he really wasn't a people person. He had the reputation for being a cold and insensitive person, but like many individuals born under the sign of Aquarius, that appears to have been a defense mechanism against premature intimacy. While he certainly wasn't into self-promotion, he was a visionary with a clear sense of purpose. "I have come into the world," he writes, "for no purpose but to compose." And that's exactly what Schubert did. Schubert essentially was an unhappy and anti-social man, but he wrote a tremendous amount of the most glorious music inspired by inner beauty. In his music, he was probably the most humanitarian of all Aquarius composers.
For more of the best in classical music, sign up to our E-Newsletter