For its 25th year, the Oxford Piano Festival has put together a splendid array of world-class pianists, vibrant, varied programmes, and inspirational teaching.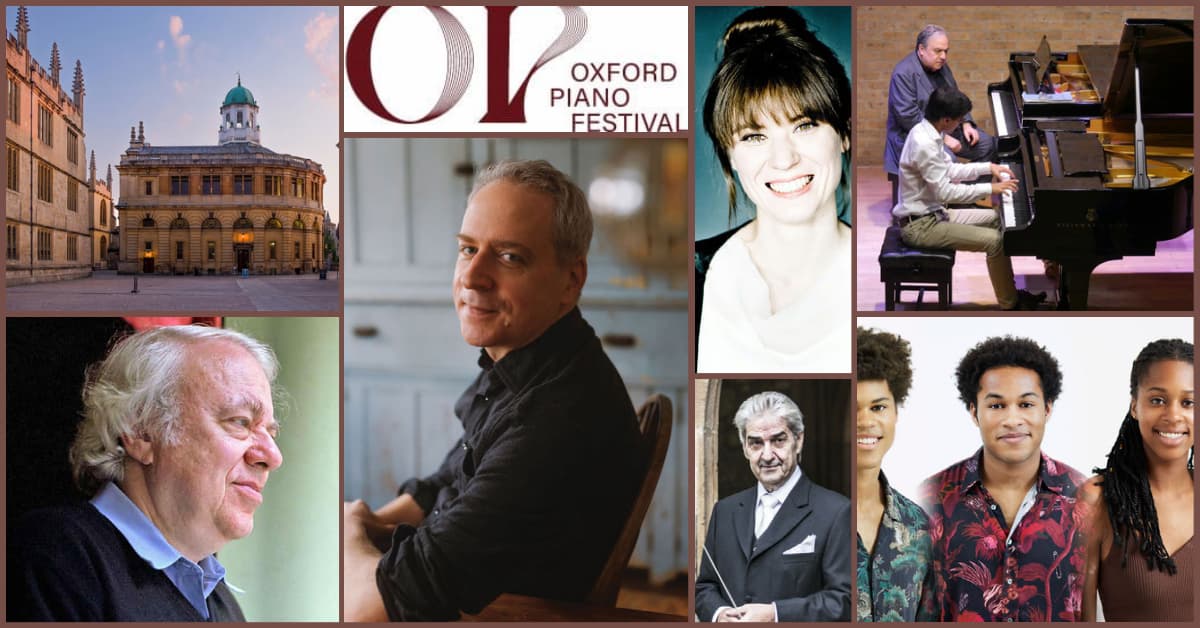 Founded by the renowned pianist and conductor Marios Papadopoulos in 1998, and hosted by the Oxford Philharmonic Orchestra, the Oxford Piano Festival (OPF) has become an esteemed celebration of the piano and those who play it. Now in its 25th edition, the festival brings together the top names in the piano world today, talented young players, and enthusiastic audiences to create an enriching musical experience in the heart of Oxford, England. The aim of the festival is simple: "to inspire, support and encourage music-making at the piano of the highest quality" (OPF website).
Papadopoulos, a distinguished pianist himself, established the OPF with the vision of promoting and nurturing the next generation of pianists. His aim was to create an environment where pianists could explore and refine their musical skills under the guidance of leading artists and pedagogues. In keeping with this aim, alongside concerts by stellar artists, there are masterclasses which provide gifted young players the chance to learn from world-class pianists and pedagogues in an atmosphere which encourages exchange over competition.
The concept of the pianist as an all-round musician is at the heart of the Festival, and the various roles of the pianist – as virtuoso, chamber musician, accompanist, conductor, academic and teacher – are all explored. Some concerts and masterclasses will also be live-streamed.
This year's OPF takes place between 29th July and 6th August in some of the most beautiful venues in the historic university city of Oxford – the Sheldonian Theatre, designed by Sir Christopher Wren, St John the Evangelist church, and Christ Church Cathedral. In these inspiring spaces, some of the leading pianists of today will perform: Richard Goode, Nikolai Lugansky, Jeremy Denk, Anna Fedorova, Steven Kovacevich, Kiril Gerstein, and more.
The Festival's opening concert is given by British pianist Christian Blackshaw, performing music by Mozart, Schubert, Chopin and Franck. Other highlights of this year's Festival include Bach's six keyboard Partitas – music intended for the delight of the player, but which extends far beyond – performed by American pianist Jeremy Denk. Britain's most talented siblings – Braimah, Sheku and Jeneba Kanneh-Mason – play music for piano trio by Mendelssohn, Beethoven and Brahms; while Nikolai Lugansky, perhaps the finest living exponent of Russian piano music, celebrates Rachmaninoff's 150th anniversary in a programme featuring selections of Études-Tableaux, moments musicaux and the piano sonata No.2, Op.36.
J.S. Bach: Partita No. 4 in D Major, BWV 828 – II. Allemande (Jeremy Denk, piano)
Sergei Rachmaninoff: Piano Sonata No. 2 in B-Flat Minor, Op. 36 (Nikolai Lugansky, piano)
This year's concerto concert is given by Ukrainian pianist Anna Fedorova, who performs Grieg's wonderfully romantic and passionate Piano Concerto with the Oxford Philharmonic Orchestra, conducted by Marios Papadopoulos. And the young performers who come to the Festival to seek inspiration and encouragement from the stellar artists of today have an opportunity to show off their talents in a special Participants' Concert on 4th August.
Participants' Concert (from OPF 2022)
OPF continues to thrive and evolve, nurturing a love for piano music and fostering the growth of talented musicians. With exceptional performances, educational opportunities, and vibrant, inspiring atmosphere, this year's festival promises to be a wonderful celebration of the piano and its enduring legacy and popularity.
Full details of this year's programme and performers can be found here.
For more of the best in classical music, sign up for our E-Newsletter