The Firebird that did not fly
Anatoly Lyadov: The Enchanted Lake, Op. 62
Anatoly Lyadov: Kikimora, Op. 63
The
Ballets Russes
, widely regarded as the most influential ballet company of the 20th century, was the brainchild of the Russian impresario Sergei Diaghilev. Preparing for the 1910 season, Diaghilev commissioned Anatoly Konstantinovich Lyadov — frequently spelled Liadov — to compose a ballet score for his newest creation, the "Firebird" legend. For one reason or another, Lyadov declined and the commission passed to the young Igor Stravinsky! History has never forgotten this little episode, and Lyadov's reputation has never recovered.
It all started rather promising with the young Anatoly demonstrating prodigious musical talent at an early age. First taught by his father Konstantin — a noted conductor in his own right — young Lyadov entered the St. Petersburg Conservatory and was admitted to the composition classes taught by Nikolai Rimsky-Korsakov. Upon his graduation in 1878, Lyadov joined the faculty and taught, among others, Boris Asafyev, Nikolai Myaskovsky and Sergei Prokofiev. Prokofiev later recalled that the conservative Lyadov did not appreciate musical innovations. "Shoving his hands in his pockets and rocking in his soft shoes without heels, he would say, 'I don't understand why you are studying with me. Go to Richard Strauss. Go to Debussy.' This was said in a tone that meant 'Go to the devil!'"
Together with the philanthropist Mitrofan Belyayev, Lyadov began to support an entire group of young Russian nationalist composers. They even established their own publishing house in Leipzig, and issued music by Glazunov, Rimsky-Korsakov and Borodin. Lyadov had always been interested in Russian folk music, and he once remarked, "my ideal is to find the unearthly in art. Art is the realm of the non-existing. Art is a figment, a fairy tale, a phantom. Give me a fairy tale, a dragon, a water sprite, a wood demon – give me something that is unreal, and I am happy."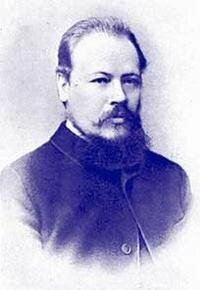 As a composer, Lyadov was relentlessly self-critical and seemingly unable to complete larger compositions. In 1905, Rimsky-Korsakov persuaded Lyadov to start work on an opera based on folk legends. Lyadov produced a number of sketches but soon abandoned the project. However, a couple years later, he turned these sketches into two brief orchestral tone poems that have since become his most popular works. Both
The Enchanted Lake
and
Kikimora
are situated in the evocative and richly ornate world of Russian folklore and fairytales, and exhibit an exceptional flair for orchestral tone color. In a letter to his wife, Lyadov described the
Enchanted Lake
, which is based on Lake Ilmen in the Novgorod region, as "purely picturesque, with bountiful stars over the mysteries in the depths! But most importantly it is uninhabited, without entreaties and complaints; only nature — cold, malevolent, but fantastic as a fairy tale."
Kikimora
, on the other hand, describes a malicious tiny brown witch with a body scarcely thicker than a straw and a head the size of a thimble, her tiny heart full of malice towards humans.
Unable to complete large-scale compositions — he composed no operas, no symphonies, no concertos, and no chamber music — Lyadov focused on short piano pieces and brief vocal and choral compositions. A number of these miniatures have found their way into the repertory, and the quality of his modest output led contemporary Russian musicians to regard him as one of the leading composers of the early 20th century. In fact, Igor Stravinsky called him "the most progressive of the musicians of his generation."