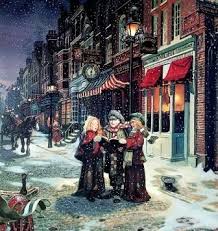 Christmas has long attracted musical contributions from composers in various vocal and choral genres. In purely instrumental terms, however, the subject of Christmas appears limited to a concerto grosso by Corelli and some pastoral symphonies in Handel's Messiah and Bach's Christmas Oratorio.


X-mas in disguise, that is, music without the articulated seasonal texts just didn't seem to be very popular. Surprisingly, this still holds true for most of the 19th century, despite Charles Dickens virtually reinventing Christmas for the general masses. However, there are a number of piano X-mas miniatures, including the
Fêtes de Noel
by
Sergei Lyapunov
(1859-1924). A student of
Tchaikovsky
,
Taneyev
and
Balakirev
, Lyapunov was commissioned by the Imperial Geographic Society to collect folksongs in remote regions of Russia. He returned with almost 300 songs, which were eventually published by the society. These folk songs and the X-mas sounds of Russian Orthodox chant became the foundation for his Christmas miniatures.
Sergei Lyapunov: Fêtes de Noel, Op. 41
Symphonic works based on Christmas tunes, however, were few and far between. It was left to the American composer
William Henry Fry
(1813-1864) to issue a notable symphonic exception in 1853. His
Santa Claus Symphony
unfolds as a single movement fantasy, and takes us through a winter snowstorm and a Christmas Eve party. Santa Claus arrives in his horse-drawn sleigh and drops toys into stockings, while a chorus of angels sings a popular Christmas carol in extremely high violins. I am sure you have no trouble identifying the tune. The
Santa Claus Symphony
also contains another orchestral first. It is probably the first orchestral work to feature the recently invented saxophone.
William Henry Fry: Santa Claus Symphony
Public Christmas concerts were seemingly invented to provide an additional revenue stream for orchestras. They became highly popular in the first quarter of the 20th century, and continue to prominently feature on the calendars of most major and minor orchestras around the world. Much of the music, as it to be expected, is cast in the lighter vein, and features various arrangements and potpourris of popular Christmas carols. And it was
Victor Hely-Hutchinson
(1901-1947) who composed the first substantial work based entirely on Christmas carols. Born in South Africa, Hely-Hutchinson was sent to England to study with
Sir Donald Tovey
and he eventually became Director of Music at the BBC in 1944. His
Carol Symphony
is cast in the traditional four movements, and each movement is based on a single carol. Can you identify the featured carols?
Victor Hely-Hutchinson: A Carol Symphony
Capturing the "Zeitgeist" of the mid-Victorian revival of the Christmas holiday, Charles Dickens' novella
A Christmas Carol
was "intended to open its readers' hearts towards those struggling to survive on the lower rungs of the economic ladder and to encourage practical benevolence, but also to warn of the terrible danger to society created by the toleration of widespread ignorance and actual want among the poor." This celebrated story of Ebenezer Scrooge who is visited by the ghost of his former business partner has been told through a number of mediums, including dance and music. American composer
Carl Davis
is well known in the field of dance, and he has worked with major choreographers and dance companies, including the Northern Ballet Theatre. And in 1992 they collaborated on a delightful "A Christmas Carol," with the music affectionately evoking the Victorian era.
Carl Davis: A Christmas Carol Suite