Franz Schubert (1797-1828) wrote hundreds of songs but started only 13 symphonies and completed only seven of them. And yet, it is his Symphony No. 8, known as the Unfinished that remains as one of his most popular orchestral works.
Schubert started writing symphonies in 1811 but only a fragment of a first movement exists. It was in the years 1813 through 1818 that he completed, almost at a rate of one a year, his next six symphonies. His next six symphonies, with one exception, were never completed. A symphony in D major in 1818 only has piano sketches for 2 movements; another D major symphony was started after 1820, but he only progressed as far as piano sketches of all four movements.
His 1821 Symphony in E major also exists in sketches but wasn't completed, many later composers have tried to complete the work. This work is sometimes known as Symphony No. 7. In 1822 came what we call his Unfinished Symphony, which is normally numbered 8. In 1825 came a symphony in C major, No. 9, nicknamed "The Great C Major". Finally, in 1828, came a symphony in D major, which only exists in piano sketches. This symphony has been completed by later composers and is referred to as Symphony No. 10.
To return to symphony No. 8, it's called the Unfinished not just because it only has two complete movements but also because there is a sketch for a third movement Scherzo that was nearly complete in piano score but that has only 2 pages with orchestration. Historians and composers finished the orchestration of the third movement and then sought a final movement in incidental music that Schubert had written for the play Rosamunde, which has many links to ideas in the completed first movement.
Explanations for why Schubert abandoned the work included getting distracted by writing his work for solo piano, The Wanderer Fantasy, by his illness (his first attack of syphilis occurred now), the fact that all three extant movements are in triple meter, but in the end, it's only guesses.
As music historians sought to explain why the work was incomplete, they noted what an innovative piece Schubert had been creating. 'The focus and the sweep of both finished movements far exceeded anything that Schubert had previously achieved…' said one writer. This same writer also thought that the symphony should be considered the first Romantic symphony because of the emphasis on the lyricism of the work and because of its careful use of differing orchestral timbres, particularly at the beginning of the development section of the first movement.
Starting with its unusual low-voice opening, the first movement of Schubert's Unfinished symphony stands as a unique testament to an orchestral voice that was looking to the future.
Franz Schubert: Symphony No. 8 in B minor, D. 759, "Unfinished" – I. Allegro moderato

This recording was made in 1958 in Paris by the Orchestre des Concerts Pasdeloup under direction of Carl Bamberger. The Pasdeloup Orchestra is the oldest symphony orchestra in France, founded in 1861 by Jules Pasdeloup. Eschewing evening concerts for inexpensive Sunday concerts in Paris, they found their audience. The orchestra ceased in 1884 and was restarted in 1919. It currently has no principal conductor and is run by a committee.
A native of Vienna, Bamberger studied in Vienna before starting as a conductor in 1924 at the State Theater in Danzig. He emigrated to the US in 1937 where from 1938 to 1975, he taught at the Mannes College of Music, leading the orchestral and opera departments. His wife, Lotte, and his sister Gerty also taught at the school. In the 1960s and 70s, Bamberger conducted the New School of Music in Philadelphia's orchestra and worked with New York City Opera, the New York Philharmonic, and the Cologne, Hamburg, and Stuttgart opera orchestras. He was also chief conductor of The Little Symphony of Montreal. His students included conductors Marin Alsop, Eve Queler, and Murray Perahia.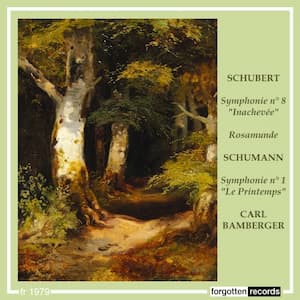 Performed by

Orchestre des Concerts Pasdeloup
Carl Bamberger

Recorded in 1958

Official Website
For more of the best in classical music, sign up to our E-Newsletter