Sir Arthur Sullivan (1842-1900), whose name is linked almost as one word with that of the librettist W.S. Gilbert for their 14 comic operas created between 1871 and 1896, was, before that partnership, an accomplished composer of many other genres of music. He had a 40-year career in church music, as a writer of concert music, incidental music, and of 10 non-Gilbert operas.
He wrote incidental music for 7 plays, including 5 Shakespeare plays: The Tempest (1861), The Merchant of Venice (1871), The Merry Wives of Windsor (1874), Henry VIII (1877), and Macbeth (1888). The music for The Tempest was his graduation music from the Leipzig Conservatory and it was his first music played in England, for a performance at the Crystal Palace.
For a Christmas revival production in London of The Merry Wives of Windsor in 1874, Sullivan was asked to provide music for the final act. This is where Falstaff gets his comeuppance in Windsor Forest by the women he's been importuning through the whole play.
When first approached, Sullivan saw little opportunity for music in the play until he got to the last act. There, he reused music he's first written a decade earlier for L'Île Enchantée, a ballet added to the end of a performance of Vincenzo Bellini's La Sonnambula at Covent Garden, as was typical when presenting a short opera at the time.
Sullivan gave himself three weeks to compose the music and for opening with the dance of the fairies, deliberately avoided invoking the light and dancing music created by Mendelssohn for his A Midsummer Night's Dream. Mendelssohn was depicting 'real' fairies while Sullivan's 'fairies' were just regular people pretending to be fairies to fool Falstaff.
As a London production at Christmas time, this Shakespearian play had to fit into the 'panto' style expected at that time of year and Sullivan's music captures it perfectly.
Arthur Sullivan: The Merry Wives of Windsor – Act V: Prelude (Moonlight) – Dance of Fairies (RTÉ Concert Orchestra; Andrew Penny, cond.)
Andrew Penny has a long career in British music in many genres, including symphonies by Arnold and Havergal Brian, film music by Vaughan Williams and Walton, theatre music by Sullivan and Holbrooke, and light music by Coates and Arnold. He has been a member of the instrumental music staff at Hymers College since 1977 and is the longest-serving musical director of the Hull Philharmonic Orchestra. The RTÉ Concert Orchestra was founded in 1948 and is part of RTÉ, Ireland's national public service multimedia organisation.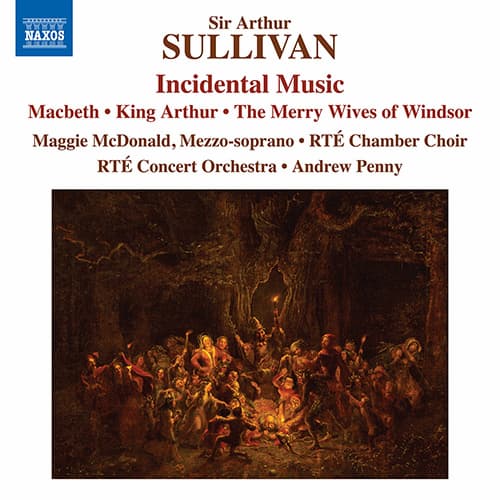 Arthur Sullivan: The Merry Wives of Windsor

Performed by
RTÉ Concert Orchestra
Andrew Penny

Official Website
For more of the best in classical music, sign up to our E-Newsletter