Macbeth
. Intense ambition and a consuming lust for power lead the Scottish general Macbeth and his wife Lady Macbeth to commit murder and to seize the throne. The protagonists, consumed by guilt and paranoia, are propelled into a murderous rampage, which ultimately drives them insane.
Over the centuries the compulsion for political dominance has corrupted many a leader. Shakespeare's
Macbeth
written in 1606, set in eleventh-century, has been the archetype for several works of music and art.
Hundreds of composers have attempted to depict the dramas of Shakespeare but it is Verdi who is most associated with the Bard, bringing the dramas to life with unique affinity. Giuseppe Verdi's 1847 opera
Macbeth
, written before his more famous operas
Rigoletto
and
La Traviata
, is the first of his operas based on Shakespeare. It is in four acts with an Italian libretto.
Murder, madness and the supernatural are great fodder for the operatic stage. Witches play an important role. Their evil intentions are made clear from the beginning, prophecies which precipitate's Duncan gruesome fate. Verdi was so enamored of the witches, that he increased their number from the Bard's three to eighteen! Verdi is such a master of choral ensemble writing, that the supernatural spectacles as well as the revelry of the palace are mesmerizing.
The dramatic underpinnings and depth of characterizations indicate a turning point in the young composer's career. No longer is Verdi interested in mere beautiful melodies. With
Macbeth
he truly captures the essence of the tragedy and the demons that haunt the consciences of the protagonists.
A new production of Macbeth was recently broadcast live in HD to 68 countries from the Metropolitan Opera. It is among the top 50 operas performed today.
Strauss: Macbeth, Op. 23, TrV 163
Richard Strauss also began a new path when he wrote his first tone poem
Macbeth
between 1886-88. Although thoroughly revised, Strauss was unable to balance the narrative story with his musical intentions in this work, which he accomplished masterfully in his later tone poems. The subject matter makes the 20-minute work dark and brooding. This composition has not become a standard of the orchestral repertory although the tone poem is well recorded. Still there are some memorable themes for soaring horns, tender strings, and sinister woodwinds. The piece is a melodic depiction of the protagonists rather than an attempt to portray the entire drama.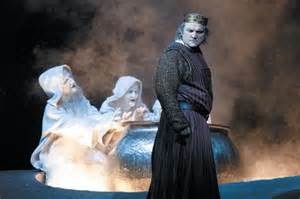 The

other

opera

Macbeth

is by Swiss native Ernest Bloch, one of my favorite composers. His best-known composition

Schelomo

for solo cello and orchestra is riveting as is his Piano Quintet. Bloch wrote one opera early in his career—

Macbeth 'Lyric Drama After Shakespeare in 9 Scenes – a Prologue and Three Acts.'

It was completed in 1909 after five years of work. Bloch was busy giving lectures, conducting, raising a family and running his family's business in Geneva.

The music was sketched out by 1907 when George Bizet's son invited Bloch to perform for a Salon in his home. Bloch still an unknown composer, decided to try the score out. A famous singer and a music critic happened to be in the audience that night. They brought the work to the attention of the director of the Paris Opera Comique who bought the rights to

Macbeth

on the spot. The work was staged in Paris by 1910—astonishing everyone as it featured two unknown, young artists who were not even French. The composer's celebrated teacher Gabriel Fauré, and young Nadia Boulanger, the eminent French pedagogue, were extremely impressed with the opera.

Bloch: Macbeth
Act III: Deuxieme Tableau: (attacca) Encore une tache! … (Lady Macbeth)

The original language was brilliantly captured in French by librettist Edmond Fleg. A musical device called "Leitmotif" was liberally employed, that is, characters or emotions have their own themes or musical tags, which allows the music to reveal inner thoughts of the characters, to enhance the spectacle, and to move the drama seamlessly forward. The writing is vivid and includes two hair-raising mad scenes one depicting Macbeth's rage, which results in Macbeth terrorizing his country, and the other the spine-tingling psychological breakdown of Lady Macbeth.

Macbeth

fell out of favor after the first run of sixteen performances and was not performed again until twenty-eight years later. The Teatro San Carlo in Naples revived

Macbeth

briefly but the performances were halted when Mussolini proclaimed anti-Semitic regulations reviling Jewish artists. After the war there were a few performances in the U.S. in the 1950's and in 1973 it was staged at the Juilliard School of Music.

Bloch translated his opera into English closely adhering to Shakespeare's original text. The English premiere took place in March of 2009 in the UK. Since then there have been performances of the work by the Long Beach Opera in 2013 and in 2014 by the Chicago Opera Theater but for the most part Bloch's

Macbeth

is still rarely staged. Nonetheless, some consider the work a masterpiece.

Painting:

John Singer Sargent 1889 painting of Ellen Terry, English stage actress who became the leading Shakespearean actress in Britain: as Lady Macbeth, in a gown decorated with green beetle wings

"Out, damned spot! Out, I say!" Bloodstains cannot be scoured nor erased in Shakespeare's tragedy