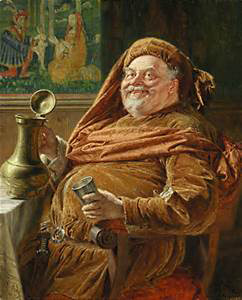 The shenanigans of Sir John Falstaff, one of William Shakespeare's great comic characters, is next in our ten-part series of Shakespeare and music. The portly, vain character appears in Henry IV part 1 and Henry IV part 2 and Merry Wives Windsor, which portray timeless subject matter—a liberal dose of love, jealousy, deceit and betrayal, perhaps a bit like our modern day soap operas. It is said that Queen Elizabeth I was very taken with Falstaff. Nicholas Rowe, in his Life of Shakespeare (1709), wrote that the Queen "was so well pleased with that admirable character of Falstaff in the two parts of Henry IV that she commanded him to continue it for one play more, and to show him in love." Shakespeare complied in record time.

The setting is Windsor, the only Shakespeare play that takes place in England, and highlights English society. Falstaff, an aging knight, has come upon tough times, and although he is bawdy and raucous, a hard-drinker, overweight and over the hill, he still believes he can woo two married women—wives of two gentlemen of Windsor—for their money. He writes an identical love letter to Mistress Page and Mistress Ford, who of course find out and connive to string Falstaff along.

Falstaff: I have writ me here a letter to her; and here another to Page's wife, who even now gave me good eyes too, examined my parts…sometimes the beam of her view gilded my foot, sometimes my portly belly…O, She did gaze o-er my exteriors with such a greedy intention, that the appetite of her eye did seem to scorch me like a burning glass! She bears her husband's purse too— Act I, Scene III.

Antonio Salieri – Falstaff
Overture: Allegro di contradanza
Quite a number of composers have been spurred to write works based on our hero. One of the earliest operas Falstaff of 1799 by Antonio Salieri, the composer known to be envious of Mozart, is clearly influenced by Mozart's opera The Marriage of Figaro, which was popular at the time. The American premiere did not take place until almost two hundred years later in 1974 at the Boston Center for the Arts.

Perhaps the most famous work is Giuseppe Verdi's final opera composed in 1893, the last of 28 operas—a time when the composer, at the ripe age of 79, was considering retirement. Verdi had always been enamored of Shakespeare's plays, one only has to hear his operas Macbeth (1847) and Otello (1887), but he had a hankering to write a comedy. Verdi revealed this idea to his librettist Arrigo Boito, "Having relentlessly massacred so many heroes and heroines, I have at last the right to laugh a little." Boito began a libretto immediately compressing the plot of Merry Wives of Windsor, and incorporating characteristics of Sir John from the Henry plays.

Verdi – Falstaff Royal Opera House, Bryn Terfel as Sir John Falstaff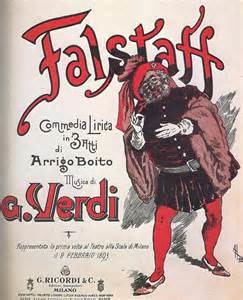 The premiere at La Scala in 1893 of Verdi's new opera Falstaff, created quite a stir. People flocked to hear the opera even though the coveted tickets were exorbitantly priced. Twenty-two performances took place in Milan, followed by premieres in all the major opera houses of Europe, including a performance in Hamburg conducted by Gustav Mahler and at the Metropolitan Opera House in New York. But the public was more impressed with Verdi's other operas and Falstaff fell out of favor until Arturo Toscanini revived the comedy. Perhaps this was due to the fact that Verdi veered away from the traditional bel canto or "beautiful singing" opera style. Furthermore, the opera has no overture and within the three acts there are no numbered sections, that is, it is continuous or through composed.

Verdi Falstaff
"Tutto nel mondo è burla"
Unusually enough, Verdi ends the piece with a fugue—all the characters are ultimately united and bring the story to a close with commentary about the quirks and eccentricities of life, "Tutto nel mondo è burla"—Everything in the world is a joke! Falstaff is brilliantly orchestrated and brims with wit and charm. Today, some consider the opera to be one of Verdi's greatest works. Illustrious baritones have brought this inimitable persona to life and it is great fun to perform.

Otto Nicolai The Merry Wives of Windsor
Overture
Certainly many classical music fans would recognize the overture to Nicolai's opera The Merry Wives of Windsor of 1849. It's a favorite on New Year's Eve and is programmed often in concert halls. This opera, also in three acts, is full of spoken dialogue or Singspiel, which occurs between delineated musical sections, in contrast to Verdi's approach. Merry Wives is a mainstay of opera repertory. The alluring music captivates with its Italian opera buffa style—Italian comedy that used dialects, simple vocal writing and everyday settings.

Vaughan Williams Sir John in Love
Act III Scene 1: Interlude: Orchestral introduction – Yet hear me speak (Fenton)
Vaughan Williams wrote an opera based on The Merry Wives of Windsor entitled Sir John in Love. Although composed in the mid-1920's it didn't receive a professional performance until 1946 and since then performances have been infrequent. The English National Opera produced the opera in 2006 and the Odyssey Opera performed it in a rare production in 2015, at the Boston University Theater. Since the text of Sir John is in English, Vaughan Williams was able to stay true to Shakespeare, retaining the prominence of the large number of characters—over twenty—and the language, riotous confusion and counterplots of the original play. Vaughan Williams' lush romantic writing is infused with English folk tunes, including the well-loved tune Fantasia on Greensleeves.

Elgar
Falstaff: Symphonic Study in C Minor, Op. 68
Elgar believed that his orchestra piece Falstaff – Symphonic Study in C minor Op. 68 was one of his finest. "I have, I think, enjoyed writing it more than any other music I have composed and perhaps for that reason it may prove to be among my better efforts". It was premiered in Leeds in 1913 with the composer on the podium. The thirty-five minutes work is structured in four parts to illustrate four of Falstaff's adventures. One could call it a symphonic poem—it is one continuous movement with a theme, which depicts a dramatic poem or story similar to several compositions by Liszt and Strauss. The Symphonic Study was never as popular as other Elgar pieces. While it is demanding to play, the music is vivid and colorful. Sadly it is rarely performed in the concert hall.

And there are more! Gustav Holst wrote At the Boar's Head Inn—the tavern where Falstaff downed many a pint—a one-act opera. Falstaff appears in Henry V and Walton wrote a lovely score to Laurence Olivier's version of Henry V filmed in 1944 while World War II was still festering, and Kenneth Branagh's 1989 Henry V, features a wonderful score by composer Patrick Doyle. Shakespeare has created a timeless character that continues to appeal, human foibles and all.