In 1870, Richard Wagner (1813-1883) married his second wife, Cosima Liszt. His first wife, Minna, had died in 1866 but he'd had a relationship with Cosima, the illegitimate daughter of Franz Liszt and Marie d'Agoult, since 1863 when she was 26. He was nearly double her age, being 50 when they started their affair and 57 when they married. This was also Cosima's second marriage. Her first marriage was to Hans von Bülow and included a visit to Wagner on their honeymoon. Von Bülow knew Wagner well both professionally and socially and it was after his wife had had three children by Wagner, while still married to von Bülow, that he granted her a divorce in 1868. The divorce was completed on 18 July 1870 and Cosima married Wagner one month later, on 25 August 1870.
In 1870, to celebrate her birthday of 24 December, but normally celebrated on Christmas Day, Cosima was awoken at the Villa Trischen in Lucerne to the music of what came to be known as the Siegfried Idyll. Referred to by Cosima as a "Symphonic Birthday Greeting" and by Wagner as the Tribschen Idyll, it was named not after the opera, which wasn't written until 1876, but for their third child, Siegfried, who had been born the previous year. The 18-minute work included family lullabies and other musical references that were known only within the family. The original 13-member chamber orchestra that played the work on the stairs of Villa Tribschen was made up of members of the Tonhalle Orchester Zürich.
Wagner always intended the work to be a private present to Cosima, but in 1876, when he needed money, he sold the work to his publisher. When he sold the work, he reedited it to enlarge the orchestral part to 35 members to make it marketable to more standard orchestras.
Richard Wagner: Siegfried Idyll

The Polish conductor and composer Paul Kletzki (1900-1973), leading the Orchestra National de al Radiodiffusion-Télévision Française, broadcast this work on 13 October 1961. Kletzki started his studies in Łódź, Poland, and moved to Berlin in 1921. In 1933 he fled Germany for Italy and in 1936, moved to the Soviet Union. After WWII, he became a renowned conductor of orchestras including the Liverpool Philharmonic Orchestra (chief conductor), the Dallas Symphony Orchestra (principal conductor) and the Orchestre de la Suisse Romande (General Music Director).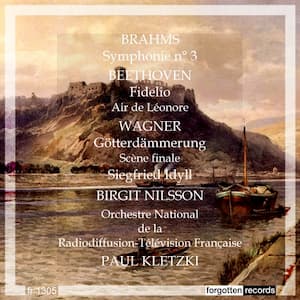 Performed by

Paul Kletzki
Orchestre National de la Radiodiffusion-Télévision Française

Recorded in 1961

Official Website
For more of the best in classical music, sign up to our E-Newsletter