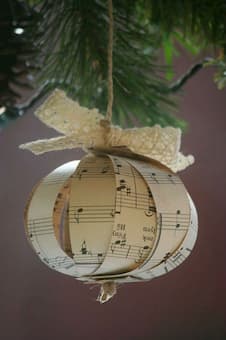 Holiday music lists crop up at this time of year and there are several that one can refer to including on Interlude. I thought it would be interesting to not only feature the classics, but also rare gems.
British composer Gerald Finzi is a wonderful composer whose music we don't often hear. Born in 1901, tragedy struck early in his life, which permanently altered his worldview. At a young age, he lost not only his father, but also his three older brothers, and his music teacher, the latter killed in action during World War I. No wonder his music is tinted with sorrow as well as splendor. He wrote this Nativity story in 1954, one of the last pieces Finzi wrote, based on the poem Noel: Christmas Eve 1913 by Robert Bridges. In two short movements, the exquisite In Terra Pax Op. 39, A Frosty Christmas Eve, couldn't be more beautiful and dreamy. Part II And lo, The Angel of the Lord written for soloists, chorus, and full orchestra, is more dynamic in expressive range, but nonetheless transporting. Finzi himself said that "the Nativity becomes a vision seen by a wanderer on a dark and frosty Christmas Eve in our own familiar landscape."
The success of British born composer and conductor Samuel Coleridge-Taylor after his three tours of the US in the early 1900s led to him being called the "African Mahler." He showed great talent at an early age and began studying the violin and subsequently composition. His best known and popular works The Song of Hiawatha, and Hiawatha's Wedding Feast were widely performed. The Forest of Wild Thyme, Op. 74 Christmas Overture originally written for piano, was subsequently arranged by S. Baynes for orchestra. The piece incorporates several well-known Christmas songs but was not premiered until 1925 more than a decade after Coleridge-Taylor's death.
Samuel Coleridge-Taylor: The Forest of Wild Thyme, Op. 74: Christmas Overture (BBC Concert Orchestra; Barry Wordsworth, cond.)

The music of Frederick Delius is often described as romantic and expressive, and his Winter Night, Sleigh Ride No. 2 from Three Small Tone Poems is no exception. For full orchestra and soprano, it might be called impish, dance-like, and strikingly lyrical. A protégée of Sir Thomas Beecham who promoted and premiered several Delius compositions, despite composing several operas, large choral and orchestral works, concertos and sonatas, he hasn't quite attained widespread recognition of his lyrical works.
Austrian Arnold Schoenberg often frightens audiences. A composer known for his influence on 20th century music—especially the "twelve-tone" system, and the Second Viennese School, this lyrical and lovely work is well worth listening to. Although Schoenberg was Jewish, he loved Christmas music. His Weihnachtsmusik is a setting of an old German carol written by Praetorius (1571-1621) a prolific German composer, organist, and music theorist. The work can be performed by a chamber orchestra, or string quartet with piano, and organ. Those of you who know his music will be surprised that this piece is in contrapuntal style, with a gentle ending.
The four a cappella, or unaccompanied motets by French composer Francis Poulenc are hauntingly beautiful. Quatre Motets pour le Temps de Noël, gives me chills when I listen to them and certainly O magnum mysterium sets a tone of reverence. Poulenc, largely self-taught, made his mark after World War I, establishing song-writing as a distinct art form.
Francis Poulenc: Quatre motets pour le temps de Noel – I. O magnum mysterium (Stephen Ralls, piano; Tafelmusik Chamber Choir)


Another exceptional jewel, from another Frenchman, Camille Saint-Saëns, organist, pianist, composer and conductor is Oratorio de Noël Op. 12, a ten-movement work for orchestra, chorus, and soloists. He completed the work in two weeks just 10 days before its premiere in 1858. The duet for soprano, bass and harp and organ will thrill you, the trio for soprano, tenor and bass with harp also is quite heavenly, and the ending is triumphant. This Oratorio deserves a place next to the Messiah, I think.
Camille Saint-Saëns: Oratorio de Noel, Op. 12 – Duet: Benedictus qui venit (Britt-Marie Aruhn, soprano; Ulf Lundmark, bass; Karin Langebo, harp; Bengt Forsberg, organ; Royal Opera Orchestra; Anders Eby, cond.)

Camille Saint-Saëns: Oratorio de Noel, Op. 12 – Trio: Tecum principium (Britt-Marie Aruhn, soprano; Erland Hagegard, tenor; Ulf Lundmark, bass; Karin Langebo, harp; Bengt Forsberg, organ; Royal Opera Orchestra; Anders Eby, cond.)

I couldn't resist including this stunning rendition of one of the more well-known Christmas songs Carol of the Bells. Performed by the all boy English vocal ensemble LIBERA this is from their 2019 album Christmas Carols with Libera. I found this interpretation singing very moving and hope you do too.
And just for fun, I couldn't leave you without some hilarity, despite the fact that it's from a few years ago—just in case you come from a blended family that celebrates a mix of traditions!
For more of the best in classical music, sign up to our E-Newsletter