On first hearing a performance of his fifth symphony in 1888, Pyotr Ilyich Tchaikovsky (1840–1893) decided it was a failure: 'There is something repellent in it, some over-exaggerated colour, some insincerity of invention, which the public instinctively recognises…', as he wrote in a letter to his patron, Nadezhda von Meck. However, Tchaikovsky's critical timidity led him astray and the work proved to be popular with its listeners.
There's no formal program for the symphony, but Tchaikovsky had written notes to guide him through the writing process that suggests he did have certain ideas in mind: 'Introduction. Complete resignation before Fate, or, which is the same, before the inscrutable decrees of Providence. Allegro (I) Murmurs, doubts, lamentations, reproaches against XXX. (II) Shall I throw myself into the arms of Faith??'. The Providence or Fate theme that starts the symphony is present in every movement.
What was Tchaikovsky's situation in 1888 that might make messages of doubt something he wanted to set in music? It's hard to see. In December 1887, he set off on one of his many conducting tours, and these trips were of great benefit to the composer, bringing him in contact with important musicians, getting his music out to the public, and enabling him to find international outlets for publishing his music. His concerts were not only of his works but also music by Mozart, Beethoven, Gounod, Borodin, and others. In 1888, Tsar Alexander III awarded him a lifetime pension. All should be good, but perhaps that's just the time for an introspective work?
Tchaikovsky's position between the Russian nationalists, led by Mily Balakirev, and his training in the German tradition, as personified by his teacher Anton Rubinstein, put him in a situation where he sometimes fit uncomfortably between the two camps. Balakirev wished him to be more Russian while Tchaikovsky saw more value in the German technique in which he was trained. Nevertheless, Tchaikovsky represents a good synthesis between the two styles and there's much in his symphonies that you would never hear in Mozart or Beethoven.
The last movement opens Andante maestoso, with a slow stately progression before launching off into an Allegro vivo. Critics in America found the final movement to be very Russian, if not too Russian, heard in it 'a horde of demons struggling in a torrent of brandy' or great battle scenes.
Pyotr Ilyich Tchaikovsky: Symphony No. 5 in E minor, Op. 64 – IV. Finale

This recording was made in 1957 with Heinrich Hollreiser leading the Bamberg Symphony Orchestra. Heinrich Hollreiser (1913–2006) started conducting the Bamberg Symphony Orchestra after WWII. After 1951, he was the principal conductor of the Vienna State Opera.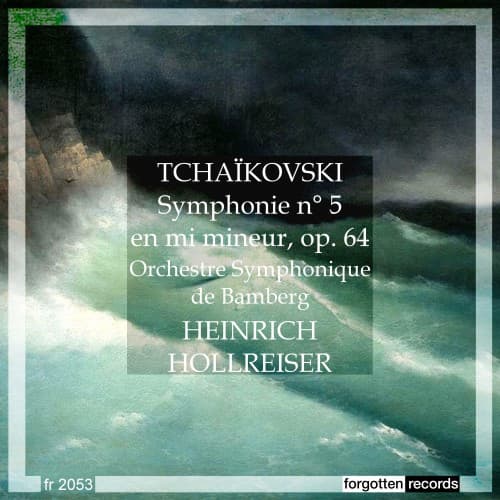 Performed by

Heinrich Hollreiser
Orchestre Symphonique de Bamberg

Recorded in 1957

Official Website
For more of the best in classical music, sign up for our E-Newsletter