I was in London for three days, and was lucky enough to find myself in the midst of the London Handel Festival. I got a ticket for the concert Arias for Mrs. Arne, which included a pre-concert festival walk around the Covent Garden area.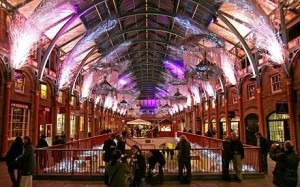 The meeting point was at the Covent Garden tube station. A small group of about 30 were led by Janice Liverseidge, a Blue Badge Guide and Handel-lover, who revealed to us the hidden facets of the Covent Garden and Drury Lane area.

I have been to Covent Garden many times before, although mostly for performances at the Royal Opera House. I never had the chance to get a closer look at the area simply because each time I went, I found myself either rushing in to attend the Opera on time or rushing out for dinner, since I usually find myself starving at such a late hour.

During the one time I got a glimpse of the area, I saw mostly high street shops and designer brands that you might see anywhere. Nowadays, every big city has its share of malls with a high concentration of practically identical shops and fast food chains. This frenzy of consumerism makes you feel like you could be anywhere in the world.

To my delight, the one-hour walk was in fact very refreshing. Janice took us back in time, reviving the atmosphere of early 18th century London. She showed us houses and streets related to Handel and Thomas Arne, painting their lifestyle with rich historical detail. The entire experience was a nice introduction to the concert that followed.

By the time we reached St. George's, Hanover Square, where the concert was to be held, we had become rather well acquainted with Mrs. Arne, aka Cecilia Young, star of the 30s (that's the 1730s). Born into a well-known family of musicians and gifted with a beautiful voice and great acting skills, she soon became the leading lady of the musical and opera scene of the times.

Her teacher was Geminiani; her brother-in-law was Lampe. She inspired Handel and married Thomas Arne, and they all composed for her. In fact, more than one concert is needed to hear all the pieces and Arias for Mrs. Arne.

Nevertheless, the programme of the evening featured a very good selection of arias by Handel, Lampe, Arne and Geminiani. They were sung by one of the best early music specialists, Dame Emma Kirby, who was accompanied by the London Handel Players and the flautist Rachel Brown.

I have a good number of recordings by Dame Emma Kirby, but this occasion marked the first time I have ever heard her live. After many bad experiences with live concerts that were disappointing compared to technology-enhanced CD recordings, I went into the concert with little expectation. I had decided to be quite content as long as there were no bad surprises.

In fact, the concert turned out to be one of the most enjoyable of my recent experience. Dame Emma Kirby was charming and her stage presence was humble, yet sweet and impressive. She sang marvellously with enchanting musicianship.

The concerts I appreciate the most are those featuring musicians who enjoy the music regardless of the environment or public response. They play for joy and with profound respect for the music. This is what we encountered that evening. The London Handel Players had such great musical bonding that their body language, eye contact and subtle communication enabled them to play as if they were one.

The concert also featured two beautiful trios for the flute by Geminiani and Arne. The flautist Rachel Brown was sensitive and expressive, and her playing revealed to me a completely different perspective of the flute, subtle and delicate. She was a real delight to listen to.

All in all, I had a lovely evening. We left the church with smiles on our faces and a great feeling of peace and contentment in our hearts.


Dame Emma Kirby: Handel, "Gentle Morpheus" from Alceste (performed at the London Handel Festival)

London (3)
In the span of three short days, I managed to try a few new restaurants apart from my usual haunts. I had arranged an evening with a good friend, with whom I usually enjoy spending time catching up on the latest news. For this reason, we tend to prefer peaceful, quiet, good restaurants.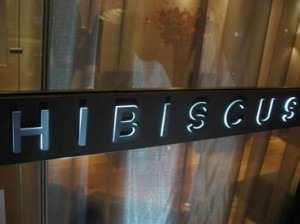 This time I opted for the Michelin-starred Hibiscus, which is within walking distance of my hotel, the Langham. We found it cosy and intimate, with excellent service and a very interesting menu. Our evening would have been perfect were it not for our neighbours: a table of six young men who were talking loudly, laughing loudly, eating loudly and even drinking loudly, as if they were the restaurant's only patrons. I cannot understand how some people come to appreciate fine dining without at least some understanding of basic table manners.
Ottolenghi is another great eatery I discovered. It has four chain outlets in London, although with their extensive choice of delicious salads and vegetables, they deserve to have many more. The only outlet with seating for either lunch or dinner is their Islington branch; otherwise, just buy take-out and bring it back to your home or hotel room. Their fare is healthy and simply mouth watering, and their desserts… mmm, it is tempting to try them all!
On the last day of my visit, I went to Polpo, a Venetian snack and wine bar. A convenient ten-minute walk from my hotel, it is a friendly and casual bácaro located in an early 18th century building in Soho that was once home to Canaletto. There, I feasted on an assortment of cicheti and crostini with a glass of Prosecco. The fare was simple but tasty—great value for the money—and the service was efficient and fast. The entire meal lasted under one hour, giving me plenty of time to head back to the Langham and get ready for my flight.
Photo credits:
telegraph.co.uk
,
kristainlondon.typepad.com