Although our knowledge of Nordic composers seems now to circle around Nielsen, Grieg, and Sibelius, the latter two who trained in the German and Austrian tradition, there were also other composers, such as the Finnish composer Selim Palmgren (1878-1951), who we should also consider.
Professionally, he studied in Berlin with Konrad Ansorge, who had been a student of Liszt, and Ferruccio Busoni. He was a touring pianist, a choral and orchestral conductor and taught at the Eastman School of Music in Rochester (1921-1926), NY. As a composer, he wrote in all genres, including over 300 pieces for piano and five piano concertos that were widely performed at the time by some of the great pianists, including Ignaz Friedman, Myra Hess, Wilhelm Backhaus, and Benno Moiseiwitsch. In his memoirs, written before WWI, he said that his music had already been performed in places as exotic as 'Florida, Java, and even as far as Ceylon.' His contemporaries called him the 'Chopin of the North' (Pohjolan Chopiniksi) and his work owes a great deal to Debussy and musical impressionism.
Little of his work has remained in the repertoire in the 70 years since his death. Part of the problem is that Palmgren himself did little to promote his works, there's no complete catalogue of his works, and many of his works are undated and still remain in manuscript. Rather than taking Palmgren's own self-description of himself merely as 'a musician,' we should consider him a composer of 'international significance who simply lacked time to write a bigger number of works.' In addition to his own career as a pianist and composer, he was also principle conductor of the Turku Philharmonic (1909-1912) and a guest conductor of the Helsinki Philharmonic, and an active music critic.
If we look at Palmgren's 1904 work, Aria, we could almost be part of the Spain created by Enrique Granados. Slow, singing and sultry, the Aria is placed in a crystal world where the piano left hand sometimes creates an interesting backdrop, and other times, joins the melody in a focused declaration.
Selim Palmgren: Aria (Jouni Somero, piano)

Finnish pianist Jouni Somero made this recording as the first volume of a set of recordings of Palmgren's complete piano music. Somero (b. 1963) started on the organ at age 8 but became a pianist at age 12. He records widely including the complete piano works by Bortkiewicz (nine volumes), Tchaikovsky (six volumes), Kuula, and the complete piano and chamber music of Erkki Salmenhaara.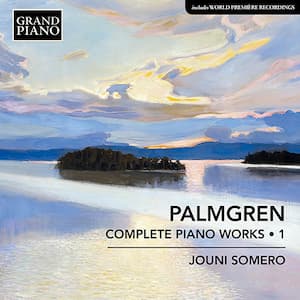 Selim Palmgren: Aria

Performed by
Jouni Somero

Official Website
For more of the best in classical music, sign up to our E-Newsletter