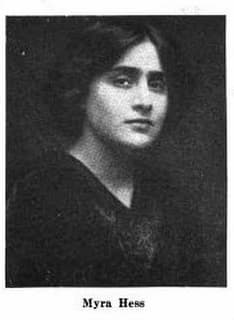 Julia Myra Hess was born on 25 February 1890 in London, as the youngest of four children. Her paternal grandfather Samuel Hess had migrated from his native Alsace to England, and he established a highly successful textile firm in London's East End. An Orthodox Jew who regularly attended Dalston Synagogue, Samuel married Alice Cantor, and the couple moved into a stately Islington home. They had seven children, and his oldest son Frederick Solomon joined his father's firm and married Lizzie Jacobs at the Bayswater Synagogue. Myra grew up in a religiously conservative household, however, biographers have suggested that Frederick and Lizzie Hess practiced an "idiosyncratic interpretation of traditional Jewish practice." They ate any meat as long as it was not pork or ham, "while at the same time prohibiting all forms of vehicular travel on the Sabbath, including riding a bicycle… Frederick would go to synagogue with his sons on Friday evening and return to a traditional Sabbath meal; even at the end of her life, Myra could chant the kiddush, the somewhat lengthy benediction over wine that precedes the Sabbath meal."
Bach: "Adagio" (Myra Hess)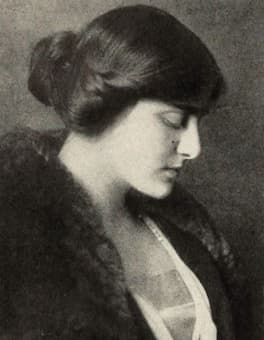 By all accounts, Myra was following in her father's footsteps and was a serious and disciplined child, "but she also inherited her mother's sense of fun, as well as her mother's small feet and hands; Myra's hands were so small that her teacher at the Royal Academy of Music created a device to develop her hand span." Myra enjoyed Rabelaisian stories, vulgar jokes, and smoking in public as "a reaction against a restricting upbringing, which included an adherence to Orthodox Jewish practice." She started her lessons in piano and cello at the age of five, but quickly focused on the former. She was admitted to Trinity College of Music and became the youngest student to receive the Trinity College Certificate at age eight. In the following year she was admitted to the Guildhall School of Music. Her teachers in theory and piano included composers Julia Pascal and Orlando Morgan, and she won the Steinway Medal and the Ada Lewis Scholarship. Hess attended the Royal Academy of Music in London and studied with Tobias Matthay, whom she considered a great influence on her life and pianism.
Mozart: Concerto No. 9, K. 271 (Myra Hess)
Hess graduated with the MacFarren Gold Medal and became Matthay's first assistant at his newly opened Tobias Matthay Piano School in London. Myra never considered herself a child prodigy saying, "I'm glad I didn't have to begin the life of an artist as a child. … At twenty they are saying, 'She was not such a good artist as she was at ten.'" Hess played the 4th Beethoven and Saint-Saëns's Piano Concertos at her London debut in Queen's Hall under Thomas Beecham, and she organized two recitals at Aeolian Hall in January and February of 1908, which were drawing only a very small audience but extremely favorable reviews. In the same year, Hess played the first of over ninety Promenade concerts under Henry Wood, performing Liszt's first Piano Concerto. She catapulted to international attention with a performance of the Schumann Piano Concerto under the direction of Willem Mengelberg in Holland. By the end of the decade, Hess was playing a hundred concerts a year in Britain and Europe. In addition, she toured America and Canada, and was soon hailed as "Great Britain's most famous classical pianist."
Robert Schumann: Carnaval (Myra Hess, piano)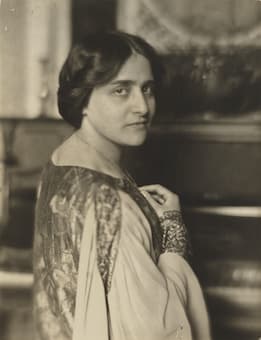 Hess claimed that she was always nervous before a performance and subject to periods of depression. "When I listen to myself play," she explained, "I feel I am going to my own funeral." It might well have been one of the reasons why Hess was happier performing in small halls rather than large concert halls. During the dark days of World War II, Hess came up with the idea of setting up lunchtime concerts at London's National Gallery. In all, she organized nearly 1,700 lunchtime concerts, firmly believing "that great music will provide spiritual nourishment for mankind."
For her wartime efforts, Hess was made a Dame of the British Empire and in 1942 she received the Gold Medal of the Royal Philharmonic Society. Hess became best known for her imaginative arrangements of the works of Mozart, Beethoven, and Schumann, and for her careful re-workings of Bach's music. Responding to a hostile critic she once famously said, "You play Bach the way you want, I'll play Bach the way he wants." Known for her joyful and exuberant playing, Hess favored recital programs that featured demanding and uncompromising works, including the Liszt B-minor sonata and works by the late Beethoven.
For more of the best in classical music, sign up to our E-Newsletter
Beethoven: Sonata Op. 110 "Adagio-Fuga" (Myra Hess)