Sergei Rachmaninoff is widely regarded as one of the greatest composers for the piano. Cornerstones of the repertoire for many pianists, his music is beloved by performers and audiences the world over. His piano music is known – and feared by some – for its technical demands and emotional depth, requiring a performer with both technical mastery and interpretive skill to bring out the full range of its beauty and expression. Rachmaninoff also offers a very beautiful and dignified inquiry through the sound of everything it means to be human – hard to capture in performance!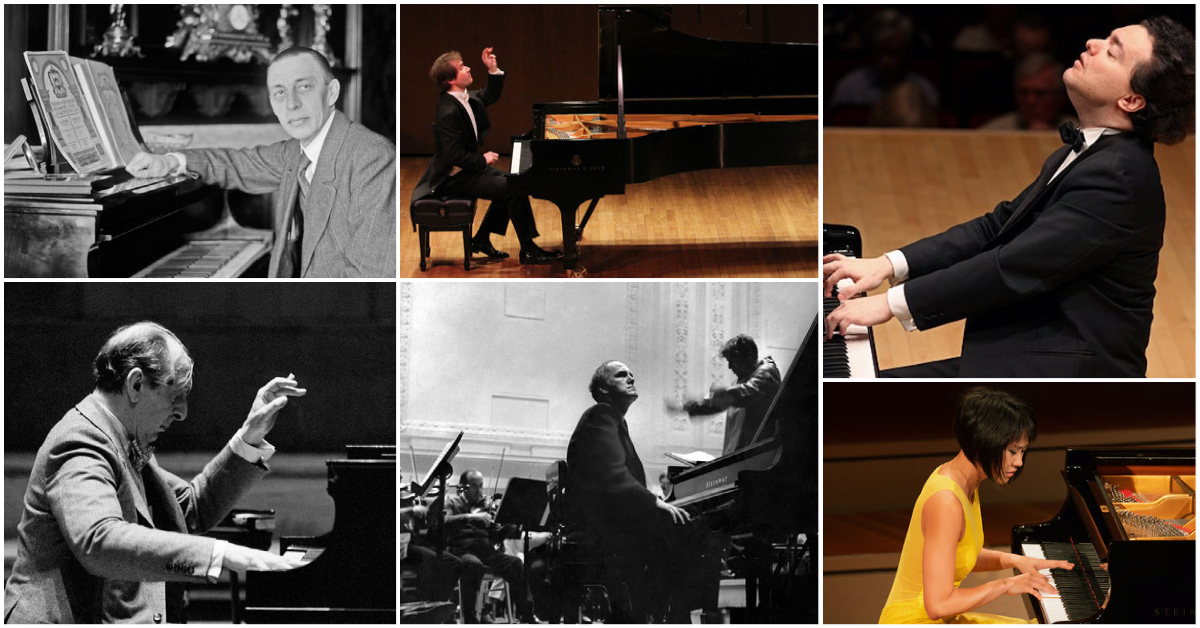 Vladimir Horowitz
One of the most renowned interpreters of Rachmaninoff's music is Vladimir Horowitz, a pianist who was greatly admired by the composer himself. Horowitz's performances of Rachmaninoff's Piano Concerto No. 3 are legendary, and he was one of the first pianists to bring this work to prominence in the United States. His recordings of Rachmaninoff's Prelude in C-sharp minor and Vocalise are also widely admired for their emotional intensity and technical brilliance.
Vladimir Horowitz Plays Rachmaninoff's Prelude in C sharp minor
Sviatoslav Richter
Another pianist often associated with Rachmaninoff's piano music is Sviatoslav Richter. Richter was known for his technical command and expressive power, and his performances of Rachmaninoff's music are considered some of the finest ever recorded.
Sviatoslav Richter Plays Rachmaninoff's Etude-Tableau Op. 33, No. 4
Sergei Rachmaninoff
The composer himself should be included here. Rachmaninoff performed his own music and premiered his third piano concerto in New York in November 1909. Recordings of him playing his own music offer some remarkable insights into his approach to tempo, phrasing, dynamics, interpretation, a gift for counterpoint, and so much more. There is much expressive freedom in his performances coupled with a profound emotionality (as opposed to sentimentality), rendered with great clarity and drama. A rich archive of recordings allows students, pianists, and listeners today a special connection with the composer.
Rachmaninoff Plays His Piano Concerto No. 3
Evgeny Kissin
Of today's pianists, Evgeny Kissin's recordings of Rachmaninoff's Piano Concertos No. 2 and No. 3 are considered some of the finest ever made. Kissin's technical virtuosity and musical understanding allow him to reveal the full range of Rachmaninoff's music, from hauntingly beautiful, intimate melodies to thunderous climaxes.
Sergei Rachmaninoff: Etudes-tableaux, Op. 39 – No. 2 in A Minor: Lento assai (Evgeny Kissin, piano)

Yuja Wang
Yuja Wang is another pianist who has made her mark on Rachmaninoff's music. Her performances of the Piano Concerto No. 2 have been widely praised for their emotional intensity, and her virtuosic technique and unique interpretive style allow her to infuse Rachmaninoff's music with her own personal vision, creating performances that are both powerful and deeply moving.
Rachmaninoff : Piano Concerto No. 2 : Yuja Wang / Valery Gergiev / Mariinsky Orchestra
Nikolai Lugansky
Nikolai Lugansky is considered one of the greatest living interpreters of Sergei Rachmaninoff's piano music in performances marked by a rare combination of technical mastery, emotional breadth, and interpretive insight which showcase the full range of the composer's vision.
Sergei Rachmaninoff: 10 Preludes, Op. 23 – No. 5 in G Minor: Alla marcia (Nikolai Lugansky, piano)

Other pianists who have made significant contributions to the performance of Rachmaninoff's music include Emil Gilels, Vladimir Ashkenazy, Yefim Bronfman, Martha Argerich, and Arcadi Volodos. Each of these pianists brings their unique interpretive style to Rachmaninoff's music, resulting in memorable performances that are technically precise and emotionally rich.
For more of the best in classical music, sign up to our E-Newsletter