The American novelist and short story writer Philip Milton Roth is known for fiction that "features intensely autobiographical characters, for philosophically and formally blurring the distinction between reality and fiction, for its sensual, ingenious style and for its provocative explorations of American identity." He published his novel The Human Stain in 2000, and the author Nathan Zuckerman narrates the complex story of the protagonist, Coleman Silk, a retired professor of classics. The novel was turned into a 2003 movie starring Nicole Kidman and Anthony Hopkins, and it features the following narration of a rehearsal at Tanglewood with Yefim Bronfman at the piano. "Then Bronfman appears. Bronfman the brontosaur! Mr. Fortissimo. Enter Bronfman to play Prokofiev at such a pace and with such bravado as to knock my morbidity clear out of the ring. He is conspicuously massive through the upper torso, a force of nature camouflaged in a sweatshirt, somebody who has strolled into the Music Shed out of a circus where he is the strongman and who takes on the piano as a ridiculous challenge to the gargantuan strength he revels in."
Bronfman Plays Prokofiev's Piano Concerto No. 2 in G minor, Op. 16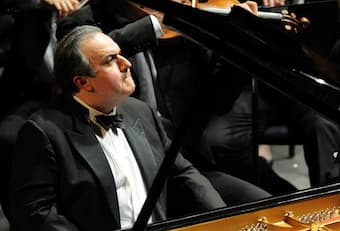 Roth continues, "Yefim Bronfman looks less like the person who is going to play the piano than like the guy who should be moving it. I had never before seen anybody go at a piano like this sturdy little barrel of an unshaven Russian Jew. When he's finished, I thought, they'll have to throw the thing out. He crushes it. He doesn't let that piano conceal a thing. Whatever's in there is going to come out, and come out with its hands in the air. And when it does, everything there out in the open, the last of the last pulsation, he himself gets up and goes, leaving behind him our redemption." Roth's description certainly speaks to the power, commanding technique, and exceptional lyrical gifts of Yefim Bronfman, considered one of today's most acclaimed and admired pianists. Born on 10 April 1958 in Tashkent, Uzbek SSR, "Fima" as he is known to his friends, admirers and family, immigrated to Israel with his family in 1973, where he studied with pianist Arie Vardi, head of the Rubin Academy of Music at Tel Aviv University.
Bronfman Plays Debussy's "Claire de lune" from Live with Carnegie Hall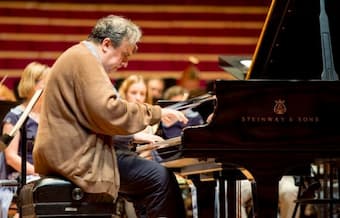 In the United States, Bronfman studied at The Juilliard School, Marlboro School of Music, and the Curtis Institute of Music, under Rudolf Firkušný, Leon Fleisher, and Rudolf Serkin. He made his international debut in 1975 with Zubin Mehta and the Montreal Symphony Orchestra. Bronfman appeared in a number of joint recitals with Isaac Stern in Russia, and he made his acclaimed debuts at Carnegie Hall in 1989 and Avery Fisher Hall in 1993. He was awarded the prestigious Avery Fisher Prize, one of the highest honors given to American instrumentalists, and Bronfman is the recipient of an honorary doctorate from the Manhattan School of Music. Fima has also been nominated for 6 Grammy Awards, winning in 1997 with Esa-Pekka Salonen and the Los Angeles Philharmonic for their recording of the three Bartok Piano Concerti. Bronfman is also an exceptional chamber musician teaming up with Emanuel Ax in recording works for two pianos by Rachmaninoff, and Brahms.
Bronfman and Ax Play Brahms' Sonata in F-minor for two pianos, Op. 34b "Scherzo"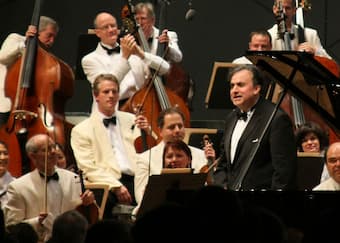 Yefim Bronfman seems particularly at home at the meaty end of the Romantic concerto repertoire. Yet, he is described as one of the most no-nonsense pianists around. A critic writes, "even though he is at the pinnacle of his field, he doesn't have a full-fledged personality cult. He just strides out onstage, an authoritative figure and sits down and plays, sweetly and ferociously and thoughtfully, making it all sound easy and as if it could go no other way." One of the most gifted, brilliant, and versatile pianists, Bronfman "is all about the music." There are no keyboard theatricals, no hands flinging high in the air, and no bouncing up and down on the piano bench. Bronfman derives his sense of drama and lyricism not from physical gestures but from a "sense of vulnerability and discovery." His impeccable technique allows Bronfman to focus on long and arching musical lines. A critic writes, "Bronfman covers the keyboard like an ace sleuth leaving no corner unturned while trying to keep out of sight." Despite commanding enormous virtuoso power, Bronfman performances are informed by physicality, emotionality, and probably most important, spirituality.
For more of the best in classical music, sign up to our E-Newsletter
Bronfman Plays Rachmaninoff's Piano Concert No. 3 in D minor, Op. 30