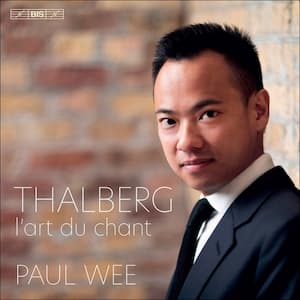 A conundrum which faces all pianists – professional, student or amateur – is how to make the piano, a percussive instrument whose sounds are created by hammers hitting strings, sing.
Legato, the technique for creating a joined-up, singing or "cantabile" sound, is the aim of all pianists. In his L'art du chant appliqué au piano ("The art of singing applied to the piano"), virtuoso pianist and composer Sigismond Thalberg (1812-1871) explored the singing qualities of the piano in transcriptions of favourite arias and songs by, amongst others, Mozart, Bellini, Rossini, Weber, Beethoven and Schubert. These pieces, within the reach of more advanced amateur pianists (which may be why they are rarely heard in concert or on disc), reflect the beautiful sonorities and bel canto melodies of the original works from which they are drawn, and Thalberg's artistry is such that these elegantly-crafted transcriptions manage to vividly convey the sound of the human voice with the accompaniment of piano or orchestra. These works reveal Thalberg, more usually associated with piano pyrotechnics and keyboard athletics (he was famously Liszt's great rival), as an eloquent spinner of melodies.
This relatively unknown corner of the pianist's repertoire is given a masterful and persuasive reading by British-Australian pianist Paul Wee, a barrister by day, who received great acclaim for his previous recording of Alkan's notoriously challenging Symphony for Solo Piano and Concerto for Solo Piano. In contrast to the pianistic fireworks of the works by Alkan, Wee brings a rare eloquence, soulful touch, nuanced soundworld and exquisite voicing to Thalberg's l'Art du chant…
Sigismond Thalberg: L'art du chant appliqué au piano, Op. 70 – No. 5b. Sull'aria (from Mozart's Marriage of Figaro) (Paul Wee, piano)


There's much to enjoy on this generous recording (over 2 hours of music across 2 discs) that it's hard to pick out highlights, there are so many. Some of the tunes by Mozart and Schubert are well known, but there are lesser-known gems here too, including Dafydd y garreg wen, an ancient Welsh folksong, which begins with a simple, plaintive melody which is then embellished with an increasingly intricate accompaniment. Wee brings a grandeur tinged with nostalgic warmth to this piece and elevates it from a folk melody to a sweeping virtuoso miniature. His playing of Thalberg's arrangements of arias by Mozart is particularly fine, with just the right amount of natural rubato to these well-know, and he really brings the piano alive with a rich and colourful singing tone and supple tempi in all the works on this disc.
Sigismond Thalberg: L'art du chant appliqué au piano, Op. 70 – No. 22. Dafydd y garreg wen (ancient bardic aria) (Paul Wee, piano)

A handful of Thalberg's other arrangements of lieder by Schubert and a piece from Thalberg's Opus 36 complete this rewarding recording, together with detailed liner notes by Wee himself and also Thalberg's own foreword to his music, offering advice to those who truly want their piano to sing.
For more of the best in classical music, sign up to our E-Newsletter