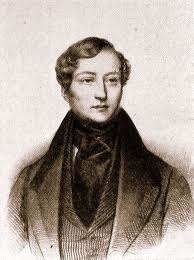 The culture of the traveling virtuoso, so prevalent in the first half of the nineteenth century and clearly reincarnated in today's concert environment in which pianists like Lang Lang play more than 300 concerts a year, brought forth a unique way of "settling the score." To determine who was the more accomplished, flamboyant and technically refined performer, opponents would engage in musical duels, generally held in the salons of nobility. The most anticipated and famous duel in the history of piano playing was held on 31 March 1837 in the home of Countess Cristina Belgiojoso — lover of Lafayette, Heine and Liszt. She gave a charity event for the refugees of the Italian war of independence, and the contemporary press compared the concert to the battle between Rome and Carthage. The opponents that day were 'Old Arpeggio" Sigismond Thalberg and the incomparable "Il penseroso" Franz Liszt.

Thalberg: Fantasia on themes from Moise by Rossini, Op. 33
This musical confrontation had been a long time coming, since both pianist claimed Hungarian origins. Thalberg was the illegitimate child of Prince Franz Joseph von Dietrichstein and Baroness Wetzler von Plankenstein, born as Mária Júlia Bydeskuty. Liszt, of course, was born to Marie Anna Lager and Ádám Liszt on 22 October 1811, in the village Doborján, also know as Raiding in German, in Sopron County in the Kingdom of Hungary. Three months later, Thalberg was born in Switzerland. At the tender age of 10, both aspiring pianists traveled to Berlin to study piano, but it is not clear if they ever met. Throughout their teenage years they performed in the concert halls of Vienna and London, and in the salons of Paris. By the time they were 20, audiences throughout Europe had begun to champion one or the other. Even the musical heavyweights began to formulate their preferences.

Liszt: Pacini – Grande fantaisie sur des motifs de Niobe, S419/R230
After a concert in Leipzig, Clara Schumann — one of the most eminent pianists of her day — wrote: "On Monday Thalberg visited us and played to the delightment beautifully on my piano. An even more accomplished mechanism than his does not exist, and many of his piano effects must ravish the connoisseurs. He does not fail a single note, his passages can be compared to rows of pearls, and his octaves are the most beautiful ones I ever heard". Even Chopin admitted that Thalberg played excellently, and Mendelssohn followed suit. Alternately, when Liszt heard a performance by Nicolo Paganini in 1831, he was swept into an utter state of frenzy and compulsive emulation. He was simply determined to become the pinnacle of pianistic activities, and according to a large percentage of music critics, famous composers and lusty young ladies, he brilliantly succeeded. Even Thalberg admitted upon hearing a performance by Liszt that he "was stupefied; I have never heard anything like this before."


When Liszt left Paris in the 1830's for voluntary exile in Switzerland — taking with him the married Countess Marie d'Agoult — Sigismond Thalberg quickly arrived in Paris to take his place as the most celebrated pianist. Once Liszt returned in 1836 — still facing rather hostile reaction for having eloped with a married woman — he initially published a rather harsh criticism of Thalberg in the most prominent and prestigious publications of the time. The criticisms had actually been written by Marie d'Agoult, who went under the pseudonym Daniel Stern, and elicited the expected response from the Thalberg supporters. When Paris demanded a joint performance, Thalberg loftily exclaimed, "I do not like to play with accompaniment. The actual duel was prefaced by a concert given by Thalberg at the Conservatoire, with Liszt performing immediately thereafter in the Parisian Opera House. The stage was set, and both Thalberg and Liszt let loose with an evening of extraordinary pianistic pyrotechnics. Thalberg performed his "Divertimento on favourite themes by Rossini," Op. 18, and "Les Soirées Musica" Fantasia on "God Save the Queen," Op. 27. Liszt countered with his "Divertissement sur la cavatine 'I tuoi frequenti palpit'" by Pacini, S. 419, his "Transcription of the F-minor Konzertstück" by Carl Maria von Weber, and the "Harmonies poétiques et religieuses," S 173 Nr. 3, "Bénédiction de Dieu dans la solitude". For the grand finale, both performers had prepared — unbeknownst to each other — a tailor-made and newly composed work.

Liszt: Harmonies poétiques et religieuses, S173/R14 – III. Benediction de Dieu dans la solitude
Liszt performed his "Reminiscences de Roberts le Diable" by Meyerbeer, and Thalberg countered with his "Fantasy" Op. 33, based on Rossini's "Moise." This remarkable evening came to a close with the Countess Belgiojoso pronouncing the following judgment: "Thalberg is the first pianist in the world — Liszt is unique". In his press release the following day, Jules Janin interpreted the somewhat ambiguous words of the Countess in the following way: "Never was Liszt more controlled, more thoughtful, more energetic, more passionate; never has Thalberg played with greater verve and tenderness. Each of them prudently stayed within his harmonic domain, but each used every one of his resources. It was an admirable joust. The most profound silence fell over that noble arena. And finally Liszt and Thalberg were both proclaimed victors by this glittering and intelligent assembly. Thus two victors and no vanquished …". Music history has not been kind to Thalberg, probably because he got extremely rich playing concerts as far as North-Africa and South America. Liszt, on the other hand, eventually stopped his performance career, focused entirely on composition and took up religious orders. It all comes down to the fact that the historiography of music has granted considerably higher value to the composer, than it accords to performers and interpreters.