Louise Farrenc, born Jeanne-Louise Dumont (1804–1875), studied piano first with Cécile Soria (who had studied with Clementi), then Ignaz Moscheles (a composition student of Salieri's) and Johann Nepomuk Hummel (who had studied with Mozart). She studied composition with Anton Reicha, who taught at the Paris Conservatoire, but ceased those studies after two years upon her marriage to the flautist Artistide Farrenc. The couple toured France giving concerts until they gave it up to found the Éditions Farrenc publishing house. She resumed her studies with Reicha and toured as a concert pianist and in 1842, was appointed professor of piano at the Conservatoire, a position she held for 31 years.
Known more as a pianist than as a composer, it is only recently that her works have emerged again. First writing only for her own instrument, the piano, she gradually started to include chamber and orchestral music in her works.
She wrote 2 overtures in 1834, both of which are filled with drama. There is no larger work, such as an opera, that these were intended for, but the overture itself is dramatic enough.
From its stuttering and dramatic opening statement through to the final chords, Farrenc is constructing a story that one might imagine would be filled with drama, dangerous situations, and a momentous tragedy in the offing. Her skill in orchestration, which places different orchestral ensembles in opposition, and exploits the different sonic textures of those groups, was studied by the master of orchestration himself, Hector Berlioz.
After the dramatic minor-key beginning, the abrupt shift into major in the development section gives the imagined story a bright centre and a surprise bright ending.
Louise Farrenc: Overture No. 2 in E-Flat Major, Op. 24 (Luxembourg Solistes Européens; Christoph König, cond.)


This 2020 recording by Solistes Européens, Luxembourg, was made with Christoph König conducting. König has been Principal Conductor and Music Director of the ensemble since 2010, in addition to his appearances with major international orchestras. The Spanish Radio Symphony RTVE appointed him as chief conductor of their orchestra and chorus, starting September 2023.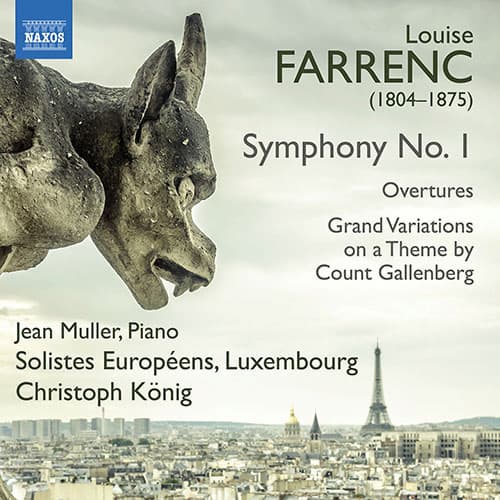 Louise Farrenc: Overture No. 2 in E-Flat Major, Op. 24

Performed by

Luxembourg Solistes Européens
Christoph König

Official Website
For more of the best in classical music, sign up for our E-Newsletter