"A very welcome addition to recordings of Ruth Gipps' music"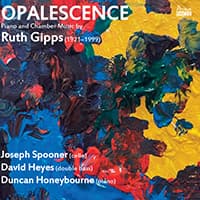 A very welcome addition to recordings of Ruth Gipps' music, this new disc, released at the end of 2021 to coincide with the centenary of Gipps' birth (1921), contains no less than four world premiere recordings and presents her complete solo piano music, masterfully and imaginatively performed by Duncan Honeybourne, a champion of lesser-known repertoire, especially by English composers, together with works for cello and double-bass played by Joseph Spooner and David Heyes respectively.
Ruth Gipps was a remarkably gifted musician; not only a composer, she was also a fine pianist (this is very much reflected in the music she wrote for the instrument), and also a regular orchestral player. She was a trailblazer for female conductors, willing to run the gamut of the musical establishment's mistrust of women on the podium and carving the way for more recent doyennes of the role such as Marin Alsop and Mirga Gražinytė-Tyla. She was also an advocate for neglected repertoire, much of it by British composers, overlooked by promoters keen to present more avant-garde works.
Her music is imaginative, melodic, tonal and often powerfully affecting and emotionally wrought – as the music on this disc demonstrates – and her output was wide-ranging yet always fastidiously crafted. The Sonata for Cello and Piano, completed in 1978 when Gipps was at the height of her powers, is surprisingly romantic, given the date of its composition. Intense and dramatic, with three contrasting movements, the first movement combines modernist tendencies with impressionistic harmonies and textures, edgy rhythms and dancing melodic lines. The pastoral Andantino middle movement gives full rein to the cello's natural lyricism, eloquently expressed by Joseph Spooner and complemented by Honeybourne's sensitive pianism. The finale is skittish and playful which much enjoyable interplay between cello and piano.
Ruth Gipps: Sonata For Cello And Piano – II. Andantino
The title track of the recording, Opalescence for solo piano, is an impressionistic tone poem whose shifting, 'Debussyan' harmonies, piquant chromaticism, arresting melodies and shimmering figurations perfectly reflect the work's title. Honeybourne rises to the challenge of the work's virtuosity, alert to its many nuances and pianistic colours, and at just four minutes long, one is left wanting more, such is the arresting beauty of this music.
Ruth Gipps: Opalescence, Op. 72

Another surprising and rewarding revelation is the Adagio and Scherzo for solo cello, performed with mesmerising precision and emotional depth by Joseph Spooner. The music is as tightly constructed and emotionally arresting – and indeed technically challenging – as any of the Bach solo Cello Suites.
The last work on the disc is the Sonata for Double-Bass and Piano, completed in 1996, just three years before Ruth Gipps' death, and dedicated to David Heyes, who performs it on this recording. Like to earlier cello sonata, it is a relatively brief work of three movements, again with a slow movement of great lyricism, while the finale includes more jazzy elements and a jauntier mood. Double-bass and piano are given equal prominence in this work and there is a clear sense of collaboration and enjoyment in Heyes' and Honeybourne's playing.
The disc also includes Gipps' earliest published work, The Fairy Shoemaker, a characterful piano miniature written when she was just 8 but already displaying precocious musical talent and imagination in the contrast between treble and bass and the use of unexpected harmony. The other solo piano work is the Theme and Variations, op. 57a (1965), written for the young British pianist Eileen Broster (who premiered Gipps' Piano Concerto in 1972). Once again, there are pleasing nods to impressionism, and the entire work is imbued with a thoughtful wistfulness.
This is a rewarding and intriguing collection of Gipps' music performed with panache and brilliance by Joseph Spooner and David Heyes, with a delightfully bright and immediate piano sound from Duncan Honeybourne.
Opalescence is available on the Prima Facie label.
For more of the best in classical music, sign up to our E-Newsletter