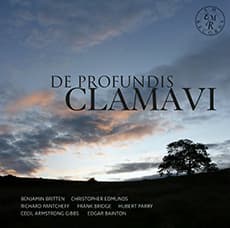 'De Profundis Clamavi', a recent release by British pianist Duncan Honeybourne on the EM Records label, makes a persuasive and enjoyable case for lesser-known English composers of the 20th and 21st centuries.
Recorded in August 2020 in between the UK lockdowns, by his own admission Duncan Honeybourne feels this is his best work to date. While many of us chafed at the enforced isolation and restrictions, Honeybourne used the time extremely productively. Freed from a busy concert schedule, he welcomed the opportunity to "reconnect" with the piano and to immerse himself in the repertoire he most enjoys.
A champion of lesser-known English piano music, Honeybourne's affection for and understanding of the pieces on this disc is evident throughout in performances which reveal an acute appreciation of the wide variety of styles, moods and textures of this repertoire. The result is a generous 2-disc album which contains no less than eight world premiere recordings of works by Christopher Edmunds, Edgar Bainton, Cecil Armstrong Gibbs, and Richard Pantcheff.
The title of the disc is taken from Psalm 103 ("out of the deep have I called unto Thee, O Lord"), appropriately for the three substantial piano sonatas which frame the complete programme – from Edmunds' big boned, luxuriantly romantic piano sonata, composed in 1938, with its nods to Liszt and Rachmaninoff in both its scale and breadth of expression, to Frank Bridge's sonata written in the painful aftermath of the First World War, a work of utter desolation which calls out for reconciliation and forgiveness in a world torn apart by conflict, and Richard Pantcheff's Sonata of 2017, written for Duncan Honeybourne, which although divided by almost a century shares the dark, brooding emotional bleakness of Bridge's work. Honeybourne captures the intensity and range of sentiment in these three sonatas and does not shy away from bravura virtuosity in the first movement of the Edmunds Sonata, which opens the album; its vivid first statements are offset in a middle movement of melting tenderness and warmth.
Christopher Edmunds: Piano Sonata in B minor – I. Allegro, fieramente e rubato
These substantial, dramatic works are complemented and contextualised by shorter works, mostly pastoral in theme, poetic and rhapsodic in nature, and lyrically presented by Honeybourne. Hubert Parry's delightful 'Shulbrede Tunes' are affectionate portraits of the composer's family and their Sussex home; Bainton's 'Willows' and 'The Making of the Nightingale' are tender and evocative pastoral pieces, contemporary with Bridge's Sonata; while Pantcheff's Nocturnus V: Wind oor die Branders evokes the wind on the waves in his native South Africa. Another nocturne, Britten's atmospheric 'Night Piece' portrays night time scurrying and chirrups, is played with an acute attention to detail by Honeybourne.
Richard Pantcheff: Nocturnus V: Wind oor die Branders
Friendships and teacher-pupil relationships connect the selection of pieces on this album: Frank Bridge taught Benjamin Britten, who in his later years mentored Richard Pantcheff. Honeybourne studied Britten's Night Piece with Dame Fanny Waterman, founder of the Leeds International Piano Competition, for which the work was commissioned as a test piece.
Sir Charles Hubert Hastings Parry: III. 'Dolly no. 1'
Of the recording, Honeybourne says: "It was a joy to devise this programme, featuring some masterpieces I've known for a long time and love dearly, alongside the stunning Pantcheff Sonata, which I premiered in 2019 in London at an English Music Festival concert. It is a special privilege to present the recorded premieres of some terrific pieces that have languished in manuscript for many decades, and I hope listeners will get as much pleasure from hearing these wonderful gems as I have from all the excavation and preparation. It's a great honour to bring them all together on this release."
This is engaging collection of distinctive and diverse piano music offers listeners the opportunity to explore some stunning, lesser-known gems of the repertoire.
For more of the best in classical music, sign up to our E-Newsletter