Itzhak Perlman is one of the world's most popular classical musicians. "Beloved for his charm and humanity as well as his talent, he is treasured by audiences throughout the world who respond not only to his remarkable artistry, but also to his irrepressible joy for making music." Perlman has phenomenal talent and produces a big and radiant sound of great beauty and phrasing, with "immense breadth when the music demands it." But what is even more, his outgoing and genial character and his generous temperament allow him to easily connect with the public, "and to call on deep reserves of emotion and humanity."
He has performed and been active as a violinist, conductor and music teacher worldwide, and he played at a State Dinner at the White House honoring Queen Elizabeth II, and at President Barack Obama's inauguration. Perlman was awarded the Presidential Medal of Freedom, and he has 16 Grammy awards to his name, including a Grammy Lifetime Achievement Award, and four Emmy Awards. Itzhak Perlman was born on 31 August 1945 in Tel-Aviv in what was then British-ruled Palestine. His parents, Chaim and Shoshana, had emigrated from Poland before World War II. All three became Israeli citizens when the State of Israel was proclaimed in 1948.
Itzhak Perlman Plays Bach's Partita in D minor, BWV 1004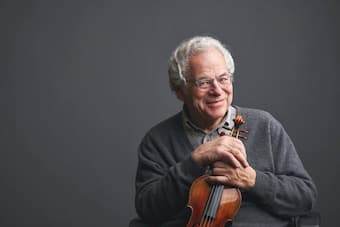 When Itzhak Perlman was only three years of age he sat and listened attentively to a violin recital on Israeli radio. Apparently, he was singing along and imitating the sound of the instrument. When the hour-long program ended he told his mother that he wanted to grow up to be a violinist. His mother soon bought him a toy violin, and he taught himself to play melodies immediately. Tragically, Itzhak was stricken with polio at the age of four and he had to learn to walk with crutches but continued to play violin in a seated position. Perlman remembers, "that wearing braces on his legs and using crutches has never much bothered him." At age five, he began formal studies with the Russian-trained teacher Rivka Goldgart at Shulamit Conservatory. As Perlman once stated, "to be a child prodigy is a curse because you've got all those terrible possibilities." Perlman made a number of appearances with the Ramat-Gan and Broadcasting Orchestras, and performed his first public recital, playing Rimsky-Korsakov's "Flight of the Bumblebee" at age ten.
Itzhak Perlman Plays Brahms' Violin Concerto in D major, Op. 77
Perlman auditioned for Isaac Stern, who suggested that he continue his studies in the United States. And he got his chance in 1958, when the famed television presenter Ed Sullivan traveled to Israel in search of new talent. Sullivan was immediately struck by the boy's incredible mastery of the violin, and Perlman made his appearance on "The Ed Sullivan Show" in 1958. Appearing during the show's "Cavalcade of Stars," Perlman's rendition of Rimsky-Korsakov's "Flight of the Bumblebee" and Wieniawski's "Polonaise Brillante" made him an instant hit with American audiences. Sponsored by the Zionist Organization of America, Perlman toured American and Canadian cities, and although he was speaking only a little English, he began studies at the prestigious Juilliard School of Music in New York City. Perlman studied with Ivan Galamian and his assistant Dorothy DeLay for several years. "DeLay was struck by the boy's precocious technique and encouraged him to develop his individuality as an artist. Rather than dictating details of technique and interpretation, DeLay urged the young violinist to listen to himself critically and find his own way to express the feelings a given piece evoked in him." Perlman, however, did abandon his "Russian" bow hold in favor of the Franco-Belgian bow hold developed by Lucien Capet.
Itzhak Perlman Plays Wieniawski on "The Ed Sullivan Show"
On 5 March 1963, Perlman made his Carnegie Hall debut in New York City with Wieniawski's "Violin Concerto No. 1" in F Sharp Minor. Since New York City was in the midst of a newspaper strike the performance received no coverage, but word of a new musical phenomenon on the scene spread quickly. Stern introduced Perlman to the impresario Sol Hurok, who would subsequently manage his career. The crowning of Perlman's early career took place on 21 April 1964, when he won the 23rd-annual Edgar M. Leventritt Foundation competition at Carnegie Hall in New York City. He was the youngest of the nineteen contestants and performed compositions by Bach, Mozart, Tchaikovsky and Wieniawski before an all-star panel of judges. For his final performance, Perlman had borrowed a 200-year old Guarneri violin from the Juilliard collection, which was stolen during the ensuing celebration. The priceless instrument was discovered the next day for sale at a nearby pawnshop for fifteen dollars. Perlman received 1,000 US Dollars in prize money, but more importantly, a guarantee for solo appearances throughout the US. In 1964 and 1965, he traveled to Cleveland, Ohio; Detroit, Michigan; Pittsburgh, Pennsylvania; Denver, Colorado; Buffalo, New York and New Haven, Connecticut performing for sold-out crowds. In 1964 he performed twice again for CBS's Ed Sullivan Show, and in October of that year returned to his native land. He performed eight concerts throughout Israel, which culminated with a performance of Tchaikovsky "Violin Concerto" at the Mann Auditorium in Tel Aviv for which he received a 15-minute ovation.
For more of the best in classical music, sign up to our E-Newsletter
Itzhak Perlman Plays Tchaikovsky's Violin Concerto in D Major