Polish-born composer and virtuoso violist Henryk Wieniawski (1835-1880) made his name early as a violinist and was an exceptional student at the Paris Conservatoire for two reasons. The first is that he wasn't French and the second was that he was only 9 years old. Upon the awarding of the first prize to him at age 11, he graduated and started his international career after private study with Lambert Massart. Two years later, in Russia the violinist Henri Vieuxtemps hailed him as a genius.
He, like Paganini before him, combined his performing career with a composing career, writing works that showed off his technical and musical brilliance. From 1850 through 1855, he toured widely in Poland, Europe, and the Russian empire with his younger brother Józef, a similarly talented pianist. The initial attraction of the two child prodigies turned to admiration at their combination of musical sensitivity and technical abilities. Following their duo career, Józef went on to tour as a piano virtuoso, being noted for being the second pianist, after Liszt, to give a public performance of all of Chopin's études.
In 1860, at the invitation of Anton Rubinstein, with whom he also performed, Wieniawski moved to St. Petersburg and found what, in essence, became the Russian violin school. Wieniawski held the position of court violinist to Tsar Alexander II in St. Petersburg for 12 years.
Wieniawski's Polonaise Brillante No. 2 in A major, Op. 21, was written in St. Petersburg and carried a dedication to King Charles XV of Sweden. The Polonaise was a dance the triple time and its French name indicated its Polish origin. Wieniawski has filled the work with virtuoso gestures, but not so much that the work is obscured. The beginning is quite bravura, but the contrasting cantilena of the middle section brings the violin back to a calmer disposition. Also, in this centre section, there's a great equality of the violin and piano, perhaps befitting a top violinist who often toured with a top pianist. Here, we have the mature composer who takes care not to overstep the violinist's role and crush his accompanist.
Following an incident where the Tsarist authorities banned him from touring Warsaw, Wieniawski resigned from his Russian position and spent the next two years touring the United States. The touring life no longer suited him and its strenuous demands took a toll on his health. Invited by Nicolai Rubinstein to perform in Moscow, he died there in 1880 of a heart attack. He's buried in the Powązki Cemetery in Warsaw.
Wieniawski: Polonaise Brillante No. 2 in A major, Op. 21
This recording, with violinist Gérard Jarry and pianist André Collard, was recorded in 1953 in Paris. At age 14, Jarry won the "Premier Grand Prix" at the Concours-Long-Thibaud, and this recording was made 2 years later, when he was 16. Jarry went on to teach at the Paris Conservatoire and was concertmaster of Jean-François Paillard's Chamber Orchestra from 1969 and was with the Orchestra for 33 years.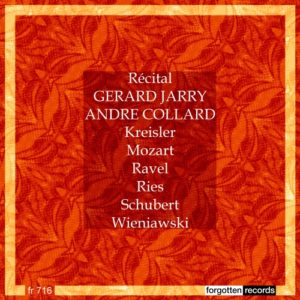 Performed by
André Collard
Gérard Jarry

Recorded in 1953

Official Website