Review on Rossini Opera Festival 2022 – La Gazzetta and Otello
The 43rd edition of the Rossini Opera Festival (ROF) in Pesaro, Rossini's birthplace, featured a selection of rare Rossini operas and recitals. The nearly two week-long event again drew Rossini fanatics from all corners of the globe, in spite of the town's scarcity of quality hotels, uninspired food scene and overcrowded beaches. The fans come for the music and are rarely disappointed.
La Gazzetta, the only opera buffa that Rossini wrote during his formative Neapolitan years, was a revival of the 2015 production. Apart from added colour and stage activities, this production was dignified by Carlo Lepore in the leading role of Dom Pomponio, the pretentious Neapolitan who is searching for a husband for his daughter by putting classified ads in newspapers. Rossini wrote the role for a wildly popular basso buffo who sang exclusively in Neapolitan dialect. Much of the entertainment value of this opera is derived from the skills of the Don Pomponio.
La Gazzetta Trailer (Rossini Opera Festival 2022)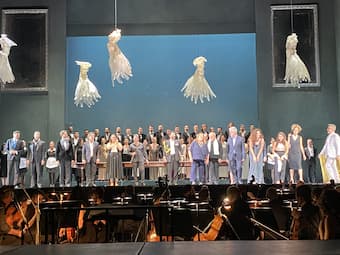 Carlo Lepore is the genuine Neapolitan item, and is one of the rare artists who is up to this task today. He not only possesses an agile bass but he deliciously natters, ratters and declaims in the thickest, most staccato Neapolitan dialect. Even to non-Neapolitan speakers, and possibly especially to those, Lepore imbues the role with the full comical dimension, and also makes the numerous dry recitatives (accompanied only by harpsichord) suddenly seem sensible. Lepore must be the bel canto equivalent of Snoop Dogg bringing rap to life.
The other performers, including the respected Maria Grazia Schiavo (as Pomponio's daughter Lisette) did well. But it was the second liners who stood out, especially Andrea Niño as Madama la Rose and Giorgio Caoduro as Filippo. The Orchestra Sinfonica G. Rossini was beautifully led by Carlo Rizzi who kept the spirited pace and teased out all the glorious Rossini tunes.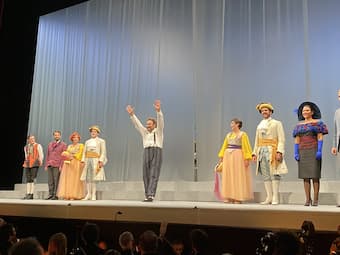 While La Gazzetta represented a fun but socially inconsequential story, director Rosetta Cucchi turned Otello into an unexpectedly powerful statement about gender relations, class struggle and femicide. Her staging places the well-trodden story in an undefined and elegant 20th century setting where politics, ambition and jealousy collude to destroy an uncharacteristically confident Desdemona. Cucchi finely fleshed out the characters of the insecure Moorish general, manipulative Iago and intransigent Elmiro (Desdemona's father). She also gave prime position to Roderigo, a part that is merely a bit player in Verdi's version. As such, Desdemona becomes a gender warrior who falls victim to different men's schemes, rather than being the one-dimensional and weak object of desire that Arrigo Boito and Verdi make her.
Otello Trailer (Rossini Opera Festival 2022)
Eleonora Buratto shimmered as Desdemona, her luscious voice soaring over the massively expanded orchestra pit of the soulless Vitrofrigo Arena (when will Pesaro have a venue deserving of the productions?). She maintains thrilling flexibility and vocal flourish and proved a moving actress. A voice worth traveling for.
Italian tenor Enea Scala tackled the title role with aplomb, but occasionally stretched his voice beyond the comfortable. No blackface, of course, even though so much of the text is focused on his skin colour. ROF veteran Antonino Siragusa, the second tenor, was a chilling Iago.
Dmitry Korchak, the third in the triple tenor line-up, delivered a sensational Rodrigo. His voice is forceful, modulated, seductive and he has a handsome stage presence. Most women would have chosen him over anyone else. Korchak narrowly escaped the audience demands for a bis after the harrowing aria "Che ascolto?"
Yves Abel led the fine Orchestra Sinfonica Nazionale della RAI through the long score, detailing the luscious arcs and keeping the singers together through this very demanding score. The chorus of the Teatro Ventidio Basso (Giovanni Farina), a frequent Pesaro guest, impressed both vocally and dramatically.
A production like this makes Rossini's Otello more than stand up to Verdi's namesake. Indeed it makes you wonder why it isn't performed more frequently. Until that happens, we will just continue returning to Pesaro.
Performances attended: 10, 11 August 2022
For more of the best in classical music, sign up to our E-Newsletter