British pianist Dame Myra Hess was a legend. She garnered fame during World War II when concert halls had to be blacked out during the evenings. She organized 1700 day time concerts during the London Blitz—the six years of bombings suffered by London. The concerts took place unfailingly Monday through Friday at lunchtime, bombing or not. She performed in one-hundred and fifty of them. The concerts were held in the National Gallery, Trafalgar Square.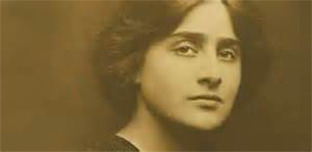 Prior to World War II Hess toured all over Europe, including Germany, Austria, France, and Holland performing Bach, Scarlatti, Beethoven, and Mozart, as well as Schumann, Brahms and contemporary pieces.

At the outbreak of the war Myra Hess was touring America. The feverish evacuation of the prized paintings in the gallery had left only the empty frames and by August 23, 1939, The National Gallery closed. Hess promptly returned to England and just a few weeks later Hess paid a visit to the directors of the gallery. She believed that *"the arts played a powerful spiritual role in the health of the nation at the best of times – and would play an greater role now during wartime." Unexpectedly hoards of people showed up for the first program October 10, 1939. A line stretched all the way around Trafalgar Square and around the corner.

Hess hosted wonderful musicians for the series and as an act of defiance she even programed German and Austrian music to show the world that the love of music and art must supersede the abhorrent actions and political motivations of a government. The concerts also introduced classical music to people who had never been exposed to this music before.

At the first performance an audience member sat on the floor listening to Myra Hess play. Lady Irene Gater, *"realized how hungry she was and decided to start a food counter for those 'men and women who are as hungry for a meal as they are for good music and have very little spare time for either'." Lady Gater's sandwich bar opened to the public.

For keeping the spirits of British citizens up during this harrowing time Hess was awarded Dame Commander of the British Empire.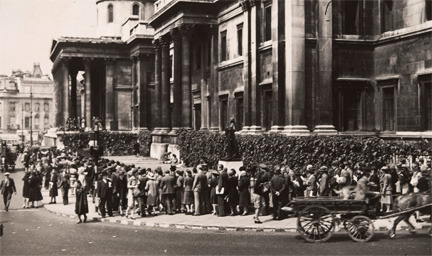 Dame Myra Hess began piano lessons at the age of 5 making her debut at age seventeen performing Beethoven's Piano Concerto No. 4. with Sir Thomas Beecham. (Below is Hess describing this encounter!) Hess was serious and disciplined, as was her father, but she also inherited her mother's sense of fun—loving vulgar jokes and smoking in public. According to her biographer, Marion McKenna, her behaviour was in opposition towards her restrictive Orthodox Jewish upbringing. Hess soon realized that this would be incompatible with the life of a professional musician.

Hess interview and engaging conversation
Hess was soon touring Europe and the U.S. and became quite popular with American audiences. But she did have a run-in with the irascible conductor Arturo Toscanini. In 1946 he invited Hess to perform Beethoven's Piano Concerto No. 5 the famous "Emperor Concerto". They had a huge disagreement over the tempos. The only solution they could come to was to change the program substituting Beethoven's Concerto No. 3. We are lucky that the 1946 broadcast was preserved and reissued by Naxos records on CD.

Beethoven with Emanuel Feuermann
Hess was always nervous before performances and subject to periods of depression. Once she claimed, "When I listen to myself play, I feel I am going to my own funeral." Hence she preferred smaller venues and chamber music, performing with several famous musicians of the day including violinists Joseph Szigeti, Fritz Kreisler and cellist Emanuel Feuermann. Although she made few recordings she did record several chamber works including the Piano Quintet in E flat Op. 44 by Schumann, with a quartet comprising Isaac Stern, Alexander Schneider, Milton Thomas and Paul Tortelier. In1927 whilst in America she recorded Schubert's Piano Trio No. 1 in B flat D. 898 with her friends violinist Jelly d'Arányi and cellist Felix Salmond and she recorded Brahms's Piano Trio No. 2 in C Op. 87, with d'Arányi, and the cellist Gaspar Cassadó in 1935.

Today The National Gallery holds a Myra Hess Day, which continues to bring together an enthusiastic audience. Hess' wartime story has inspired a new generation of listeners who attend along with friends and relatives of Myra Hess. Several of Myra Hess's piano students have appeared and she has inspired other lunchtime concerts presentations around the world including in Chicago. The Dame Myra Hess Memorial Concerts were broadcast live on WFMT radio. The noontime concert series took place weekly in the magnificent Preston Bradley Hall of the Chicago Cultural Center.

Myra Hess Plays Jesu,Joy of Man's Desiring and Scarlatti
Hess is also remembered for her beautiful arrangement of the chorale prelude "Jesu, bleibet meine Freude" ("Jesu, Joy of Man's Desiring") from Johann Sebastian Bach's Cantata No. 147. The arrangement has garnered international praise.
Hess was a pianist who loved simply to play and share music and her playing was joyful and exuberant. She inspires with the firm belief that great music will provide spiritual nourishment for mankind. Over 800,000 people attended her National Gallery concerts.
*Quote and photo from
The National Gallery