Born on 22 February 1972 in Fuentes de Satélite, Mexico, Rolando Villazón has firmly established himself as one of the world's most critically acclaimed tenors of our day. Raised in a suburban area of Greater Mexico City, he was discovered in the shower.
He remembers "getting out of the shower in his apartment in Mexico City, when somebody was knocking on his door. It was baritone Arturo Nieto, a friend of his neighbor, who had heard him singing while in the shower." He told Rolando he had an amazing voice and invited him to his music academy to develop his voice. Villazón had previously been enrolled at the Espacios Academy for the Performing Arts, where he studied music, acting, contemporary dance and ballet. Unsure whether he wanted to join the priesthood or devote his life to music, a performance at a school concert in front of 1,500 people made up his mind.
Verdi: La Donna e mobile, Operalia 1999 (Rolando Villazón)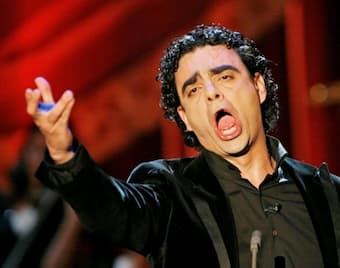 Villazón began his studies in earnest at the National Conservatory before joining the junior programs at the opera houses in Pittsburgh and at the San Francisco Opera. He rose to international recognition by winning several prizes at the 1999 "Operalia" competition, including taking the Zarzuela and Audience Prize. In the same year, he made his European debut at the Teatro Carlo Felice in Genoa, singing Des Grieux in Massenet's Manon. By 2000, Villazón made his debut as Alfredo in La Traviata at the Opéra de Paris, and as Macduff in Verdi's Macbeth at the Staatsoper Berlin. Engagements at St. Petersburg, Salzburg Festival and Vienna quickly followed, and he won numerous major awards including the honour Les Victoires de la Musique for Foreign Discovery of the Year, the ECHO Classics 2004 prize for his first solo recording of Italian arias and a Gramophone 2005 Recital Award for his second album, Gounod & Massenet Arias.
Charles Gounod: Faust, Act III – Salut! demeure chaste et pure (Rolando Villazón, tenor; Radio France Philharmonic Orchestra; Evelino Pido, cond.)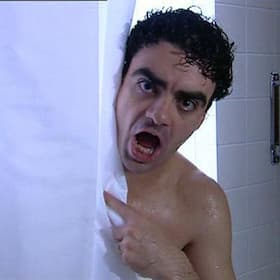 In 2007 Villazón signed an exclusive long-term contract with Deutsche Grammophon, and he was in high demand in the great opera houses and paired with the world's top opera stars. Critics raved about his voice, describing the "thrusting brightness on the top notes and his dramatic power and raw intensity." Some critics even hailed him as "the new Placido Domingo." And then his worst nightmare came true, as his golden voice began to fail. Villazón remembers that "at first, he couldn't produce the notes in the same effortless way," and in a performance in Barcelona, his high notes cracked during a performance. He describes it as "a difficult personal moment, as at a certain point, I thought maybe this is the end of my career, a fast career that just burned out." He was prescribed vitamins and a five-week rest, which stretched into five months. "It was a moment of going inside myself," Villazón says, "and analyzing all the territory I have been through, in order to come back with a new map."
Lehar: "Dein ist mein ganzes Herz" (Rolando Villazón)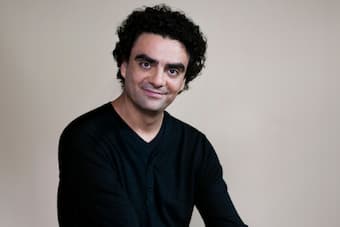 In 2009, Villazón underwent surgery to remove a congenital cyst in one of his vocal cords. He couldn't speak for some time, and he gingerly re-emerged on opera and concert stages in 2013. Villazón remembers, "It was for me very important to reestablish myself, to reposition as a tenor." However, the long period of uncertainly and tweaks to his technique had left their mark, and he began to lose confidence in himself and his instrument. As a result, he developed stage fright around 2015/16, "because I was afraid of getting something else. I was hitting nine out of 10 high notes. When you are in this business, and at this level, you hit 10 out of 10. They might not be all beautiful, but you hit all of them. If you're not hitting one of those 10, you start thinking, is this the one? And then you start hitting eight out of 10, and seven out of 10." He took small amounts of anti-anxiety medication and worked with sports coaches, and turned towards Baroque repertory to move away from the high notes. However, "he developed an uncomfortable sensation, even in the middle of his voice." Villazón was convinced that his career was over, and he engaged with other interests, including directing productions and accepting an appointment as the artistic leader of the Mozartwoche in Salzburg. He had success as a television personality and even started writing novels. He underwent another delicate surgery, and by the end of 2018, he slowly regained his vocal steadiness. It remains to be seen if his voice is fully mended, but Villazón is philosophical. "Every great adventure comes with great adversity," he says, "otherwise it would not be a great adventure. In fact, in a great adventure adversity is not only expected, it should be welcomed. That's what makes it interesting and exciting."
For more of the best in classical music, sign up to our E-Newsletter
Puccini: "O Soave Fanciulla" (Rolando Villazón and Anna Netrebko)