In 2018, cellist Valérie Aimard had a vision – 18 recording sessions later, that vision is complete, and you can now see what she imagined in that fabled time before Covid.
Valérie's Only Cello channel on YouTube is more than just 65 pieces by 22 composers forming an anthology of works for solo cello from 1680 to present day. It's an overview of music for an inner voice, for an instrument that is played differently than any other string instrument, and music for an instrument for which the greatest composers in the world were inspired to write.
It's the adult complement to her earlier YouTube channel, Cello Kids, which is designed for cello students, covering the cello teaching repertoire. The 133 pieces on that channel (winner of the 2019 prize for Music Education – Innovation by CEMF) have had 750,000 views. The two channels together cover nearly 200 works for cello, making them a virtual 'cello encyclopedia.'
For Valérie, who has been playing the cello for 30 years, the Only Cello project gave her the opportunity both to play pieces that she first learned as a student and pieces that she's only learned in the past 5 or 6 years. We spoke about the difference learning a work as a student, where it's all technique and fingering and notes and then, perhaps, you approach the concept of the work and how you learn as a professional, where the concept of the piece is where you start. You don't learn music by heart as quickly as an adult, but you learn in a different way.
The first work she recorded was Witold Lutosławski's short piece for cello that he wrote in 1975 in honour of Paul Sacher's 70th birthday. Commissioned by the cellist Mstislav Rostropovich, Lutosławski's Sacher Variations is four minutes of precise writing and at the same time four minutes of great freedom. Her performance of the work is outstanding and authoritative.
Witold Lutosławski: Sacher Variation pour violoncelle seul /for cello solo (1976)
15 years ago, Valérie took up another performing profession, that of a mime. We interviewed her in 2020 about her two different arts and she closes her Only Cello playlist with another performance of Lutosławski's Sacher Variations but this time performed by herself as a singing mime and, again, the words outstanding and authoritative come to mind, along with the word compelling.
Witold Lutosławski: Sacher Variation for a singing mime (1976)
Her addition of words to pieces for solo cello started in 2016 when she started working with Guy Reibel, professor of composition at the Paris Conservatoire where Valérie also teaches. On Only Cello, she performs five of his haikus for cello, voice, and mime, performed by one person at the same time. The works are unpublished, and Valérie works directly from his manuscripts. We talked about how to pass a legacy such as this on, and she said that she and Guy had discussed it but as no one has asked for the music, the decision has been tabled for now.
Guy Reibel: Quelques Haikus … 1." Les Nuages…" pour violoncelle, voix et mime (2016)
One time she added words to a piece happened after she discovered the poetry of Norge, a Belgian surrealist poet. The summer of 2020, when she discovered Norge, she was working on George Crumb's Cello Sonata, where the second movement has the title 'Tema pastorale con variazioni' and thought that Norge's poetry would go well with Crumb's work and that is how she performs it here – music and text interspersed. She speaks of Chinese nightingales that sing in French, in France, of course; of a thousand-year-old man with no memory, so that everything is new; and of silence – and the colour of that silence and what a smile it has.
George Crumb: Poèmes de Norge – Sonata for cello solo – 2.Tema Pastorale "Une Fantaisie surréaliste"
She also added voice to Jean-Louis Florentz' L'Ange du Tamaris, which takes its title from an Ethiopian biblical tale about Abraham, and she recites the verses before different sections of the piece.
Jean-Louis Florentz: L' Ange du Tamaris, opus 12 for cello solo (1997)
The videos were filmed in a plain room with simple white walls. Three cameras were used. What makes the drama is the lighting, which is deliberate and consistent within each composer. In a way, these 65 videos are as much about Valérie as they are about the cello. They speak to her growth and evolution as an artist.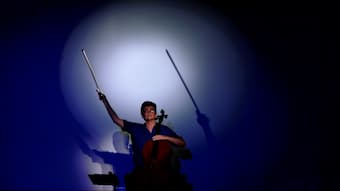 She spoke about the way lighting is used to set the atmosphere, but also about music videos that are more about their marvellous surroundings than about the music – this is very serious cello playing. One way she referred to the videos as 'Naked and Authentic' – this is an artist at work. She brings an active and physical artistry to her performances and to watch her play is to feel as though you're in the same room with her. One of the great additions to the videos are the notes she adds – notes about the music, notes about the composer, notes about her conversations with the composers she's worked with, and about the places where she developed her ideas.
This video compilation of solo work for the cello is unique. The instrument has an extraordinarily large range and so many different composers have responded to its potential with so many different approaches that to sit and watch and listen to the 5 hours of her playing is to be educated in the world of the cello.
We asked about her favourite works, and she picked two from different ends of the 20th century: Kodály's Capriccio from 1915 which uses scordatura turning of A-D-F#-B, and Dutilleux' 3 Strophes sur le nom de Sacher, written in 1976 for same occasion that the Lutosławski's work above had been. It also has scordatura tuning of A-D-F#-Bb. Each composer on the Sacher commission had been asked to write a piece that used Paul Sacher's name as a musical cryptograph (eS, A, C, H, E, Re = Eb-A-C-B-E-D) She sees the works as the pillars of 20th century cello writing that not only extended the capabilities of the instrument but also brought new ideas of harmony.
Henri Dutilleux: 3 Strophes sur le nom de Sacher- No. 1 for cello solo (1976)
We asked what's next and she said that, although she initially felt empty after the completion of this great work, what summoned her next was the idea of playing with people after all this solo work. That said, she then went on to say that it was now clearly time for the Bach Cello Suites. She said that this work has been the fallback and saviour of many different cellists during the past 2 years of lockdown: she personally knows at least 15 cellists who have gone back to Bach. She's played the cello suites for the past 30 years and now it's time to take them up again.
Another result of her thorough exploration of the cello repertoire is that she and her cello get on very well now. In the past, when she had problems with her playing, it was clearly some problem with the cello, and she'd work with her luthier to solve it. Now she knows that the problem might have been with her, and the cello is playing the best it ever has. You play the cello hugged closely to the body, you feel its vibrations and it's a much more physical relationship that almost no other instrument and its player have.
Explore the world of the cello in the hands of an artist who's willing to extend the performance beyond the instrument into words and actions. Valérie's has given us amazing insight into an instrument that has inspired, but that is rarely in the spotlight. Now, cast in these videos, we finally have the chance to appreciate the cello as the quiet star that it is.
For more of the best in classical music, sign up to our E-Newsletter